Below Deck Mediterranean's Captain Sandy Reveals Chef Mathew Returns but Trouble Is Brewing in the Kitchen
Captain Sandy Yawn revealed that chef Mathew Shea returns to the Below Deck Mediterranean kitchen but his return doesn't necessarily bring a huge sigh of relief. She said Shea had the "biggest problem with authority" during her appearance on Watch What Happens Live with Andy Cohen. Plus, when host Andy Cohen asked which crew member was the laziest she replied, "the chef." Yawn said Shea does return to the boat, but can they work together?
Do Captain Sandy and Chef Mathew have a good working relationship this season?
Yawn doesn't give away any spoilers but shared how she works with her crew when asked about working with Shea. "When people step on board, I trust them and they have my respect until they show me they can't do their job," she told Decider. "And then I no longer trust them, right? You lose trust, you lose your job; because if I can't trust a crew member, I have to let them go."
Yawn typically doesn't consider crew members her "friends" but she gets along with those who do their job and work hard.  "It's about doing their job and following what they signed up for," she said. "And if they do their job, then they will get along with me. Right? I think that's interesting you said that because when you walk into your job, do you expect your boss to get along with you? Or are you supposed to get along with your boss? I think that's a confusion people have."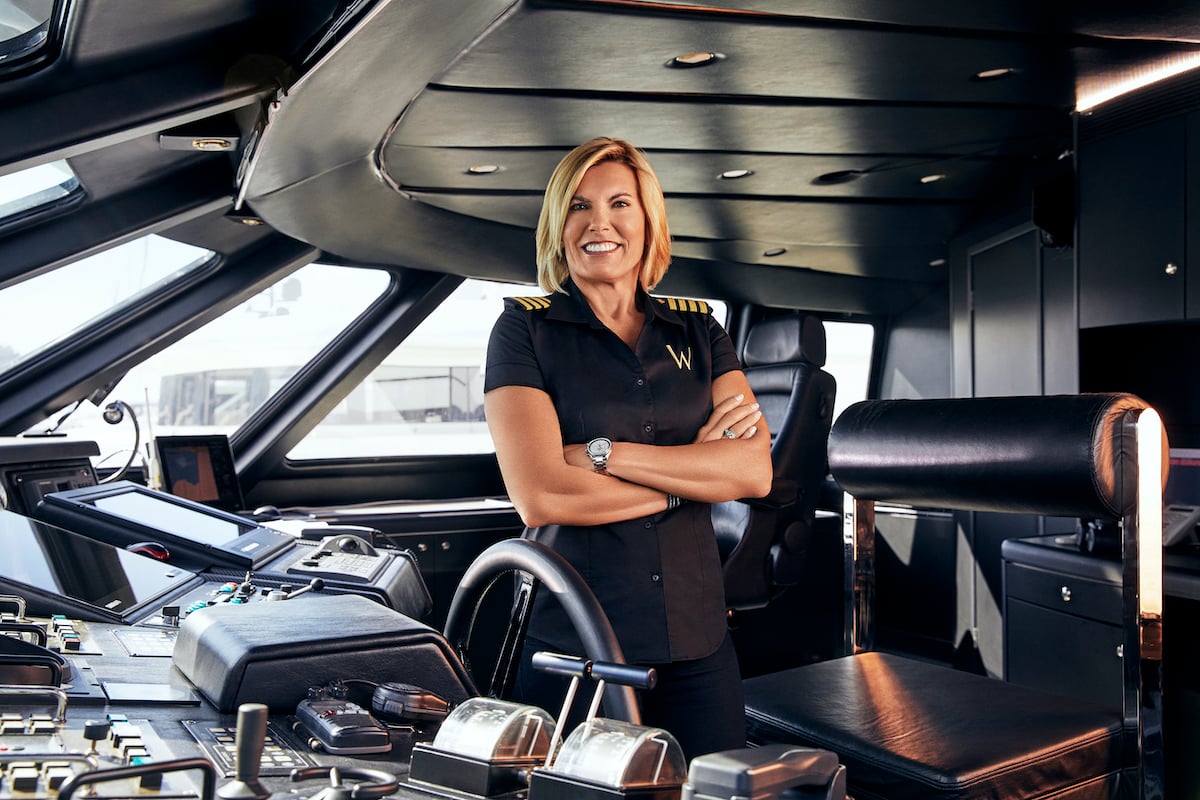 "And the reality is, I'm fun," she said. Adding, "I'm kind, and I'm helpful. And when Mathew had his accident, I didn't distrust him, I believed him. And he came back, he got right into it. He's only shown me so far that he bit off more than he could chew with provisions, but he needed help. But once [he got there] then it was all hands-off. You do your own fridge, you cook for the crew, you do your job. And then Mathew will get along with Sandy."
Chef Mathew's big provisions order was a total red flag
"In the charter business, yes, it's a red flag," Yawn said. "We don't provision for months, we provision for meals. We don't have the storage onboard to carry all that food, plus people want fresh food."
How a yacht chef provision says a lot about if they know the job. Below Deck Mediterranean showrunner Nadine Rajabi recalled that chef Mila Kolomeitseva completely over-ordered provisions during season 4. "It didn't make the show because of showtime, but she'd ordered like 32 cans of whipped cream," she recalled. "But it was interesting."
RELATED: Below Deck Mediterranean: Captain Sandy Was Ready to Quit and Reveals Why She Returned for Season 6
"When you're on a yacht, you don't have that time," Rajabi explained. "So basically you're putting together your shopping list if you will, your provision list. And you call the provisioner, and you say these are my wants, this is what I need. And they come and deliver everything to you in that big truck that you guys see. That's anywhere from floral arrangements to party supplies to decor, to food … to anything."
Does Chef Mathew have the right experience for 'Below Deck Med' charters?
Yawn fired Kolomeitseva because she consistently made food created from a box. Plus her food did not resemble the type of fare served on a superyacht. But she also fired chef Hindrigo "Kiko" Lorran too for his inexperience.
She noted during her Decider interview that Shea had the experience but it was different than the Below Deck Med-type charters. "Mathew worked for people who had boats but also had big events," Yawn said. "And I think he was thinking a big event because we read the preference sheets and saw a wedding. A lot of chefs think they need to buy all the back stock, like all the spices and all this stuff, saran wrap. But the boat had plenty of that and he didn't know that."
RELATED: 'Below Deck Med': Captain Sandy Says She Supported Chef Kiko
"The boats are geared up for charter, especially Lady Michelle because it just came off a charter," she added. "I think that was a lack of knowing on his part, not his fault. The other part is, I always say when I don't know something, or I'm unclear, I call my friends that are captains and ask. I didn't know, I wasn't angry, it was a red flag, and I was there to support them. And I'm just so grateful."
Below Deck Mediterranean is on Monday at 9/8c on Bravo.