Below Deck Mediterranean's Captain Sandy and Leah Shafer Reveal How They Knew They Found True Love
Captain Sandy Yawn from Below Deck Mediterranean and girlfriend Leah Shafer recently recounted the moment they knew they had found true love. Yawn and Shafer broke the news of their relationship to Showbiz Cheat Sheet in 2019 and have been together for nearly two years. The couple may not be talking marriage just yet but could not be more in love.
How did Captain Sandy from 'Below Deck Mediterranean' and Leah Shafer meet?
Shafer and Yawn discussed how they met, revealing they first connected on social media. Shafer initially reached out to Yawn in a direct message. "So how we met, I wrote her and I said, you're so beautiful," Shafer recalled on Yawn's YouTube channel. "Congratulations on your show and many blessings."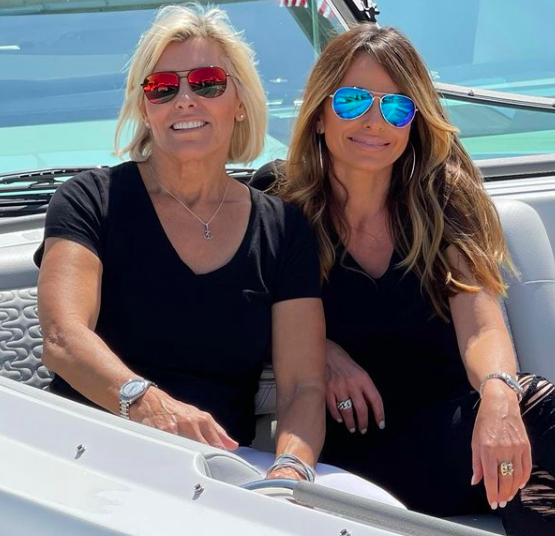 "And you know what caught my eye? The many blessings," Yawn said. "And also the look. So I decided, hey, I have to connect with her. I actually clicked on a link and I heard her sing the National Anthem. And I was like, whoa, this is awesome! So then I texted her back." Yawn was in the middle of her "I Believe" tour and asked Shafer to join the lineup.
Captain Sandy and Leah Shafer experienced 'love at first sight'
Yawn and Shafer agreed that it was "love at first sight" when they met. "It freaked me out because I'm like, oh, I've never done that before, in my lifetime," Shafer admitted. "I knew when she hugged me, that she was the one. You knew, too."
RELATED: 'Below Deck Mediterranean': Captain Sandy's Girlfriend Leah Shafer Shares What It's Like to Date Someone Famous (Exclusive)
At the time Yawn was single, but Shafer was married to a man and had been married for many years. They had a daughter together so the stakes were higher for Shafer. "My feelings of being more drawn to women were always there but I ignored it," she told Showbiz Cheat Sheet in 2019. "But it got stronger when I got older, in my 30s. When I met Sandy I just knew. I knew who I was and she brought out what I was pushing down inside of me. I feel I can be free of who I am now." Adding, "I know Sandy and I want forever [with this relationship]."
How did Captain Sandy come to terms with her sexuality?
While Shafer grappled with falling in love with a woman, Yawn said her sexuality was something that she never really gave a lot of thought to. "You know, something that I never really gave a lot of thought to," she said in her video. "It's something that just kind of like I could tell how my heart felt and I just accepted that. I don't think there was a day where I came to terms, I think it was like a gradual thing. And I think when you're comfortable in your own skin, you're just comfortable no matter who you are."
"Definitely when I met her," Shafer said. "Definitely, I just knew I knew everything makes sense because I was married 20 years to a guy and I was he was more like my best friend, but I wasn't into him that way. Like you're supposed to be. When I met her, I'm like, oh, that's how you should feel. That's the passion and the love that you should feel. And then I was like, it's worth it for that leap of faith in that jump."
RELATED: Below Deck Mediterranean: Captain Sandy Reveals the Real Reason Why Yacht Chefs Are so Hard to Find