'Below Deck Mediterranean' Chef Mathew Opens up About the Challenges of the 'Below Deck' Chef Job (Exclusive)
Chef Mathew Shea says that being a Below Deck yacht chef is a lot harder than it looks. Add a global pandemic to the mix, and it's no wonder he experienced anxiety on the job. He originally applied to be on Below Deck Sailing Yacht, but when that gig fell through, he became the chef on Below Deck Mediterranean. Shea opened up to Showbiz Cheat Sheet about his love of sailing, why he applied to be on the show, and the anxiety he encountered this season.
Chef Mathew applied for 'Below Deck' because it was the safest job he could get
Shea said coronavirus (COVID-19) pushed him to seek employment where he could continue with his craft in a safe environment. "We were in a pandemic and it seemed like the safest job I could get that year," he admitted. "I knew it was going to be in a bubble. The world was shut down, so why not?"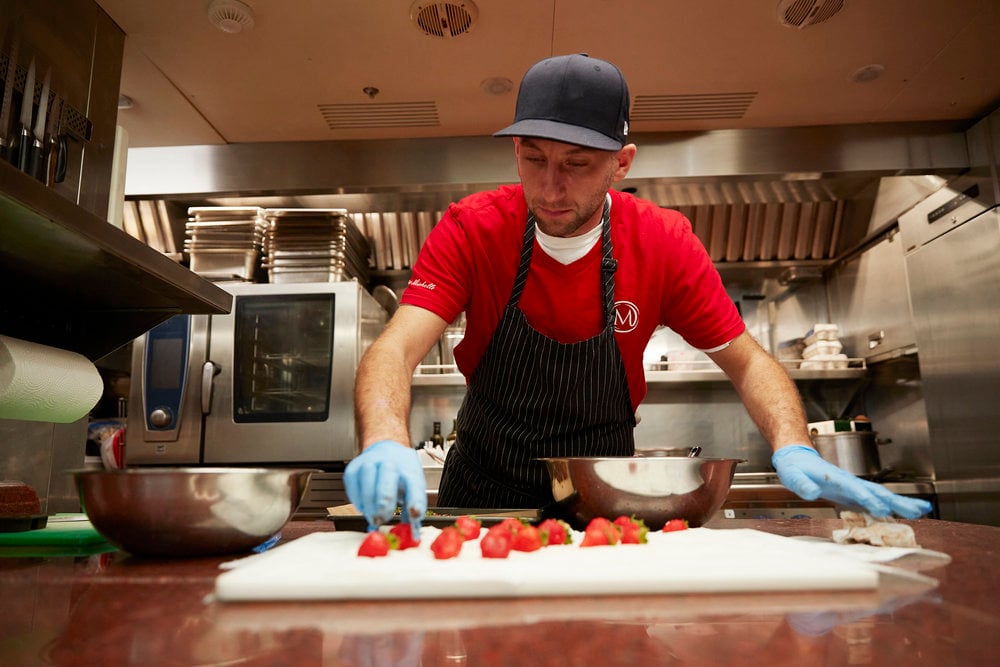 That's when revealed he originally went for the yacht chef position on Below Deck Sailing Yacht. "It started with applying for Sailing Yacht," he explained. "Because my first job and second job was on a sailing yacht. And that was always really exciting. And I didn't get that and they called me back for this."
"I feel like I could really excel," he said about working on a sailing yacht. "Because I know what you need to do and prepping in advance and for dinner service."
Chef Mathew shares why the 'Below Deck' chef job is so challenging
Shea was certainly up to the task but said cooking on the show is far more challenging than real life. Plus, COVID also threw him a curveball. "Because of COVID I couldn't even go out and go to the local markets and go shopping or like choose my product," he recalled. "You know, right here I'm freelancing on yachts for the summer out of Rhode Island. I get to go to the farmer's markets and choose all the best ingredients."
RELATED: 'Below Deck Mediterranean': How Much Do Charter Guests Pay on the Show Versus Real Life?
"I get the preference sheets like a week or two before [charter]," he continued. "Also, I am able to spend more time making a menu plan. And yet provisions never arrive three hours before the guests on any job I've ever had. Unless it's a rare 24-hour turnaround. But back to back all season like that, it was very different in that sense than any other yacht job I've ever had."
What made Chef Mathew's anxiety worse on 'Below Deck Mediterranean'?
Other Below Deck chefs shared that the series job is far more intense than what they've experienced in the field. Anastasia Surmava, who was a chef for a portion of Below Deck Mediterranean Season 4 said Below Deck chefs work double time. "I think it's hard for people to grasp how much work it is for one person," she said. "That on top of working 16 to 18 hours every day. By the end, you're just a broken human being."
RELATED: Below Deck's Hannah Ferrier Reveals Her Season 3 Anxiety Was Not Because She Fell for Conrad Empson
Shea's been open about dealing with anxiety. He said being quarantined for two weeks likely made it more pronounced on the show. "I think if I hadn't had to quarantine for two weeks before filming, it would have helped a lot," he remarked. "Having two weeks to sit alone and think about everything that could go wrong. I was like so worked up in my head."
Below Deck Mediterranean airs on Mondays at 9 p.m. ET/PT. New episodes are available on Peacock one week early on Mondays.