Below Deck Mediterranean's Courtney Veale Works Aboard Massive $740,000 per Week Mega Yacht Siren
Below Deck Mediterranean stew Courtney Veale offered a glimpse of her "office," which is the 241.2-foot mega yacht, Siren. Veale posted a cool drone shot from the yacht which showed its massive expanse, docked near the breathtaking Croatian coastline. "The office/home," she shared on Instagram. "Thanks for the vid, drone boy @callie-finley morris_ #motoryachtsiren #yachting #croatia #drone."
Siren currently rents for $740,000 per week
Veale's current boat rents for roughly $740,000 per week during the "high season," which is between May through Sept. On the "low" end, vacationers can charter the yacht during the off-season for $581,500 per week. The boat can accommodate up to 12 guests within the six cabins and requires about 18 crew members.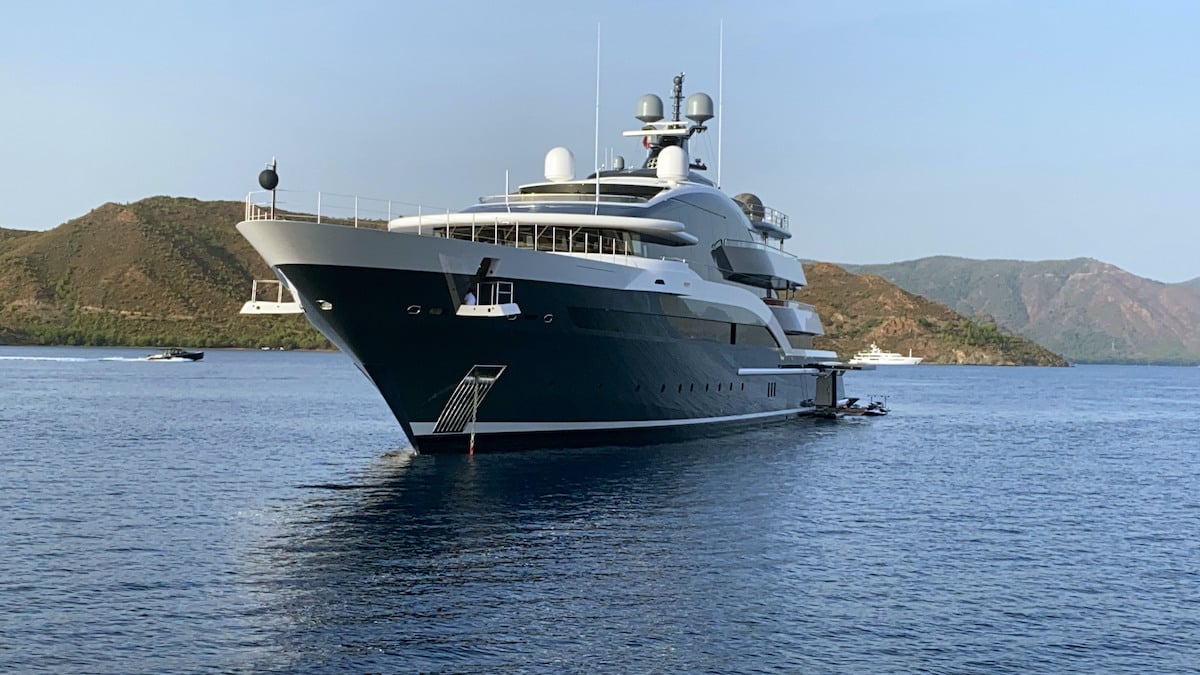 Like many large yachts, the boat is stocked with a deck jacuzzi, gym, WiFi, air conditioning, a bar area, and lounges. Photos show an extremely large indoor dining space, along with two (or more) living areas. Guest cabins are spacious and the boat, built in 2008 was retrofitted in 2013.
Did Magic Johnson just charter Siren?
Veale posted a photo with NBA Hall of Famer Earvin "Magic" Johnson. "Didn't think at the start of this week that my pic with @magicjohnson would be whilst dressed in a toga," Veale shared. "Love how I look a normal height in the other pics but like a child next to him! (PS; the wine was a prop not for drinking unforch)."
A fan wondered if perhaps the photo was taken while Veale was on Below Deck Mediterranean. But she confirmed it was recent, taken on her regular boat. "No I'm on my permanent boat currently," she replied. For his part, Johnson shared a few photos from the boat, which could have been Siren. One of Johnson's friends celebrated a birthday on deck and the crew treated him to a fun song and dance.
Johnson is known for taking lavish yacht vacations. He chartered mega yacht Aquila in 2019, which is a 281-foot boat built for up to 28 guests. The ship is INSANE …" TMZ Sports reports. "It's like a floating mansion/hotel all in one — with a crazy gym, dining room area, movie theater, hot tub, massive outdoor deck, 2 massage rooms and its own NIGHTCLUB!!! The ship officially fits 12 guests and has a crew of 28!!!" He dropped about $1 million on that yacht vacation.
Is Siren a mega yacht or a superyacht?
According to YACrew, a superyacht is"deemed to be anything above 80 feet, whilst a mega yacht refers to anything above 200 feet." At 241 feet, Siren definitely falls into the mega yacht category. However, many mega yachts typically accommodate more than 12 guests. And while Siren is listed as a 12 guest yacht, the cabins appear to be roomier and more spacious.
Lady Michelle featured on Below Deck Mediterranean Season 6 is 180.6 feet, which puts the boat in the superyacht category. The largest boat ever featured on the franchise thus far is the 185.1 foot My Seanna from Below Deck Season 6 and 8. Most of the Below Deck boats offer accommodations for up to 12 guests, plus many have the same amenities found on a mega yacht.
RELATED: 'Below Deck Mediterranean' Season 6 Courtney Veale's Disney Princess Background Is Eerily Similiar to Being a Yacht Stew