Below Deck Mediterranean's New Stew Is Delaney Evans?
This there a new stew on Below Deck Mediterranean? Delaney Evans joins the team and the midseason trailer shows Evans in the laundry room and deckhand David Pascoe has his eye on her. A crew member asks who remembers her name. "I think it's Andrea," Pascoe replies. "I'm sure it begins with an 'A.' Or an 'E'." Later adding, "Wow I was so wrong on Andrea."
Where did Below Deck Med's Delaney Evans grow up and go to college?
Evans shares she has some serious credentials. "Went to Berkley, got my captain's license," she says in a confessional. Meanwhile, cameras capture Pascoe getting cozy with Evans near the hot tub. "Now I'm doing laundry. Whatever!"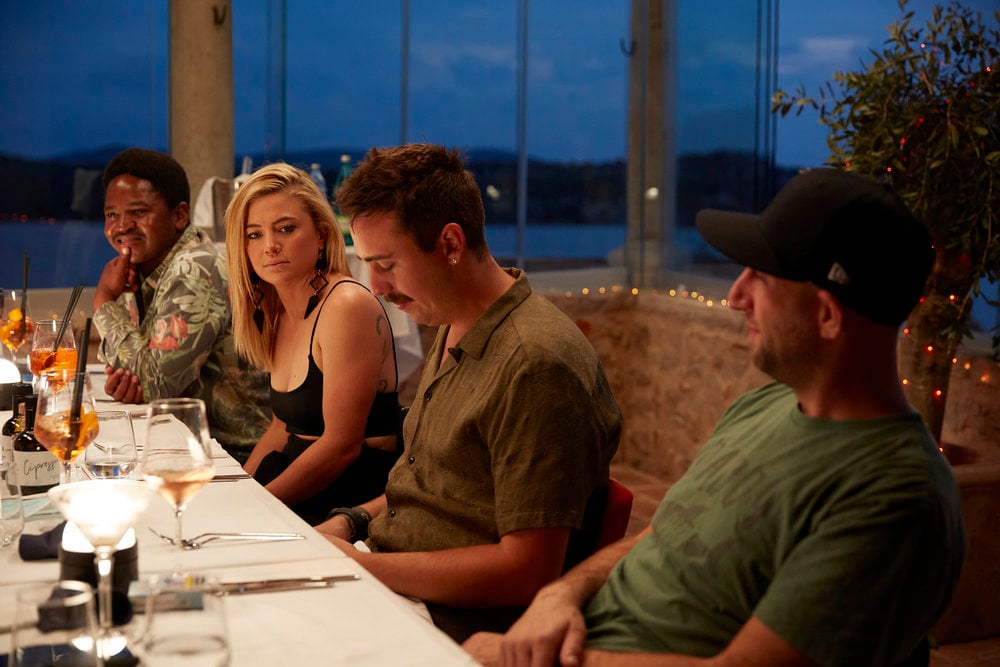 She dished further about her background and revealed she is the newest redhead on the series. "I was born and raised near Alki Beach in Seattle Washington," she shared in her bio. "Growing up in Seattle, boating wasn't a part of my life, but being next to the water or in the water always was. Right before high school started, my family moved to San Diego, California. While I focused on my academics and philanthropy in high school, I spent my extra time working retail, modeling and occasionally sailing at a local community center."
Evans graduated from UC Berkeley with a degree in Media Studies but was then "bitten" by the yachting bug.
Delaney Evans started her yachting career in sailing yachts
Evans started her yachting career working on sailing yachts after college. "After months of applying to work on deck on sailing yachts, I broadened my reach to motor yachts looking for opportunity," she wrote. "I was finally hired for "daywork" on a motor yacht in Florida. Thankfully,  hard work paid off, and on the 3rd day the yacht hired me full time as a deckhand- I was ecstatic."
RELATED: 'Below Deck' Alum Kate Chastain: Lexi Wilson Needs to Be 'More Self-Aware' (Exclusive)
"Eventually, I wanted to experience new opportunities in yachting," she continued. "I moved into larger super yachts taking roles as a deckhand and delivery crew until I earned the ability to contribute as mate on a mid-sized vessel." She added, "I had great experiences on mid-size and larger yachts which allowed me ways to experience many counties and cultures.  I even had the opportunity to realize my dream of an Atlantic crossing."  
Does Delaney Evans replace Lexi Wilson 'Below Deck Sailing Yacht'?
Stew Lexi Wilson already "quit" the boat following the explosive night with the crew. And while she reconsidered leaving the boat, does she stay until the end? Captain Sandy Yawn is seen telling chief stew Katie Flood, to "woman up, make a decision and go have a conversation."
RELATED: 'Below Deck Med': Lexi Wilson Isn't Getting the 'Pete Hunziker Treatment' and 'Below Deck' Alum Explains Why
Also, Wilson is seen fighting with chef Mathew Shea after he tells her no one likes her. "You're a d–ck, you're ugly," Wilson says to Shea during a crew dinner out. "I'm gonna smack your a–." She is then seen walking away.
So is Evans Flood's newest stew and is Wilson out? Find out on Below Deck Mediterranean, every Monday night at 9/8c on Bravo. New episodes will be available on Peacock one week early on Mondays.