Below Deck Med's Chef Ben Would Return to 'Rescue' Captain Sandy if Chef Mathew Quits Again?
Did chef Ben Robinson from Below Deck Mediterranean and Below Deck hint that he could step in if chef Mathew Shea decides to quit once again? "Sandy has not had a good chef since you left," Kate Chastain pointed out to Robinson during Below Deck Galley Talk. Robinson joked, "Is my phone on silent right now? Because I'm expecting a call from Sandy." Robinson has been firm in his stance that he would not return to the show, but he definitely has a soft spot for Yawn.
Chef Ben from 'Below Deck Med' said he would rescue Captain Sandy
The Below Deck Galley Talk crew said Robinson was the first chef who came to mind if Shea left for good. That's when Chastain asked Robinson if he'd return. "I would rescue Sandy," he replied. "Because I love Sandy."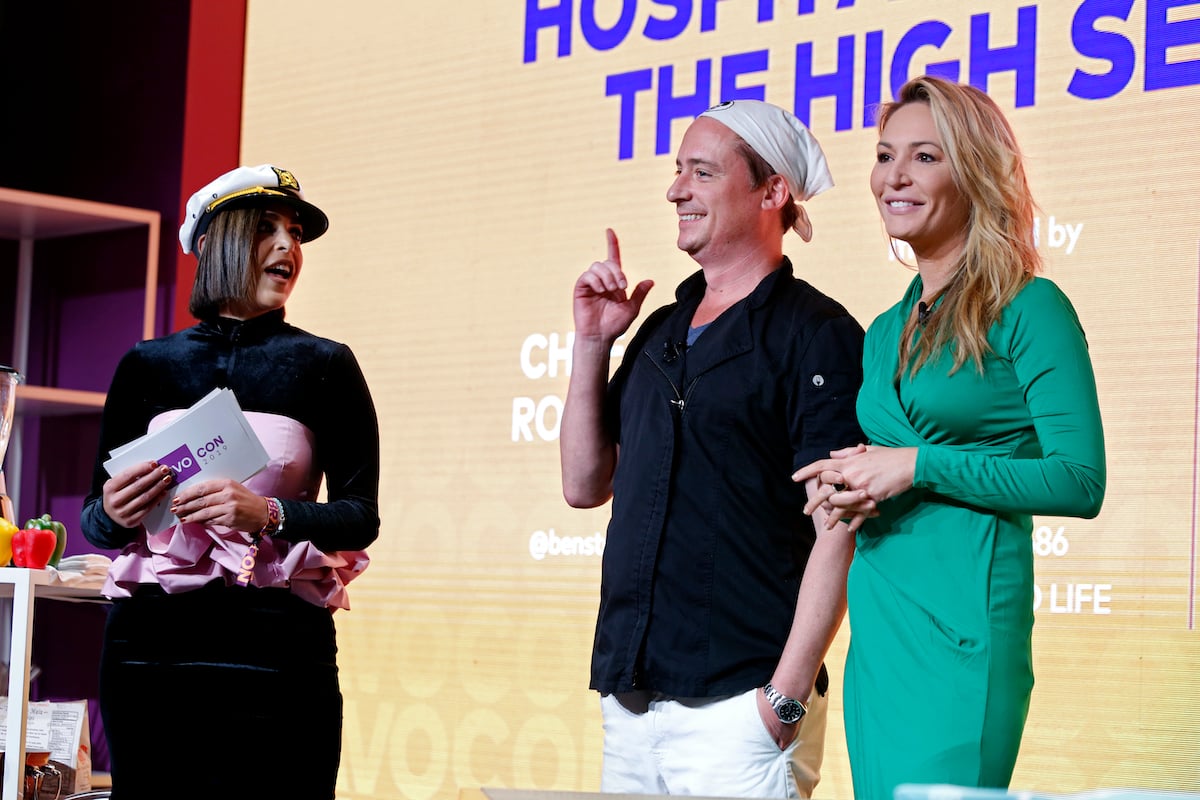 Of course, Yawn would welcome Robinson with open arms. "I'm blown away by his ability," she told Bravo's The Feast after working with Robinson during Below Deck Med Season 4 "I'll open a fridge and go, 'There's nothing in there and then [talented chefs like Ben] create this three-course meal out of my 'nothing in there.' That's the magic of the chef [versus a third stew promoted to chef]. What he did with — do we have yellow curry, do we have green? And he created that lunch that's phenomenal. It blows my mind."
Robinson also topped Yawn's list of favorite chefs. She tweeted that her top two chefs on the show were chef Tom Checketts and Robinson.
Chef Ben loved working for Captain Sandy on 'Below Deck Med'
Robinson, who worked for Captain Lee Rosbach on Below Deck leaned toward working for Yawn. "I think Sandy, she was just overjoyed that she had a real chef on the boat now," Robinson said to Bravo's The Daily Dish podcast. "Gave me a lot of respect because she didn't want to screw it up. But who knows if we were both to start fresh seasons together. But generally, the chef shouldn't get too much stick from the captain unless you're not doing a good job."
One aspect Yawn appreciated about Robinson is he remained focused on the job at hand. "He doesn't think about feelings," she told The Feast. "When you have someone that's that passionate about food, they don't give a s—. If something comes back [from guests' to the galley] and there's food on that plate, he's like why didn't they eat that? He's the real deal."
Would Chef Ben actually return to 'Below Deck'?
While there is plenty of love between Yawn and Robinson, he shared that his yachting days are behind him. "I think I'm probably a little too old for Below Deck," the 40-year-old chef said in a June 2021 Instagram Live with Christine "Bugsy" Drake.
He supported this remark in 2019 too. "Sadly, I don't think we're going to be doing a ton more of Below Deck," he told 30A. "I kinda gotta grow up a little bit. Just something that's more sustainable." Robinson has no trouble finding sustainable work. He's a private chef and recently released a line of knives. Robinson also joins Chastain and others on the couch every week for Below Deck Galley Talk.
Episodes of Below Deck Mediterranean air on Mondays at 9 pm ET/PT on Bravo. New episodes will drop one week early on Mondays on Peacock. Below Deck Galley Talk airs on Fridays at 8 pm ET/PT on Bravo.