Below Deck Med's Chef Mathew Admits 'It Was an Intense Season' (Exclusive)
Chef Mathew Shea admitted that Below Deck Mediterranean Season 6 was intense and revealed one thing he would have done differently on board the yacht. Shea had a rocky start, going MIA during the first charter due to a knee injury. Then he briefly quit in a drunken rage. But he's consistently impressed the guests with his food, which is why Captain Sandy Yawn gave him another chance to stay on board. He dished about why the season was so wild and addressed cooking for the crew.
Chef Mathew shares why the 'Below Deck Med' galley kitchen was a challenge
Shea's culinary talent was on full display this season, being one of the few chefs to impress the guests almost every single time. Like chef Rachel Hargrove from Below Deck, Shea doesn't get upset when he sees dietary restrictions on preference sheets.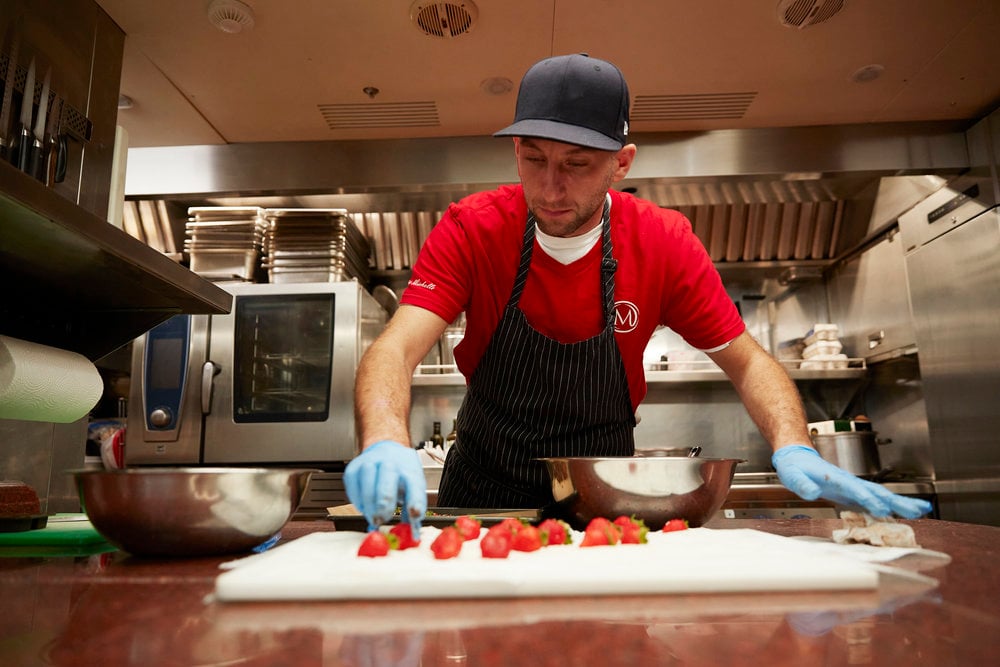 "I'm comfortable with any guest request and dietary restriction, and I just try to read and reread the preference sheet, so I'm always trying to get it right," he said. "I'm trying to do my best to have something for everyone on the table. Always. It's tough, you know, it's a small kitchen."
Also, "I had only one oven," he added. "That's the first charter on a big boat I've done that only had one oven. And usually a boat that size runs with two chefs, a sous [chef]. And so there's a lot of work. The galley set up. It was yeah … it was an intense season, but luckily so far, no complaints and feels great. At least I've got that going for me."
Why was crew food a challenge for Chef Mathew?
Shea seemed to be overwhelmed with having to cook for the crew on some off days. He could have thrown together pasta or sandwiches, but he said he doesn't like to skimp when it comes to feeding the crew. "I want them to be happy," he said about the crew. "And, you know, so much of their day, they look forward to eating a meal. They're working so hard. I like variety. Not everyone [wants] a sandwich or pasta. Some people wanted salad. So I try to look after the crew. If I did another season, I might focus more on the guests."
RELATED: Below Deck Mediterranean's Chef Ben Has the Perfect Hangover Recovery Cure (Exclusive)
Adding, "I can take feedback and just give the crew pasta every day," he laughed. "You know I tried to feed [the crew] early because they're all on different schedules, some work overnight shifts. So after my complaining about the crew lunch that one day, I did all the meals. Like 12:00 for lunch, 6:00 for dinner. I was consistent on timing and variety."
Chef Mathew admits he got overwhelmed at first
Shea spoke to his reactions during the early charters on the show. "Yeah it was all very overwhelming," he said. "Then I settled in." He also addressed the first huge provision order and why so many provisions showed up on the dock.
"Because of COVID I couldn't even go out and go to the local markets and go shopping or like choose my product," he said. "You know, right here I'm freelancing on yachts for the summer out of Rhode Island. I get to go to the farmer's markets and choose all the best ingredients."
RELATED: 'Below Deck Mediterranean' Executive Producer Reveals She Had to Stop a Season 6 Situation
"I get the preference sheets like a week or two before [charter]," he added. "Also, I am able to spend more time making a menu plan. And yet provisions never arrive three hours before the guests on any job I've ever had. Unless it's a rare 24-hour turnaround. But back to back all season like that, it was very different in that sense than any other yacht job I've ever had."
Below Deck Mediterranean airs on Mondays at 9 p.m. ET/PT. New episodes are available on Peacock one week early on Mondays.