Below Deck Med's Colin Macy-O'Toole Reveals 'the Worst Part' of Being a Deckhand (and It's Not the Slide)
Colin Macy-O'Toole from Below Deck Mediterranean dished about his least favorite part of being a deckhand on the show and it wasn't the water slide. "I think the worst job about being a deckhand is the luggage," Macy-O'Toole said to Bobby Giancola during a recent episode of Below Deck Galley Talk. And Giancola completely agreed.
Stew Julia d'Albert Pusey agreed that luggage can be excessive. "Oh gosh, I've seen like 20 bags come on and I'm like where are we gonna put it," she said to stew Josiah Carter. Carter replied that he's had 45 cases. Indeed, deckhands but also stews are seen struggling with luggage on the show. But luggage isn't their only worry.
'Below Deck' crew dished about parts of the job they liked the least
While Macy-O'Toole said luggage was his least favorite part of the job, other deckhands said dropping anchor was a little nerve-wracking. Last season, Connie Arias and Kate Chastain dished about what is involved in dropping the anchor. "You guys make dropping the anchor so dramatic," Chastain said to Arias during Below Deck Galley Talk Season 1. "Like gravity does most of the work."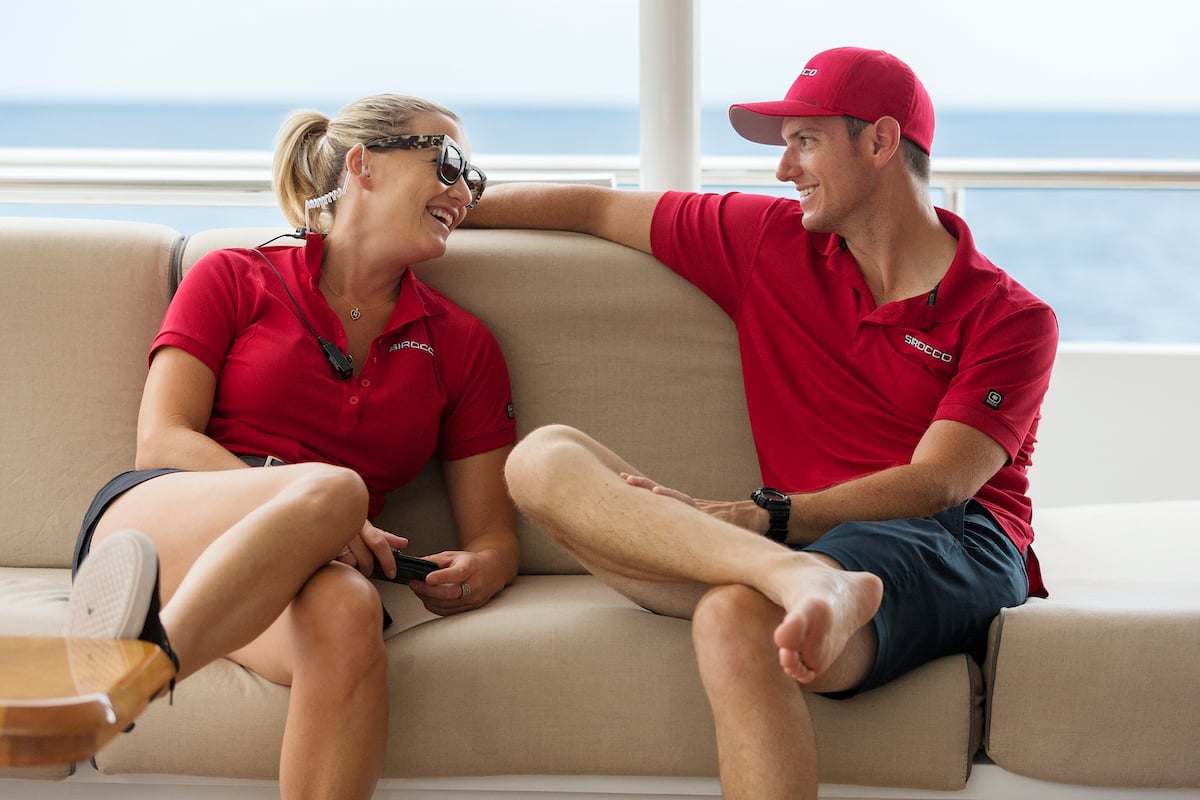 Arias replied that it isn't that simple. "It tangles," she replied. Plus bosun Kelley Johnson from Below Deck said docking in the Mediterranean was tough too. "Med docking is a nightmare."  
On the interior side, Amy Johnson from Below Deck shared which meal was toughest for her to deal with on the boat. "Breakfast was always the worst," she remarked. "Too many options. Dinner you're just told what you're eating." 
What did the 'Below Deck' crew like the most about the job?
The Below Deck Galley Talk Season 1 crew agreed that saying goodbye to the guests was their favorite part of the job. "Drop off day is the best day of charter," Macy-O-Toole said. D'Albert Pusey said she wasn't sad to see the guests depart. "So sad, it's like see ya later," she joked.
But the Johnson siblings remained sunny about the end of charter. "When a guest is super thankful and grateful," Kelley Johnson began. Amy Johnson finished his sentence, "It makes it so worth your effort."
… about that 'Below Deck' slide
And while no one talked about the slide, the deck team has historically hated the slide. Bosun Eddie Lucas explained why the large, plastic inflatable slide is the source of so much pain for the deck team. During Below Deck Season 2 Lucas referred to the slide as "five hours of pain and suffering."
"The water slide … it weighs like 700 pounds," Lucas explained in a confessional. "It's huge. The water slide is five hours of pain and suffering. For one little hour of guest enjoyment." Johnson, who was a deckhand during Below Deck Season 2 added, "Ugh, I hope I never have to set this thing up again!" Spoiler alert: Johnson definitely dealt with the water slide again during his Below Deck career.
For more hot takes, Below Deck Galley Talk airs on Fridays at 8 pm ET/PT on Bravo. Episodes of Below Deck Mediterranean air on Mondays at 9 pm ET/PT on Bravo. New episodes will drop one week early on Mondays on Peacock.