Below Deck Med's David Pascoe Shares Photo of Graphic Bloody Head Gash: 'My Leg Is Fine'
David Pascoe's epic fall on Below Deck Mediterranean left him with a sore leg and a massive bruise. But previews show that Captain Sandy Yawn is furious that bosun Malia White didn't report Pascoe's injury when she saw him limping on deck.
Pascoe limped but told the crew he was fine and continued to work. He recently shared that the scary fall on the show was nothing compared to the gruesome head wound he sustained during the pandemic.
Pascoe shared a photo of the bloody wound on Instagram, which was blurred out due to "sensitive" content. But Pascoe felt the need to explain why he wasn't overly concerned about the leg injury and how, in fact, he was still fit to work on the boat. "In light of my recent slip on Below Deck Mediterranean, I understand people's views of 'surely you can't work with a sore leg?', but hear me out…," he began an Instagram post.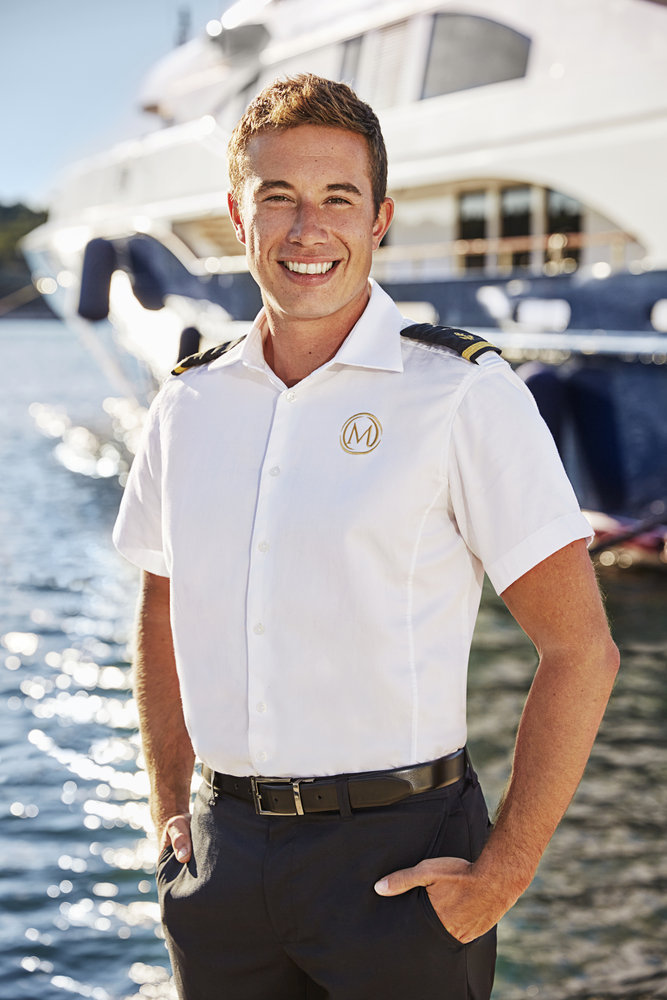 Pascoe described how the injury featured in the photo occurred. "This is the result of, what actually, was an amazing session on the hydrofoil," he explained. "Unfortunately sharp edged carbon fibre is stronger than my head. This happened out to sea, at a location where I had to be dropped by boat as there's no access from land. Knock happened, boat not due for 2 hours, kept foiling."
Making matters even worse, the injury occurred when Pascoe had no access to a hospital. "This also happened during the pandemic, so a hospital visit was out of the question, luckily for me there was someone available that was qualified and I got stitched up sat on the beach, albeit without anesthetic," he described. "Stitches done, helmet on and home I went. I was due to fly back to the UK the following day and I did just that. Head healed, stitches out, life goes on."
The head wound was one injury in a parade of several, he added. "I've lost fingers, fractured my spine, I'm littered with scars from work, from play, from living," he wrote. "Maybe I am stubborn, maybe I am stupid but if I can carry on then I'll do just that."
RELATED: Below Deck Med's David Pascoe Opens up About Survivor's Guilt and Why He Defends Lexi Wilson
"My bruised leg may have looked severe but it did not hinder my work and I was never going to let down the crew and call it quits," he added. "My experience outweighed my slightly adjusted maneuverability. We are such fragile creatures but we aren't made of glass. I wouldn't change the scars I carry for the experiences and lessons I've learned in procuring them. P.s. my leg is fine."
Pascoe said the injury hurt but it certainly wasn't serious. "Yeah, nothing more than a bruise," he insisted on the Below Deck Mediterranean After Show. "It was sore, but you know. Not life-threatening by any stretch of the imagination."
Deckhand Lloyd Spencer saw the humor in the wipeout, admitting he was doubled over laughing for the first two minutes after Pascoe wiped out. "It was too funny," he said, again laughing extremely hard. The rest of the crew didn't think much of the injury because Pascoe rebounded so quickly after he fell.
RELATED: 'Below Deck Mediterranean': David Pascoe Has a Favorite Crew Member and Is Captain Sandy a Micromanager?
"He's a champion," chef Mathew Shea remarked. "I don't even think he iced it. He went right back in the hot tub [laughed]." Cameras also captured the crew trying to help Pascoe but everyone was pretty intoxicated. They laughed as they tried to help him walk up the stairs.