Below Deck Med's Katie Flood Reveals Why She Hated Watching the First Episode of Season 6 (Exclusive)
Katie Flood admits that she cringed when she viewed the first episode of Below Deck Mediterranean Season 6. Being new to the show, Flood said it took her a moment to get used to cameras following her as she worked. Just seeing how nervous she was during those first few scenes made her watch the show in between her fingers.
Katie Flood admits it took some time to get used to filming 'Below Deck Mediterranean'
"I think like the first day, like even watching it back like the first episode," she recalled to Showbiz Cheat Sheet. "Like I could see on my face. I'm so nervous and anxious. Like you feel [uneasy]. And I can see it. I hated that first episode. I was like ah, it's so cringe!"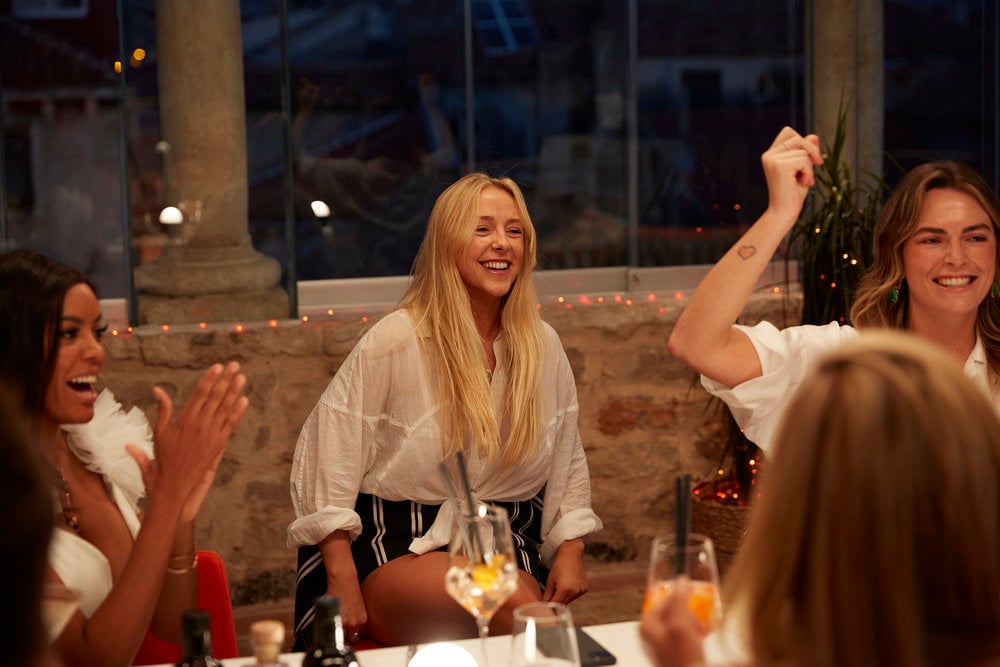 "And you do get used to it," she continued. "Like after a couple of days, I think you are so busy as well. Like running around doing our job, you do forget about it. But it just adds to the pressure. Like [the cameras] always there. You're running around and they are there … everywhere. And sometimes, I talk about this a lot, I suffer from anxiety as well. And things really build up inside me. So like when you need a moment to yourself, that's what's really hard. Because when you are having these little ….uh, there's a camera guy right in your face. And you are kind of like, 'I gotta get my sh*t together.' So it's definitely a challenge. Like it's not your norm for sure. But you do get used to it."
Hannah Ferrier checks on Katie Flood to offer support
Former chief stew Hannah Ferrier also dealt with anxiety on the show and Flood had a conversation with Ferrier about navigating anxiety when cameras are on. "Yeah, she was being really sweet," Flood said. "She messages me from time to time checking in. Like, 'How's the anxiety?' I know she really struggled with that too."
"But she was like 'I'm here to talk if you need any help,'" Flood shared. "Or how to navigate your way through this. I don't think can prepare you for filming a show. Like no one can prepare you for that. So it was just nice to have the support. And I think we all deal with it differently. Like we've all got our own stuff. So I think that's the hardest part, just having your own time to step away and just like, 'OK breathe deeply and get your sh*t together.' You don't really have that so that's what can make it a bit of a struggle."
RELATED: 'Below Deck Mediterranean' Cast Fields Trolls, Captain Sandy Slams Attacks
Ferrier spoke at length about dealing with cameras and her anxiety. She recently laughed that the only fight she ever got into with a producer was over a sandwich. She wanted to eat without cameras on her and a cameraman suddenly appeared.
Katie Flood and the 'Below Deck Sailing Yacht' crew talk too
Flood said she also got support from the Below Deck Sailing Yacht stews too. "Daisy [Kelliher] a little bit," Flood said. "Like a lot of cast members from previous seasons like they all reach out. They're like 'We're here.' Help navigate through this wild world."
RELATED: 'Below Deck Mediterranean': Katie Flood Reveals if She Would Work With Chef Mathew Again (Exclusive)
"I think with like the social media side of things and the backlash with people saying nasty comments," she said. "They're always really supportive of that. And I think just like having people that understand. That's one thing that me and Alli [Dore] from Below Deck Sailing Yacht talk about a lot. She's such a sweetheart. We chat quite a bit and we say no one knows what it's actually like. Yeah, you little people behind your screen tell me what I should or shouldn't have done. But you don't know what it's like!" Dore recently gave birth to a baby boy. She shared on Instagram that trolls targeted photos of her premature baby, sending hateful and venomous messages.