Below Deck Med's Malia White Shares Her First Official Instagram Photo With Jake Baker – Sort Of
Malia White from Below Deck Mediterranean may be closer to sharing that she's in a relationship with engineer Jake Baker when she posted a cute Instagram photo that (sort of) featured the couple.
White's photo was her attempt at a selfie with Baker but she joked about how she cut off his head in the photo because her arms are too short. "When I'm in charge of taking the selfie but my arms aren't long enough," White shared in an Instagram story image. White and Baker went (semi) public with their relationship when Baker shared a photo on Instagram of the couple kissing. Baker and White have remained relatively quiet about their relationship with the exception of the kiss photo.
But Baker shared the photo in a liplock with White, which is when fans assumed the cat was out of the bag. Even White's crewmates joked about how the photo "broke" the Internet. "You guys just broke the internet," stew Courtney Veale wrote.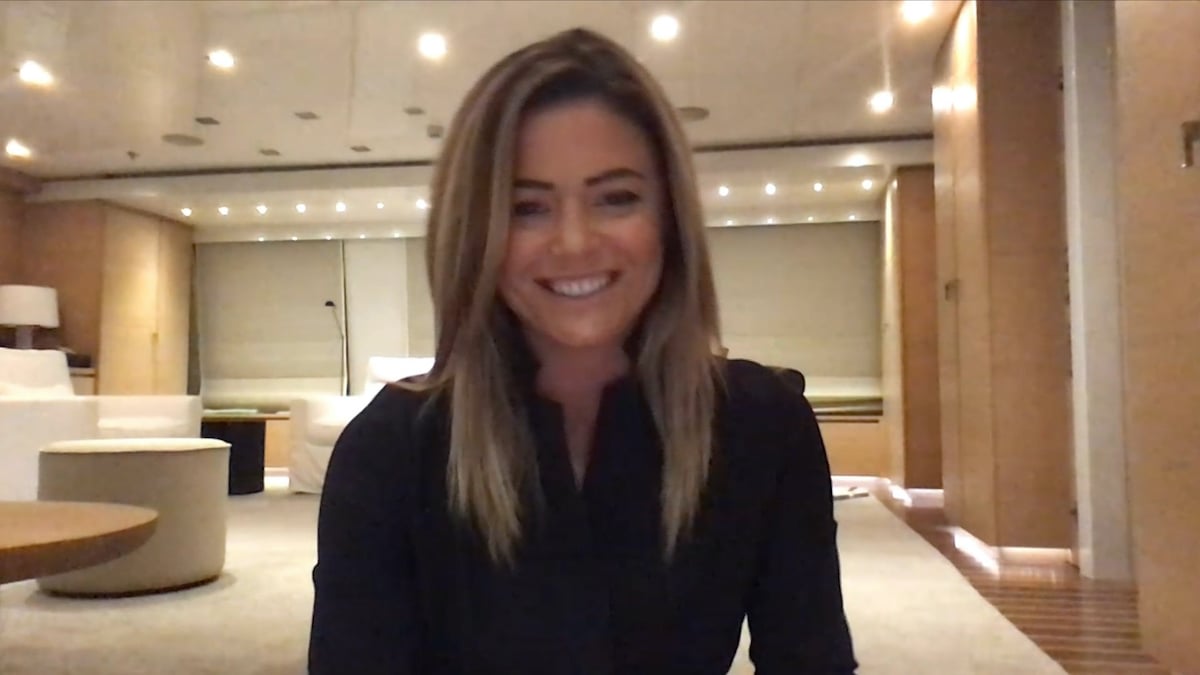 And while the photo tipped off fans, Baker previously shared another photo with White on her birthday. Plus the couple met up with Captain Sandy Yawn and her girlfriend Leah Shafer for golf. Shafer posted about meeting White in May. "What a wonderful evening! Played top golf with my love @captainsandrayawn and Malia White and friends! So great to finally meet Malia in person, what an amazing soul!" she shared.
White has good reason to want to keep this relationship private. Her previous relationship was extremely public and she had a very public breakup with ex-boyfriend Tom Checketts. White and Checketts dated for about a year when she was the bosun on Below Deck Med Season 5 and the boat was suddenly without a chef. Yawn asked Checketts if he could fill in and White and Checkett's relationship was on full display.
RELATED: 'Below Deck Med': Captain Sandy Shares Why Season 6 Was a Challenge to Make Crew Changes
Checketts and White experienced fan backlash when chief stew Hannah Ferrier was fired and Checketts had a few meltdowns. The backlash was so bad, Checketts revealed that his mother received death threats. "There has been a lot of negative comments. My mother replied to death threats the other day," he shared during the Below Deck Med reunion.
Ultimately, White learned that Checketts had cheated on her and reflected on it at the beginning of season 6. When deckhand David Pascoe told her he had feelings for her, she told him she wanted to remain single after coming off of a rough breakup. Pascoe told her how he felt during a night of drinking and White admitted she had no idea he had a crush on her. "It's funny because no I couldn't really tell honestly," she told Showbiz Cheat Sheet. "He never really made it very obvious when we were working together. It was more like when we had a few drinks when his flirtatious side came out. But yeah, he held it in pretty well."
RELATED: 'Below Deck' Producer Mark Cronin Shares How He Broke Into the Secret World of Yachting (Exclusive Series)
She said they thankfully they moved on pretty fast. But added, "A little bit [awkward]," she said about the next day. "He was a champion. You know he never really made it awkward. He never really brought it up on deck. He just kinda respected my decision."
White and Baker haven't shared when they started dating and she's tried to separate the relationship from the show. She also only offered general responses when asked if she was dating anyone in particular.
"I'm dating," she teased. She then said she was moved on since breaking up with chef Tom Checketts. "I'm definitely over what happened. And I'm dating. I think I can say for sure that is in the past. Yeah, it did suck."