'Below Deck': Rhylee Gerber Shades Tyler Rowland After He Continues to Dog Her on Social Media
Although she wished him well, Tyler Rowland from Below Deck continues to attack Rhylee Gerber on social media. The former boatmance couple quickly parted ways after season 6, but Rowland teased on social media they were still together.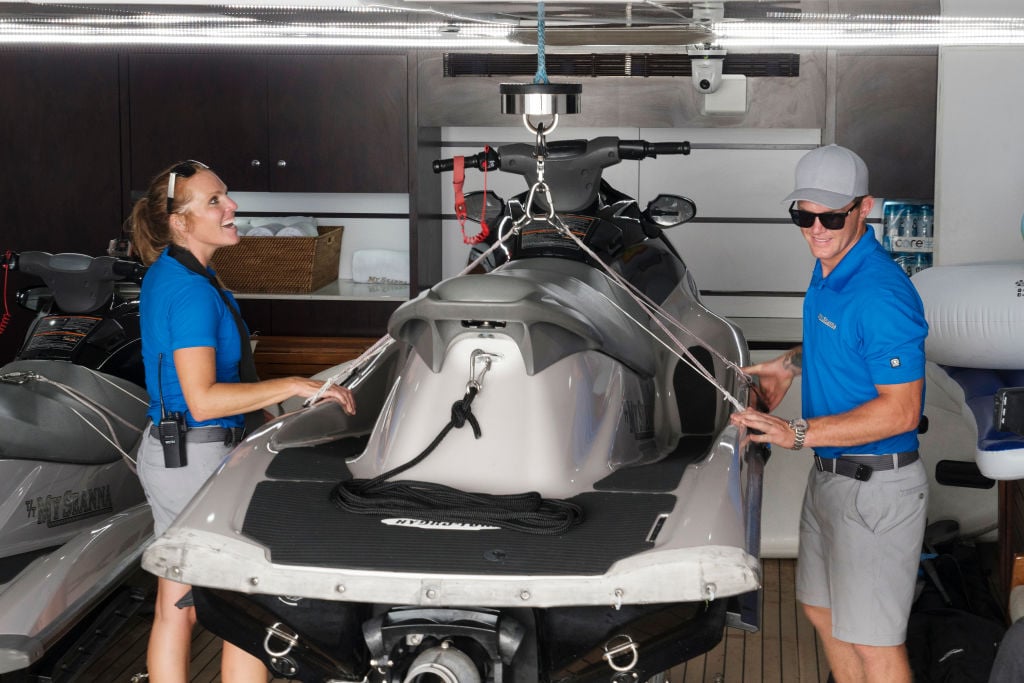 However, Rowland's tone suddenly shifted from playful to attack mode on Gerber. He taunted her return and then celebrated when she stopped following him on Instagram. "Look who don't follow me NO MOOOREEEE," he wrote. Gerber also shared a screenshot of a Twitter exchange between Rowland and another fan. He mocked the moment in the show where she struggled to tie a particular type of knot. Rowland also didn't seem to be keen on seeing her return for season 7 either.
Despite being in a new relationship, Rowland can't seem to quit the fiery redhead. Gerber shared that for some reason Rowland has been combative ever since she wished him well, plus revealed a recent text exchange between the two.
Rowland sends mixed messages
Gerber publicly shared a recent text exchange with Rowland. Rowland asked Gerber to avoid talking about his new girlfriend but then shares that he misses her. He first calls out the interview Gerber did for Bravo's The Daily Dish. "Wtf dude that article," Rowland wrote in the Instagram story Gerber shared.
Rowland insisted he never asked for Gerber's blessing. "And I already told you not to bring my gf into anything," he added. Gerber threatened to share the actual exchange and then Rowland became combative. "I'm not a f**king genie bitch. I'm asking for respect for the fact my gf is a teacher. Idc what you do me, keep her out of it for her career," he wrote.
Rowland then added that he and Gerber are still friends too. But Gerber clarified. "We aren't friends, Tyler. And for your sake, I hope she's the one." Rowland then softened. He expressed that he was happy for Gerber in her new relationship. But then added, "Rhylee I miss you," he wrote. He shared that he missed Gerber three times in the exchange, then added that his girlfriend went out with friends.
He turned on her for some reason
Gerber shared that all was well with Rowland for quite some time. But he suddenly got snarky and attacked her on social media. She told Bravo's The Daily Dish that Rowland approached her about his relationship, but then the relationship turned sour.
"I was like, 'You have it! Go for it! Good for you!' And then I saw Tyler a couple days later like a mean comment about me on Twitter," Rhylee said. "So I sent him a message. I was like, 'What the f**k is this about?' Be authentic," she revealed. "If you don't like me, you don't like me. If you do, whatever. We can be friends. We can do whatever. And then ever since I sent him that message, he turned into such a prick."
Although the two seemed to have a playful, fun relationship post-Thailand, she is over Rowland now. "Bottom line, Tyler's an idiot. And no, we don't keep in contact anymore," she said. "He was a good lay, but he's an idiot."