'Below Deck Sailing Yacht': Chef Adam Glick Experiences Season 2 Flashbacks
Chef Adam Glick from Below Deck Sailing Yacht has been hot and cold when it comes to his romance with Jenna MacGillivray.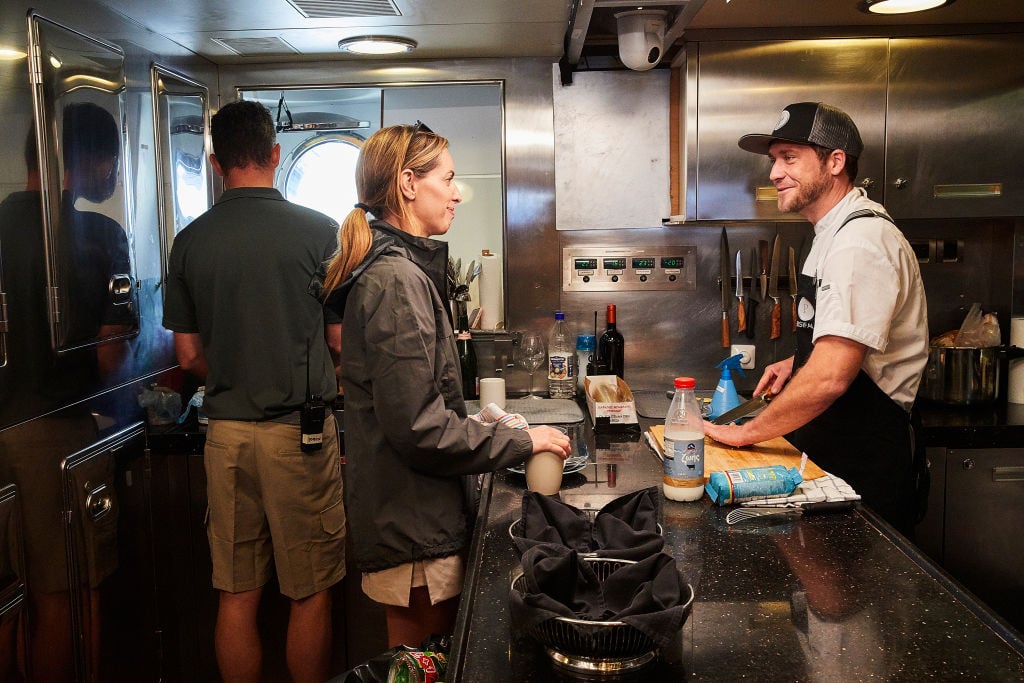 Early this season, Glick insisted that he wanted to resist getting into a relationship with MacGillivray after getting burned during his first season of Below Deck Mediterranean. When viewers met Glick he was having a secret romance with deckhand Malia White. The two had a clandestine meeting before the crew started filming. The couple decided to keep their romance a secret from producers and the crew as Glick fell hard for White.
Unfortunately for Glick, another crew member turned White's head and she ended up choosing the other crew member over Glick. This led Glick to fall into a depression, which ultimately impacted his performance on the yacht. Upon learning that MacGillivray and stew Georgia Grobler dated the same guy, Glick suddenly becomes jealous and actually pretty angry. Is he now kicking himself for diving in headfirst into another boatmance?
He tells MacGillivray that it is gross she and Grobler dated the same person
Grobler and MacGillivray think it's funny they both dated the same guy, but Glick seems furious. "It makes me f**king sick to my stomach," Glick says to MacGillivray upon learning the news. Grobler and MacGillivray giggle that they hooked up with the same guy, but it makes Glick become even angrier.
"The fact that Jenna dated someone that Georgia did, I find repulsive," Glick says in a confessional as he storms out of the galley kitchen. "I now have drama. And I f**king hate drama." MacGillivray and Grobler huddle by the bar as Grobler can't figure out why Glick is so upset. But MacGillivray says she's used to people with anger issues as she witnessed her father's temper.
"So when Adam has these temper tantrums, it feels normal to me," MacGillivray says in a confessional. She suggests to Grobler that she go back into the kitchen and say that MacGillivray never had sex with the guy to ease his anger. Awkward.
Glick was burned before
Grobler tries to smooth things over, telling Glick she was "just joking." He acts like he doesn't care but then reiterates how hearing that they both dated the same person is "gross."
"I don't wanna share, I've been there and done that," he says in a confessional. Cameras flash back to the romance he had with White during Below Deck Med season 2. But flashbacks also show Glick's anger toward the crew member White ultimately chose too. "I can't have that again. Food's for sharing. Not my significant other." He tells Grobler to just drop the topic.
Later he talks to MacGillivray. "You two joking around about the boy you dated," he says. "Can't even describe how much it makes me want to throw up." She reiterates it was all a joke. "I can't swallow things that easily," he says.
Despite his negative reaction, Glick ultimately apologizes to MacGillivray the next day. "Hey, I'm sorry," he says while the guests enjoy breakfast. As he hugs her she says, "That means a lot." He shares in a confessional he got caught up in the heat of the moment. "It's inherent to be jealous when you hear about someone else involved," Glick admits. "I have definitely developed some feelings for Jenna at this point. So I wanna try to let it be water under the bridge."