'Below Deck Sailing Yacht': Chef Adam Says He Learned His Lesson the Hard Way About Crew Romances
Below Deck Sailing Yacht viewers know chef Adam Glick to be the quick-witted chef with a flirtatious side.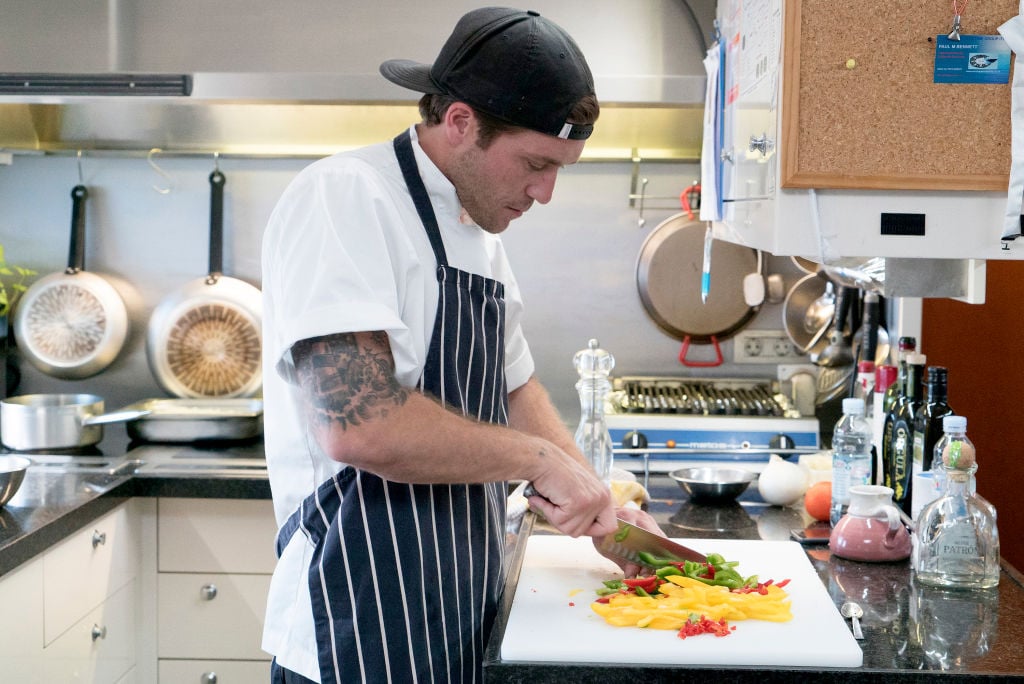 Glick showed significant restraint when he could have easily hooked up with chief stew Jenna MacGillivray. The crew had been drinking and a hookup seemed inevitable. Despite being pretty buzzed, Glick's common sense kicked in and he suggested to MacGillivray that they cool it. She returned to her cabin and the two didn't hook up.
Part of Glick's restraint stemmed from the romantic disaster he experienced during his first season of Below Deck Mediterranean. The relationship was so damaging it almost cost him his job. Thankfully, Captain Sandy Yawn gave Glick a chance to redeem himself the following season. And it appears that he doesn't want to ever repeat what happened the first time around.
A romantic disaster
Glick had a romantic encounter with deckhand Malia White during their first seasons of Below Deck Med. What viewers, the crew and producers didn't know was that Glick and White met each other before the show started filming.
They quickly hooked up on the show, but when White's affections turned to bosun Wesley Walton, Glick broke the fourth wall. He ended up talking directly to a cameraman, exposing the relationship and coming clean about when the two actually met.
Producer Nadine Rajabi told the BravoCon audience she was suspicious that Glick and White already knew each other too. Rajabi asked White if she previously knew Glick and she lied to her. "So we put a GoPro before I left the boat, and we planted a mic, and we see Malia and Wes [kiss]," Rajabi said. "I was like, 'I knew it!' I was so disappointed in Malia for not telling me the truth."
White ultimately pivoted toward Walton and Glick didn't take it very well. He sabotaged a guest's food by adding onions to dishes when the primary guest said he didn't like onions. Glick also admitted his head wasn't in his cooking too because he was so overwhelmed with what happened with White.
Not going to happen again
While Glick seems smitten with MacGillivray, he knows how damaging a crew breakup can have on the season. "I'm totally enjoying this flirtatious banter I've got going on with Jenna," he said in a Below Deck Sailing Yacht confessional. "But I know how quickly, easily I can be infatuated with someone." Cue the White montage.
"You've got the chef and the chief stew. If this were to go belly up, that would be a disaster," he admitted. Glick also acknowledged that he and MacGillivray had an amazing working relationship too.
"But I think from like a cooking standpoint, all my food was spot on," he told Decider. "She and I work like bread and butter. Nothing like Hannah, night and day. She and I worked great together and it shows in my food, it shows in my presence in front of the guests. No real crew drama other than the typical chef saying, "Get the f**k out of my galley!"