'Below Deck Sailing Yacht': Did Chef Adam Shade Captain Sandy?
Below Deck Sailing Yacht fans were thrilled to see crossover cast member chef Adam Glick on board. Glick was the chef for two seasons of Below Deck Mediterranean and one of Captain Sandy Yawn's favorite crew members.
Yawn and Glick's relationship didn't start in the best place. During his first season on the show, Glick was embroiled in a love triangle and lied to producers about having a secret romance before the season started with deckhand Malia White. He said during the season that his broken heart influenced his cooking. Glick even purposely put onions in a guest's food who requested no onions on his preference sheet.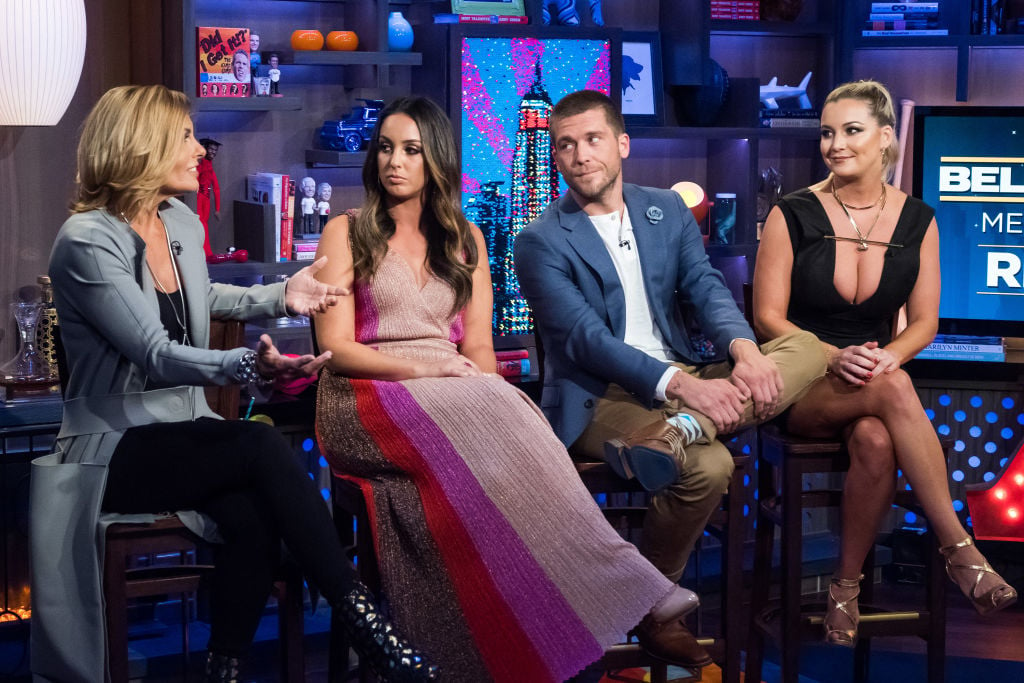 Instead of firing Glick, Yawn decided to give him another chance. She even hired him back for another season, which is when he really shined. Glick hit every meal out of the park and completely dazzled Yawn. Since then, Yawn has had nothing but love for the traveling chef. So did he shade her during his first episode of Below Deck Sailing Yacht?
He is excited to have more freedom
Captain Glenn Shephard tells the crew he's a pretty laid back captain and tries to stay out of the crew's way. Shephard also told Showbiz Cheat Sheet the same thing, sharing that he hires strong workers who he expects will do their job.
During the first episode, Glick shared in a confessional that he was always being scrutinized by Yawn when he worked for her. Cameras flashed back to some of Glick's missteps where Yawn confronted him. "So, it feels really good to work for someone that actually trusts the crew," Glick said. "I guess the big question is if he'll be able to trust us all season long."
When Glick appeared on the Watch What Happens Live After Show he said that Shephard was one of his favorite captains of all time. A caller asked what was the biggest difference between working with Shephard versus Yawn. "The key difference is that Glenn really allowed me to excel," he shared. "You know, he just let me go. And he trusted me." Host Andy Cohen wondered if that meant Yawn held him back. "Well no, but Sandy did question my abilities from time to time. Glenn never did and it will show."
Yawn was saddened by Glick's comments
Yawn and Glick seemed to be close and she was very supportive. But when she saw the first episode, she said she was sad to hear his words. A fan asked her what she thought during the episode.
"Yep…was sad to hear that from Adam," Yawn tweeted in response to a viewer's comment. "He got 2 seasons on #BelowDeckMed, one of which was a redemption season. Hope he learned from his BDM experience and brought something special to #BelowDeckSailing. Thanks for your support of BDM!"
Fans recalled that once Glick sabotaged the guest's food with onions, Glick lost his chance for autonomy. Plus, fans commended Yawn for giving Glick additional chances to redeem himself. Some fans were downright angry. "When Adam defiantly continued to put onions in the guests food who specifically requested NO ONIONS he proved he had NO INTEGRITY and I knew then he was a SELF SERVING SNAKE! I refuse to watch ANY program he's on!!And now seeing on Twitter he's bad mouthing Cap Sandy confirms it," one person commented on the thread.