'Below Deck Sailing Yacht': Did Georgia Grobler Catch Feelings for Paget Berry and Just Agree to a Threesome?
Although Georgia Grobler from Below Deck Sailing Yacht insisted she was merely flirting with Paget Berry, she finally admitted she has feelings for him.
She shared that she's fond of him in an upcoming clip, realizing though that she has to keep those feelings under wraps. Grobler and Berry like to joke around, often exchanging witty banter while the work. Berry's girlfriend Ciara Duggan is more than aware of their relationship but insists Berry isn't truly flirting and that's just his personality.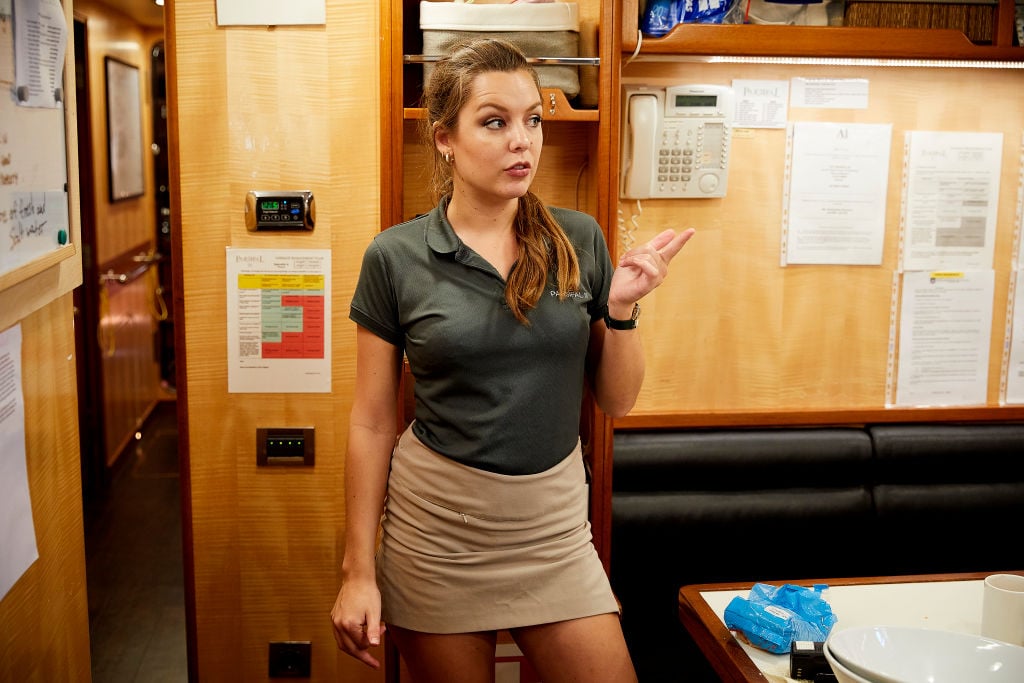 But now that Grobler admits she's caught feelings for the first mate, now what? Cameras capture the crew during a night out drinking and the situation between Berry, Duggan, and Grobler gets more than a little interesting.
She's using tequila to keep her feelings to herself
Grobler is seen ordering a tequila drink at a bar. "Even though I have feelings for Paget, I slam those f**king feelings with lots of tequila, no lemon no salt," Grobler says in a confessional. "Because that's not okay."
She's seen downing a shot of tequila. "But sometimes I have these moments when I just wanna be selfish and explore an inappropriate option," she continues. However, that "inappropriate" option may not be with Berry. She's seen bouncing Duggan on her lap while they laugh.
Berry approaches the women as Grobler pushes Duggan off of her lap. "Here are my leftovers," she says to Berry. Duggan turns and says, "Excuse me Georgia!" Grobler jokes about how they didn't finish. But Duggan comes in for a kiss and says, "We will later."
What's happening later?
Grobler looks surprised … pleasantly surprised. The rest of the crew is too busy dancing and partying to notice what is happening on the side. What they miss is seeing Grobler totally motorboat Duggan.
The women laugh it off as Duggan turns to Berry wondering what just happened. "It happens," Duggan says. Grobler agrees. Meanwhile, Duggan and Berry embrace and end up in a liplock. "Why don't you ask her," Duggan says to Berry. "Georgia's kind of fun. But she's nothing compared to you."
The couple looks over in Grobler's general direction. "Hi Georgia, do you wanna come join?" Duggan inquires. Even Berry adds, "Wanna kissy?" Grobler tries to pretend as though she's not hearing them but she definitely hears their calls. "As far as I understand, I think I'm agreeing to a threesome?" Grobler wonders. Duggan and Berry snuggle and giggle but continue to gesture in Grobler's direction.
Grobler makes the sign of the cross in a confessional. "I'm sorry, mom," she says laughing. The group decides dancing might be a better idea at that point.
Does Grobler think she is a flirt?
Grobler explained her relationship with Berry and said she's a flirtatious person in general. "Other people's unit of measurement of flirting is far more black and white than mine," she told Decider. "For god's sake, I'm not saying if I'm talking I'm flirting but this is just how I talk. I speak to everyone like that, I speak to Ciara like that."
Adding, "Parker and I make jokes all the time and we always understand it to be joking. I think because you're able to detect that Paget and I do approve of each other as people, I think people take all the flirting and stuff a bit seriously."