'Below Deck Sailing Yacht': Did Producers Bust Jenna MacGillivray and Chef Adam Hooking Up?
Despite cameras filming from nearly every nook and cranny on the yacht, Below Deck Sailing Yacht producers gave chef Adam Glick and chief stew Jenna MacGillivray some privacy when they were hooked up.
Cameras were perched outside the master bedroom doors during the last episode. While the only visual viewers received were the doors, audio captured their post-coital fight.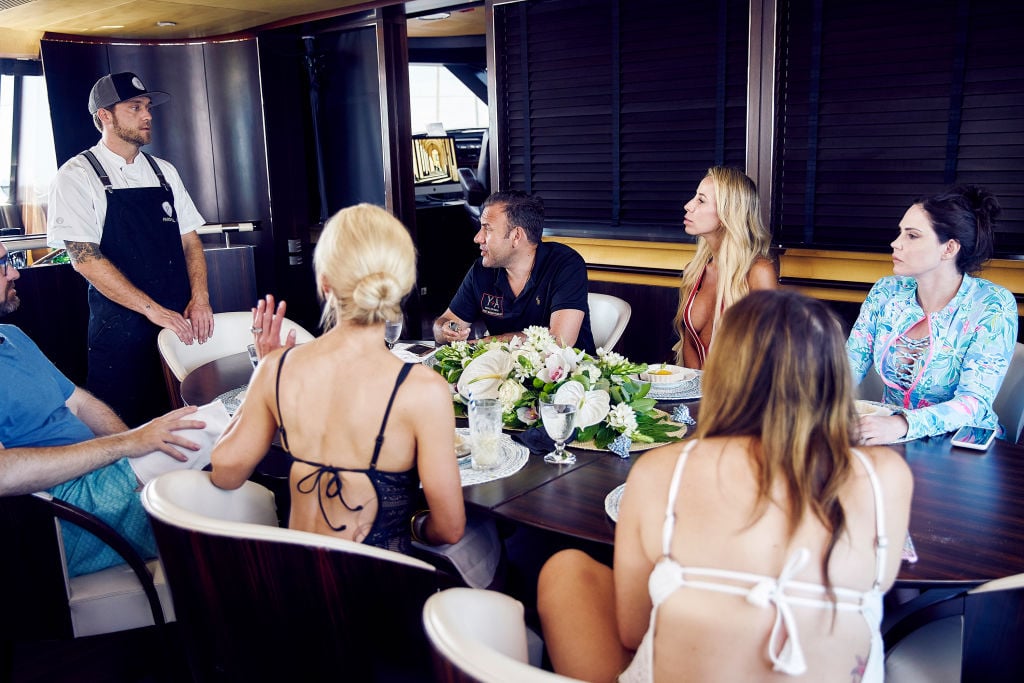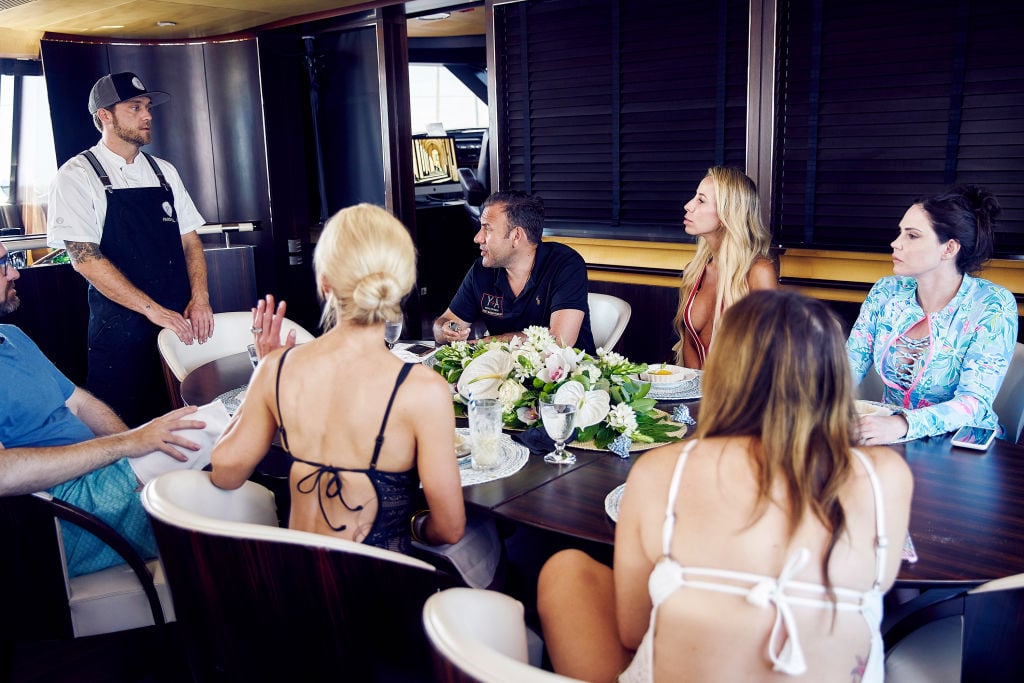 Producers recently dished about what happened behind the scenes when they filmed the newest Below Deck installment. While they never "walked in" on Glick and MacGillivray when they hooked up, producers admit they know where the cast is at all times, Bravo's The Daily Dish reports.
Most 'Below Deck Sailing Yacht' production crew members work on 'Below Deck'
Many production crew members were very familiar with the franchise as about 85% of the crew worked on both Below Deck and Below Deck Mediterranean. It took about 60 production crew members to film the newest addition to the franchise and most just move from series to series.
The production crew stays at a nearby hotel and like the yacht crew, enjoys tying one on when they are not on shift, according to The Daily Dish. Their drink of choice? "Espresso martinis and Aperol spritzes all over town."
Three or four tenders shuttle production crew to and from Parsifal III. Once the crew arrives on the yacht, they set up a video command central in one of the guestrooms. They also have another room for the video village. "In the video village, one whole wall is filled with screens that have feeds to ALL cameras on board. That way, producers can see every little thing going on around the boat at all times," The Daily Dish reports.
Production crew works long shifts too
Like the yacht crew, the production crew works lengthy shifts. Producers will hunker down in a cramped video room for 12-hour shifts. What is that like? Sometimes it's pretty glamorous to be working on set. "But when you're sweating on top of your co-workers, it's not," producers said.
Thankfully (for producers) guests typically don't wander into production areas. "We don't interfere with their vacation, so they tend to return the favor and leave us to do our jobs," producers shared.
Approximately four camera operators work each shift. But producers also have drone footage and steadicam operators too. The yacht is equipped with about 20 surveillance cameras that run 24/7.
These seasons inspired more surveillance
Over the years, producers have realized that they were missing important footage when crew members hid in certain areas of the boat. For instance, cameras were later installed in the laundry room when Raquel "Rocky" Dakota from Below Deck hooked up with Eddie Lucas while the washer and dryer were running.
Also, Below Deck Mediterranean showrunner Nadine Rajabi said she added more cameras to the yacht after learning Glick and Malia White were sneaking around with their relationship too. The boat was originally stocked with up to 10 cameras.
Once the relationship slipped under the radar, Rajabi added 18 cameras that filmed 24 hours. That way the team could capture more stories. "Our show's just kind of become on steroids because everything is being covered," she said at BravoCon.
Below Deck Sailing Yacht producers shared, "We know where they are at all times — they're always on camera."