'Below Deck Sailing Yacht': Does Georgia Grobler Think She Was Flirting With Paget Berry
Georgia Grobler from Below Deck Sailing Yacht seemed to quickly establish a bond with Paget Berry. The third stew and first mate were often filmed exchanging snappy banter, which some on social media considered to be flirting.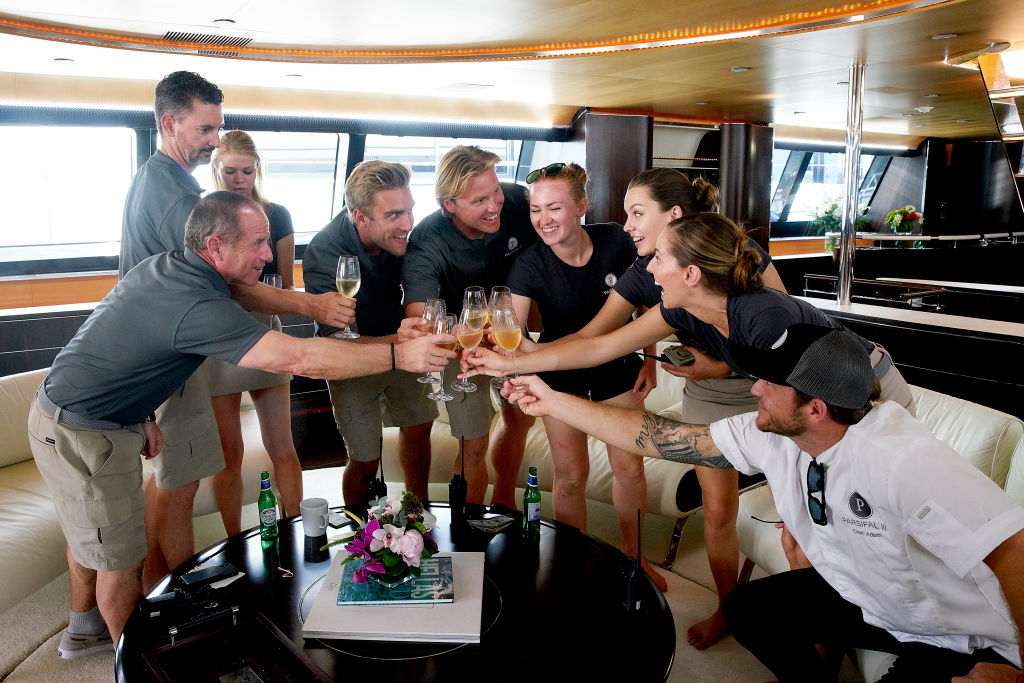 A little harmless flirting would normally be no big deal, but Berry is in a long term relationship with deckhand Ciara Duggan. Cameras captured several instances where Grobler and Berry seemed to be flirting. But Duggan insisted any efforts to flirt with her boyfriend on Grobler's part were fruitless.
But at one point Duggan broke down in tears during a crew outing. Fans thought perhaps she was exasperated because she wanted Berry's attention. She insists she was simply exhausted. "Oh and just for the record I was not crying bc I was desperate for Paget's attention. I was crying out of exhaustion. It's not normal to go out and party between charters in the real yachting industry. In reality you go to bed early and catch up on sleep. But that'd be boring," she tweeted. Duggan didn't seem concerned that Grobler was stealing her boyfriend's attention, but what does Grobler think? Was she really trying to flirt with Berry?
Grobler respects Duggan and Berry's relationship
Grobler told Decider she didn't consider her banter with Berry to be flirtatious. "Other people's unit of measurement of flirting is far more black and white than mine," she said. "For god's sake, I'm not saying if I'm talking I'm flirting but this is just how I talk. I speak to everyone like that, I speak to Ciara like that."
Deckhand Parker McCown joined Grobler during her discussion with Decider. He added, "Right off the bat I knew that I could have fun and flirt with Georgia."
Grobler clarified, "Parker and I make jokes all the time and we always understand it to be joking. I think because you're able to detect that Paget and I do approve of each other as people, I think people take all the flirting and stuff a bit seriously."
Adding, "And from what viewers do see of the flirting without any of the sincerity or any of the jokes, I would also be like, damn that's a homewrecker over there. But everyone's always known that there has been a respect. I do have immense respect for Ciara and Paget's relationship. I was never like, come to my cabin. It's just stupid innuendos and jokes about laundry and underwear and that is just what it is."
Grobler also learned a lot from Duggan
Not only does Grobler have love for both Duggan and Berry, but she also learned a lot about the industry from Duggan. "Ciara would help me out in the laundry, if I asked her for advice she'd give it to me. Then she's happy to help and I'm happy to have gotten help," she said.
She also knew that Duggan and Berry were thrown under the bus when the crew continued to comment about the sailing yacht's state. When the crew arrived on Parsifal III, the boat was in total disarray. "I think we dance on Ciara's grave at the beginning: this boat's been sitting idle for nine months, s**t's a mess, everyone lays in because they forget the original crew's on the boat," she shared. "I'm not doing it to appease Ciara, but if I need to know the best way to get a stain out of this or that, I'd ask Ciara for advice because obviously Jenna doesn't like being disturbed by me, we just try to keep space." 
Below Deck Sailing Yacht airs on Monday at 9 p.m. / 8 p.m. Central on Bravo.