'Below Deck Sailing Yacht': Does Jenna MacGillivray Have Competition for Chef Adam's Attention?
Chef Adam Glick and chief stew Jenna MacGillivray from Below Deck Sailing Yacht only have eyes for each other. The two have grown closer during the season and seem to be an "official" couple on the boat.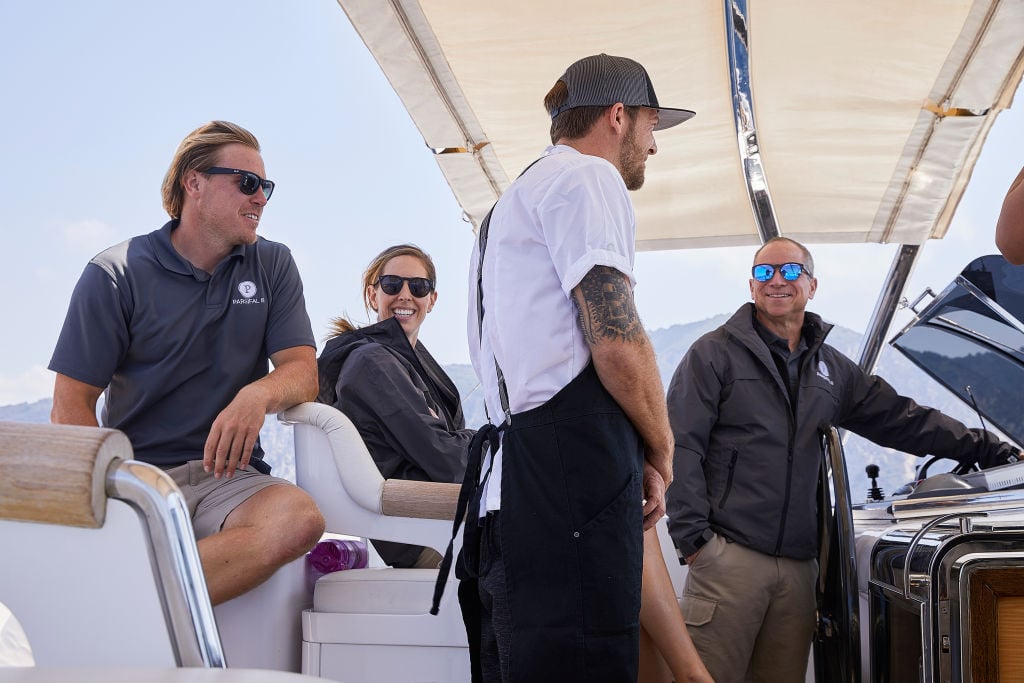 And while MacGillivray is the only crew member Glick wants, she may have some competition with the recent group of charter guests. A group of "social media influencers" and their boyfriends arrived on Parsifal III. Almost immediately, the women in the group remark about how cute Glick is and seem overly interested in the chef.
During a few upcoming clips, the women get a little too tipsy and one of the guests lets loose with her attraction for Glick. Meanwhile, her boyfriend and MacGillivray stand nearby and watch her gush over him. Needless to say, neither the guest's boyfriend or MacGillivray seem to be amused.
You're fighting with your boyfriend because you like my boyfriend?
Previews show that MacGillivray is keenly aware of the amount of flirting coming from the guests. When they are seated for appetizers, the women giggle saying that Glick is "adorable." Meanwhile, their boyfriends and MacGillivray are nearby. They then scream, "Adam!" At this point, the men in the group are already over this "Adam fan club" the women in the group have started.
Later, after the guests appear to be seriously overserved, one guest tells Glick she "loves him" while he serves dinner. MacGillivray is seen somewhat stonefaced but clearly amused by the behavior. The guest is so drunk her boyfriend tells her to "lock it up." But she says she's going to "do the opposite." Adding, "I only do what Adam tells me to do." Her boyfriend whispers, "Adam." Glick is seen in the kitchen saying, "Shut her down!"
In a confessional, MacGillivray ponders the situation. "So you're fighting with your boyfriend because you like my boyfriend?"
MacGillivray may have bigger issues with Madison Stalker
While viewers will have to wait and see how Glick reacts to the flirty guests, MacGillivray seems to have her hands full (again) with second stew Madison Stalker. The same preview clip shows that Stalker is annoyed that Glick and MacGillivray got to sleep in the master cabin in between charters.
She's seen grumbling about it to chief engineer Byron Hissey in the crew mess. Meanwhile, Glick stands nearby and calls her out on her complaint. "Yeah that was Jenna and I and if you have a problem with it, you can talk to me about it," Glick says as he works in the kitchen.
But then he adds, "Can you go a day without creating some kind of drama?" Stalker looks completely annoyed. But the news must travel back to MacGillivray. "Madison is complaining because she's jealous," MacGillivray says in a confessional. "Well, you've picked the wrong person to play with."
MacGillivray is seen talking to Glick alone in the kitchen. "She's going to have to be punished for this behavior," she says to him while laughing.
Below Deck Sailing Yacht is on Monday at 9/8c on Bravo.