'Below Deck Sailing Yacht' Hits Series High After Explosive Fight Between Chef Adam and Jenna MacGillivray
'Below Deck Sailing Yacht' shot up in the cable ratings, but was it only because of the fight between Chef Adam and Jenna MacGillivray?
Below Deck Sailing Yacht experienced a serious ratings hike after episode 13 ended with a brutal argument between chef Adam Glick and chief stew Jenna MacGillivray.
The new series floundered in the ratings, but it finally got a shot in the arm. "S01E13 – 1.348 million viewers (0.47 18-49 demo) *series high*," Bravo Ratings tweeted. The latest episode saw a significant increase from episode 12. "S01E12 – 1.168 million viewers (0.41 18-49 demo)," according to Bravo Ratings.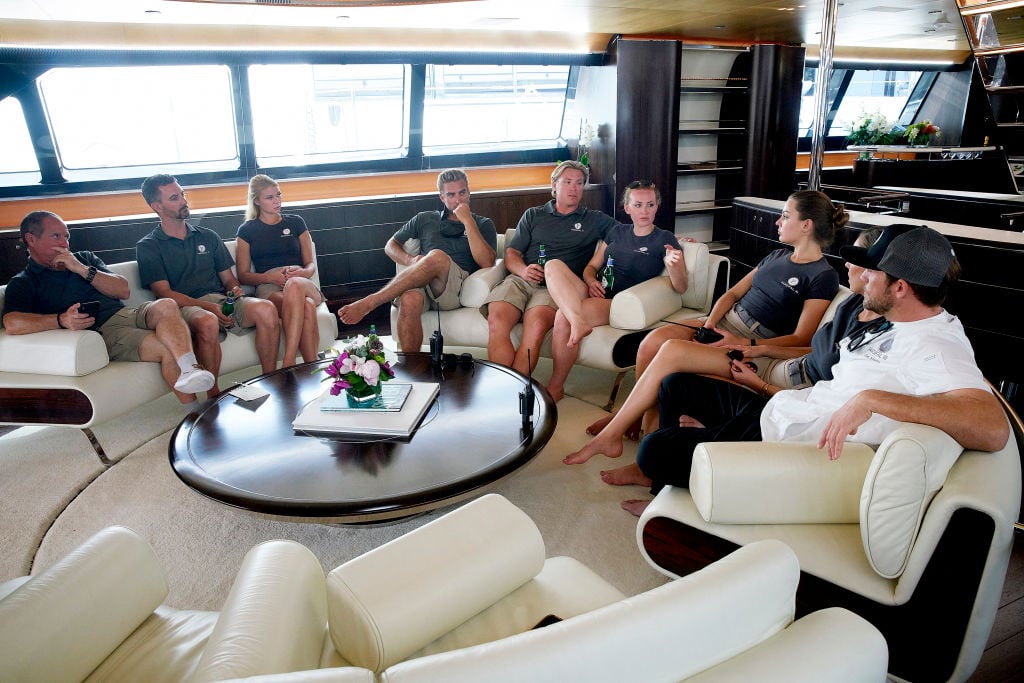 However, week over week, the series continues to climb as tension mounts between Glick and MacGillivray. What made the latest episode so juicy? Beyond Glick and MacGillivray's argument, other elements may have come into play.
The last crew change resulted in higher ratings too
Deckhand Parker McCown resigned and viewers met new crew member Chris Miller. Although Below Deck Sailing Yacht ratings were already on the rise, episode 13 was Miller's first full episode on the series.
Below Deck season 7 also experienced a similar phenomenon. Ratings, while consistently higher than Below Deck Sailing Yacht, were meh until viewers learned deckhand Abbi Murphy was going to quit.
Suddenly, ratings jumped and then continued to steadily climb once deckhand and Below Deck alum, Rhylee Gerber returned. Below Deck also experienced a season-high during the crew change. Bravo Ratings tweeted, "S07E07 – 1.546 million viewers (0.56 18-49 demo) *season high*."
'Below Deck Sailing Yacht' may be in the perfect storm too
One factor in the show's favor is a captive audience. Viewers have been under a shelter in place order nationwide as a pandemic sweeps the country. More people are likely tuning in as most Americans now spend a significant amount of time at home.
Also, viewers are finally getting comfortable with the crew as the drama continues to unfold. Several story arcs are finally developing, ranging from the tension between Madison Stalker and several crew members to Glick and MacGillivray's romance on the rocks. Meanwhile, Georgia Grobler and Paget Berry are still flirting, despite his girlfriend, Ciara Duggan also being on the boat.
Viewers seem to have quite a few opinions about crew storylines. "Adam needs to see a therapist. I felt bad for Jenna on last night episode. She totally didn't deserve that. He's an emotional wreck," one person wrote on a Below Deck Instagram post. Also, viewers are truly feeling the animosity between MacGillivray and Stalker too. "Hope Jennas attitude changes towards Madison I really enjoyed her in the beginning and I know everyone makes mistakes so I'm rooting for things to turn around really enjoy the show," another person commented.
Plus, the guest storylines have gotten crazier and crazier. Episode 13 also featured one of the most awkward marriage proposals in the history of the show. Charter guest Jesse Thompkins proposed to the primary guest Lindi Kennedy. He proposed last minute during a romantic beach picnic in front of friends and the crew. She cringed and turned him down. She later explained on Instagram that he was actually an ex-boyfriend. And she had only recently reconnected with him weeks earlier.
Below Deck Sailing Yacht is on Monday at 9/8c on Bravo.