'Below Deck Sailing Yacht': Is Jenna MacGillivray's Job in Trouble Because of Chef Adam?
Rough waters are ahead for Jenna MacGillivray from Below Deck Sailing Yacht. Previews show that MacGillivray may be in trouble with Captain Glenn Shephard for being more into chef Adam Glick and less into work.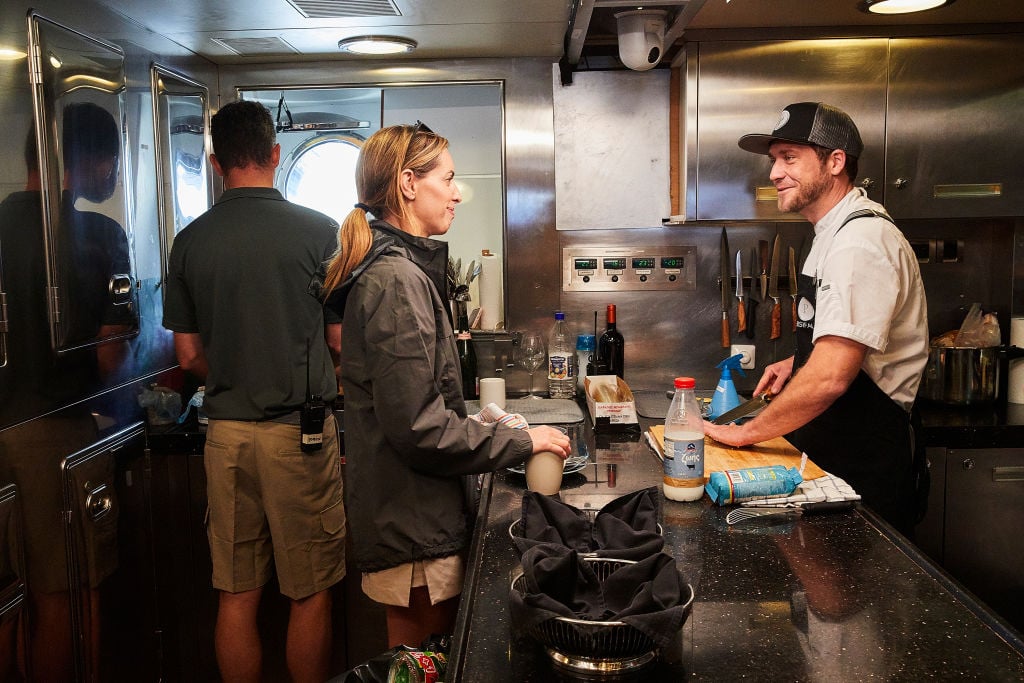 Glick and MacGillivray have had a rocky relationship. They fought fiercely and MacGillivray often gets mixed signals from Glick. He seems into her one minute and then cold the next.
However, during an upcoming episode, MacGillivray is not only back in his good graces, but she may also be putting her relationship with him above work.
She chooses to nap with Glick while Madison Stalker works
Previews show that MacGillivray jumps at the chance to take a nap with Glick and has stew Madison Stalker cover service. MacGillivray seems to be preparing to take her break when Glick suggests they lay down together. "Are your minions laying down," Glick asks.
"No, Madison's on laundry so I'm going to move her [to service]," MacGillivray says. Meanwhile, Stalker ends up being the only one on service as third stew Georgia Grobler is also on break in her cabin. MacGillivray informs Stalker she's going to take an hour break and to take over service.
Stalker readily agrees and does as she's told. Of course, inside she knows she has to pull the weight of three people by herself. As MacGillivray and Glick lay down Stalker is running all over the boat to ensure the guests' needs are being met.
Stalker confides in Ciara Duggan
Deckhand Ciara Duggan is with the guests while they play with the water toys. Duggan radios drink orders to Stalker and Stalker is seen running back and forth. Stalker finally mentions to Duggan she is the only one on service.
"This is getting a bit out of hand," she tells Stalker. Adding, "When you're not doing your job properly someone else is having to," Duggan says in a confessional. "It's not fair on the rest of the crew members." Clearly Stalker is starting to feel overwhelmed. She tries to conceal her anxiety from the guests as she tells Duggan there is only so much one person can cover at once.
Meanwhile, in Glick's bunk, he and MacGillivray get cozy. "I can fall asleep so easily beside you," MacGillivray tells Glick as they relax in his room.
Is MacGillivray on Captain Glenn's radar?
In a preview, MacGillivray is seen telling Grobler she had a rough night. Her night (and day) may get rougher as Shephard calls out service during the crew tip meeting. "Interior, I think the service has dropped a little bit," Shephard says in MacGillivray's general direction. She looks uncomfortable during the tip meeting knowing she and Shephard are likely going to have to talk.
He later asks her if she has "a minute" and MacGillivray and Shephard have a talk. Does he notice that she's been more about Glick and less about the guests? Or did a guest or crew member tip him off that she seems to be a little bit distracted by her relationship with Glick?
Below Deck Sailing Yacht is on Monday at 9/8c on Bravo.