'Below Deck Sailing Yacht': Is Someone Going To Get Fired?
Below Deck Sailing Yacht has been relatively smooth sailing — until now. Previews show that the series will get pretty rocky with hints of threesomes, breakups and even a possible "personnel change."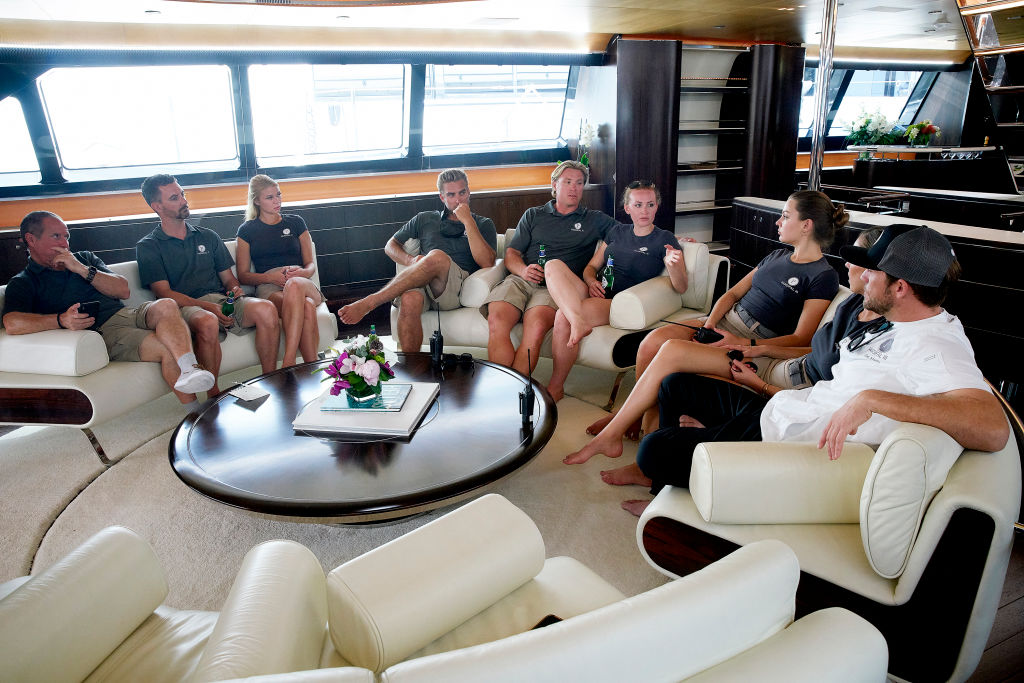 Tensions are already bubbling under the surface with both the deck and interior departments. While third stew Georgia Grobler shared that she was starting to get the hang of her job, second stew Madison Stalker seems to be getting increasingly frustrated with chief stew Jenna MacGillivray.
Meanwhile, first mate Paget Berry and deckhand Ciara Duggan are fed up with deckhand Parker McCown. McCown is eager to please and wants to do the right thing. But he sometimes bumbles the job, which is exasperating for Duggan and Berry.
This couple may be uncoupling
In an upcoming preview, Stalker rolls her eyes at the couples on the yacht. Duggan and Berry are a longtime couple who were actually working on the sailing yacht together before the season began. The other couple is MacGillivray and chef Adam Glick. Their budding romance sizzled under the surface with massive amounts of flirting.
Glick and MacGillivray had one "near miss" hookup in the hot tub after the first charter. Eventually, they kissed and started getting extremely cozy until Glick threw a bucket of ice water on the relationship. When MacGillivray suggested the spend the night together, Glick initially agreed. But then later decided against it, but became cold and distant. MacGillivray seemed confused and ended up in tears. Glick didn't want to deal with it and called her reaction "psychotic."
The season preview clip flirts with a potential threesome between Berry, Duggan and Grobler. But features the raw exchange between Glick and MacGillivray. "So we're definitely breaking up," MacGillivray says to Stalker in the galley kitchen. Glick stares into MacGillivray's eyes and says, "It's over. I hop in my van and I drive away." MacGillivray then calls herself naive while in tears.
Which crew member's job could be on the line?
While McCown meets with Captain Glenn Shephard about respecting rank, someone on the crew may be in trouble for something else. "I would be very surprised if somebody flew to Corfu with cocaine," Shephard says to MacGillivray.
He's seen searching someone's bag. "Is there anything you don't want me to find?" Shephard is heard asking, "What's in here?" Adding, "Might be a change of personnel." Having illegal drugs on a yacht is extremely serious. The very first group of charter guests on Below Deck had cocaine in their room. Captain Lee Rosbach had to make the hard call of turning the yacht around and asking the guests to leave mid-charter.
Rosbach recalled the moment when he kicked the guests off the yacht. "Did you see the look on their faces when I said we're going back," he said laughing during a Stars Marketing Group event.  Adding, "They hold the record. They were on the boat for less than 22 hours and they were gone." Rosbach lowers his voice and says with unbridled delight, "I kept their money!"
Below Deck Sailing Yacht airs Mondays at 9/8c on Bravo.