'Below Deck Sailing Yacht': Madison Stalker Clears up Why She Was Burning the Candle at Both Ends
Madison Stalker from Below Deck Sailing Yacht is the stew who was scheduled to be on late at night … but is then seen back on service shortly after the guests have had breakfast. What gives?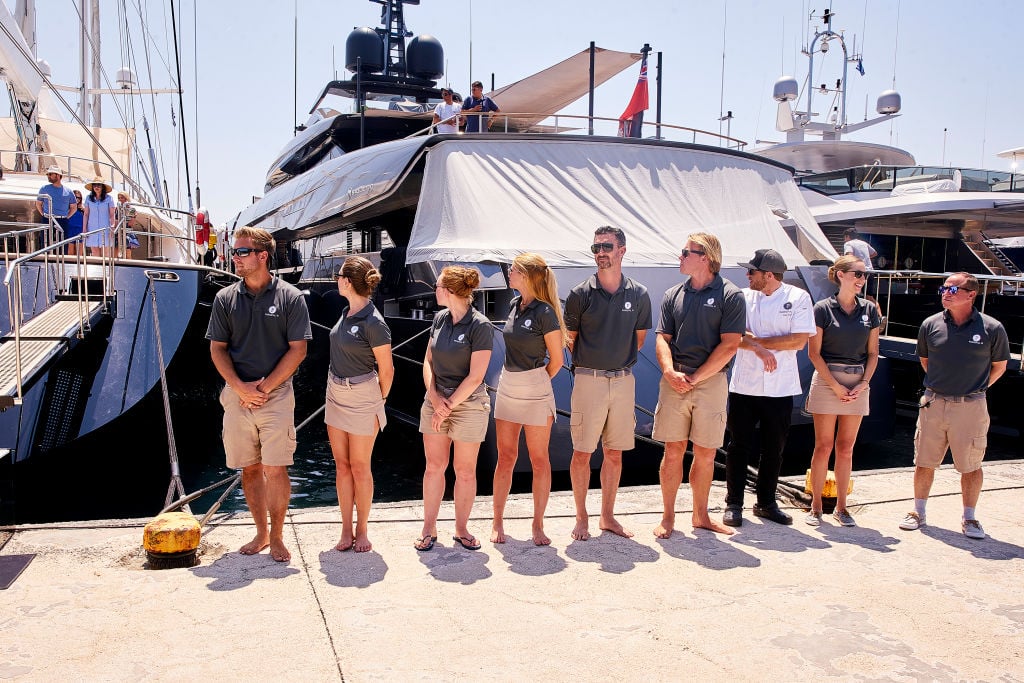 Fans of the show know crew members have rotating schedules. While some crew work late at night, they typically sleep well into the day. That's when the early crew members take over. However, Stalker seemed to be working late and early, which drove her to exhaustion. Chief stew Jenna MacGillivray became frustrated because she could tell Stalker was burned out. She discussed Stalker and her performance with Captain Glenn Shephard, seemingly putting the blame on Stalker.
Stalker also took heat for the beach party set up (or lack thereof). The show made it look as though she and deckhand Ciara Duggan were literally laying down on the job. But Stalker insists she was told to just go and "hold down" the area.
She was up early because the girls kept asking questions
Stalker was literally burning the candle at both ends by staying up well past 3 a.m. but then getting back up again only hours later. She told Decider she wasn't supposed to be on shift in the morning but noise and questions dragged her from her slumber.
"Guests go to bed late, all of our guests were going to bed between 12 and 2am, and you still have work to do after that," she explained. "We were doing parties and cleaning up all that. You still have to do night duties. So maybe I was staying up a couple times an extra 20 minutes. And I wasn't sitting down eating dinner, I was never sitting down to eat lunch, and so for me to be able to sit down and eat, and talk with another human for maybe 20 minutes. And when you're alone in dead silence for like two hours, I mean it could've been Ciara coming on at 4am."
Stalker explained why she got up early. "Plus, I already wasn't even taking my eight hours [of sleep] because the girls needed me in the morning," she continued. "They were coming in and out of the room, they were waking me up to ask dumb questions that they could've figured out together. I was by myself at night and you guys have two people in the morning. They were pretty disrespectful of my sleep, and I wasn't getting breaks either, just sporadically. The girls were taking their two-hour breaks, or an hour and a half, and I was rarely getting breaks at this point."
Was she laying down on the job during the beach picnic?
Stalker and Duggan appeared to be blow off setting up the beach picnic. But Stalker says she was not told to set up but rather hold down the area. "So that's why that whole beach set up, when they told me to go hold, literally to hold the beach," she said. Adding, "I think we went there at 4 o'clock and dinner was gonna be at 8. I was like, I need to sit the f**k down for 20 to 30 minutes and take a break."
Stalker also reiterated her level of exhausting too. "I was exhausted, especially after that boys' charter. I knew they were going to use it [on the show], but at that moment I was like, I'm a person, I just need to sit down for 30 minutes and get off my feet. Plus that beach, I cannot reiterate this enough, it was so beyond painful. That was a whole element of it too." 
Below Deck Sailing Yacht airs Monday night at 9/8c on Bravo.