'Below Deck Sailing Yacht': Madison Stalker Is Pushed to Her Breaking Point
Madison Stalker from 'Below Deck Sailing Yacht' may be at her breaking point.
Madison Stalker from Below Deck Sailing Yacht may be the hardest working stew on Bravo. Stalker was seen constantly in motion, climbing stairs to deliver food to the guests. Then heading back down to do cabin turndowns.
She was then called for another task and is often seen working until 3 a.m. or later. Needless to say, this "energizer bunny" may need to have her batteries charged.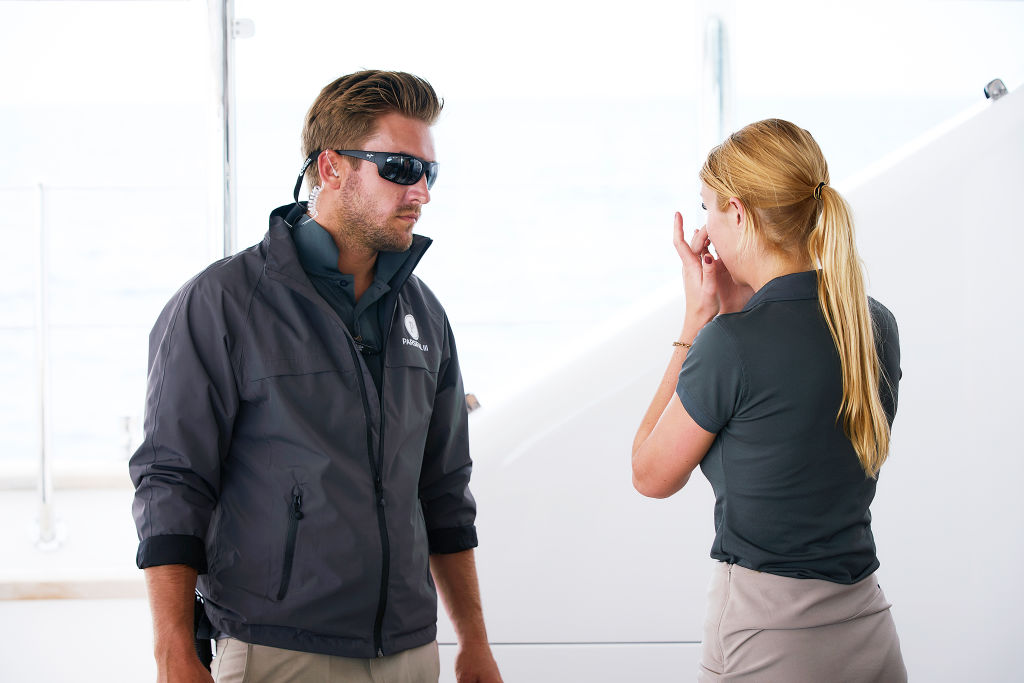 Stalker recently told Showbiz Cheat Sheet she was exhausted, which definitely influenced her mood on the show. "We were in a unique situation, I think there's always going to be some tension," she said, reflecting on her relationship with chief stew Jenna MacGillivray. "If there would have been more communication and care about our department, and I actually had proper hours of rest, I wouldn't have been so drained and frustrated. The last episode was hard for me to watch. I don't like seeing myself not be the happy, positive person I am."
She may be ready to walk away
Cameras show just how far Stalker is pushed as she ultimately breaks down in a private conversation with deckhand Parker McCown. The crew is seen working away in a preview clip. Third stew Georgia Grobler and first mate Paget Berry exchange some snappy banter, while the crew dives into take out pizza.
The crew assembles in the crew mess to eat while Stalker comes rushing in, clearly still working. She looks completely exhausted carrying a bevy of beer bottles. "Thanks for getting the beer bottles Madison," McCown says. She looks drained as she enters the crew mess. "But sit down and have a slice," he directs her.
She brushes him off, telling him she's fine. But he persists, telling her to "Take a load off. Drink some water. Chill out." The crew (and guests) recently remarked about the intense heat in Greece.
McCown knows something is wrong
At this point, McCown, who is one of Stalker's closest friends on the boat suggests they go outside to talk. "Madison. Madison, look at me," he says trying to make eye contact with her. "I'm asking you if you wanna go talk now." She agrees and Captain Glenn Shephard observes that tight quarters make it tough to have a private conversation.
"It's a really small boat, not many places where you can have a conversation in confidence," he says in a confessional. "I hope that Madison can get past that frustration. Vent and maybe have a bit of time to reflect. Then she'll come back strong again."
Stalker opens up to McCown
McCown and Stalker leave the boat to talk. She shares that she feels dumb at the moment. "Listen, I don't understand what's going on with you," McCown says. He begs her to open up to him. She finally shares that she's sick of the way MacGillivray speaks to her. McCown becomes heated and insists she stands up for herself. "Don't take the bulls**t," he insists.
As McCown talks, Stalker tries to hold back her tears. Her back is turned to the camera as she wipes her eyes. He insists she can defend herself because she's done it before. "Parker is like chicken soup," she says in a confessional. "It's warm, it's comfy. There to support you, you know, when you're feeling bad."
McCown also manages to make Stalker laugh. "She told me I'm still breastfed by my mom, okay? I'm dealing with that!" They hug and return to the boat.
Will Stalker confront MacGillivray? Stay tuned when Below Deck Sailing Yacht returns on Monday at 9/8c on Bravo.