'Below Deck Sailing Yacht': Parker McCown Makes a Splash With a Surprise Engagement
Deckhand Parker McCown from Below Deck Sailing Yacht may have decided to leave Parsifal III but he opened the door to an exciting new future. He and girlfriend Kaiti are engaged!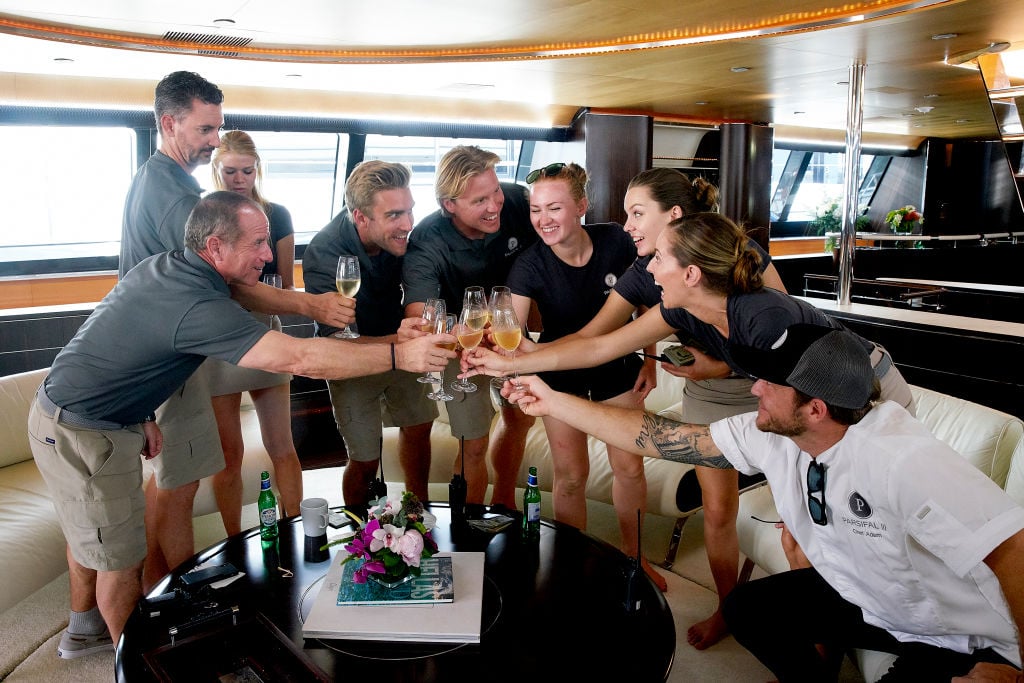 After McCown departed the boat, he was later filmed having that fun vacation with ex-girlfriend Kaiti in Greece. McCown was seen in a previous episode asking Kaiti to meet him in Corfu, Greece. He seemed to really miss her and also called her when he was taking heat for his attitude. It appears that she decides to fly to Greece, even before McCown makes the decision to leave the boat.
Viewers thought they saw the last of McCown when he left the boat, however, cameras captured the thrilling moment when McCown asked Kaiti to marry him.
Meanwhile, on a nearby island …
Deep into the episode, while the crew was busy at work, McCown and Kaiti were doing a little scuba diving in Greece. Cameras show the couple diving hand in hand as they explore the ocean floor.
McCown is seen even dancing with his girl underwater as one of his songs is playing in the background. The couple is seen later onshore, McCown with his trusted ukelele in hand as he belts out a tune.
That's when the camera flashes back to an underwater scene and the big proposal. Both are in their scuba gear as McCown presents his girl with a box containing a ring. Since they were in scuba gear, producers provided viewers with the answer. "She said, YES!"
McCown says Kaiti is the perfect girl for him
In a confessional, McCown says that he's found the perfect girl. "Because she loves me for being ridiculous," he shared in a confessional. "She parties hard with me. And she loves all people. And the planet and nature, and animals."
As she accepts the ring, she becomes "Parker's fiancée" as they kiss underwater. McCown gives the camera the hang 10 sign.
McCown shared some photos from their Greek adventure too. "My best friend and I are hanging out in Greece and it's the most magical fun I have ever had! Out here livin' a Lush Life," he captioned a series of photos. Friends responded with some likely knowing about the engagement. "So happy to see you two happy! In awe of the life you are living! ❤️❤️❤️ @kaitishmaiti," one person wrote. Another added, "So happy for you both!"
McCown was ready for a relationship
Although stew Madison Stalker hinted that she might have feelings for McCown, he told her he was happy she was his friend and that he was really falling for his ex-girlfriend Kaiti.
When yacht life started getting rough, McCown turned to his ex-girlfriend for support. Especially toward the end when he called her and said he was being a "Sassy Sally" on the boat. Unfortunately, the call kept getting dropped and McCown was clearly frustrated. He ends up telling her (again) he was a "grouchy pants" that day too. "I was rude to people and … can you hear me now?" McCown gets frustrated when the call drops once again.