'Below Deck Sailing Yacht': Which Crew Member Was 'Employee of the Month?'
First mate Paget Berry from Below Deck Sailing Yacht became the "unofficial Employee of the Month" when he agreed to deliver a guest's cake in nothing but a pair of tiny shorts.
Berry shared he was extremely uncomfortable being shirtless, revealing he struggled with his weight and bullying issues when he was a child.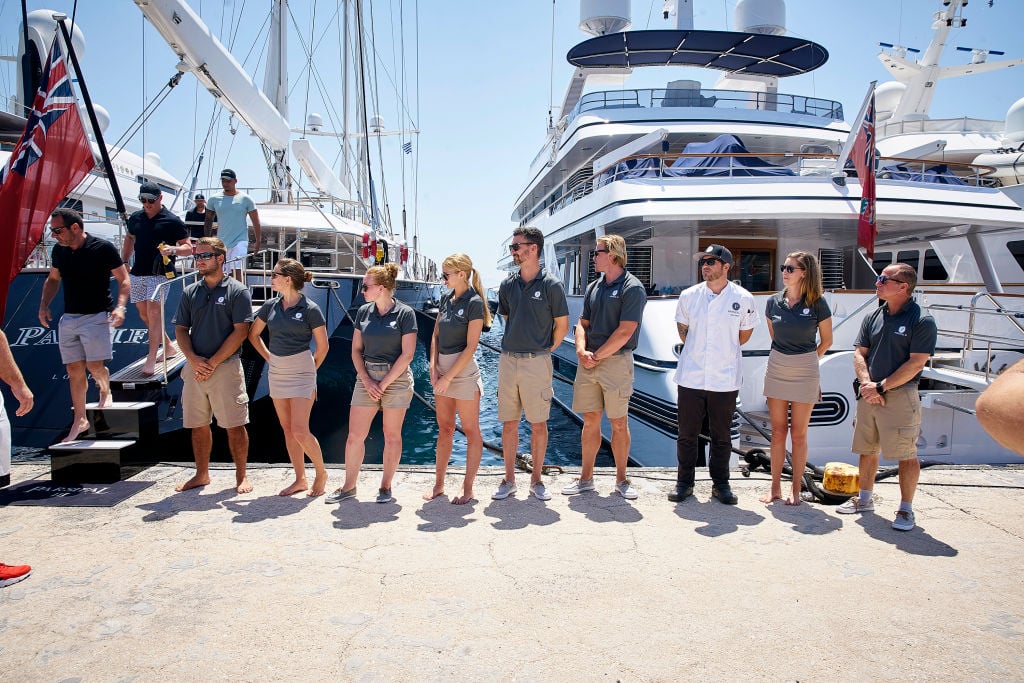 Below Deck employees have been asked to deliver desserts in skimpy outfits. While some are comfortable wearing nothing but a tiny pair of shorts, others sacrifice comfort to earn that all-important tip. Berry looked extremely distressed before having to present the cake bare-chested, but thankfully the delivery paid off and the guest was more than thrilled.
He became the reluctant cake bearer
Even though there are plenty of fit men on the yacht, Berry was the (unlucky) one who was tapped for the job. Chief stew Jenna MacGillivray asks Berry to take off his shirt and deliver the cake.
"When I was in school, I was a little bit chubby," he says in a confessional. "And I was bullied for it. I still feel as though there's a part of that inside me. Like as soon as I take my top off. I still feel really self-conscious like someone's going to be like, Oh f**k, 'Why are you doing it if you look like that?'" He then asks MacGillivray if he can work out before he delivers the cake. Berry is seen doing massive amounts of pullups and pushups all over the boat.
He shares with stew Georgia Grobler he's working his confidence up to bring out the cake. He continues to work out as the guests dine. Even girlfriend Ciara Duggan helps him get ready by giving him lotion to slather all over himself. "I'm sh*tting myself," he laughs in a confessional. "It's bigger than people realize. For me to go out and do that." He shares he was shaking before heading out on deck with the cake.
Berry delivers the cake shirtless and with a smile. The birthday boy's reaction? "Well, he's 'Employee of the Month!'" the guest says after he checks out Berry quite a few times.
Josiah Carter from 'Below Deck' also did it for the tip too
Second stew Josiah Carter from Below Deck was also asked to deliver drinks wearing nothing but a gold speedo during season 6. Like Berry, he expressed discomfort being so exposed, especially at work. He too discussed bullying and body image when he was younger.
Carter delivered the drinks in his tiny outfit and received an incredibly warm response. In fact, he still has the gold speedo and has fun with it. "I knew these gold speedos would come in handy!! Especially for 70/80's disco party 🌈 📸," he shared on Instagram.
He also took an opportunity to look back longingly at his time on the show. "I hate to say it but I actually miss this outfit I wore for #belowdeck 😂😂 maybe I will get to use it again one day!! @bravotv what was everyone's favourite part of the season??" he shared on Instagram.