'Below Deck' Season 7: Who Are the New Cast Members?
Meet the new crew members from 'Below Deck' season 7. Six new crew members join Captain Lee, Kate Chastain and Ashton Pienaar in Thailand.
Although Below Deck Mediterranean fans are still drying their tears after the season finale (and no reunion), they can take heart. The new season of Below Deck debuts Monday, October 7 at 9/8 central on Bravo.
Fans are once again treated to Captain Lee Rosbach's salty one-liners. Plus, chief stew, Kate Chastain returns. This will be Chastain's sixth season of the show and Rosbach, who is the OG of the series, his seventh. Also, returning from season six is former deckhand Ashton Pienaar. Pienaar was promoted to bosun for season seven.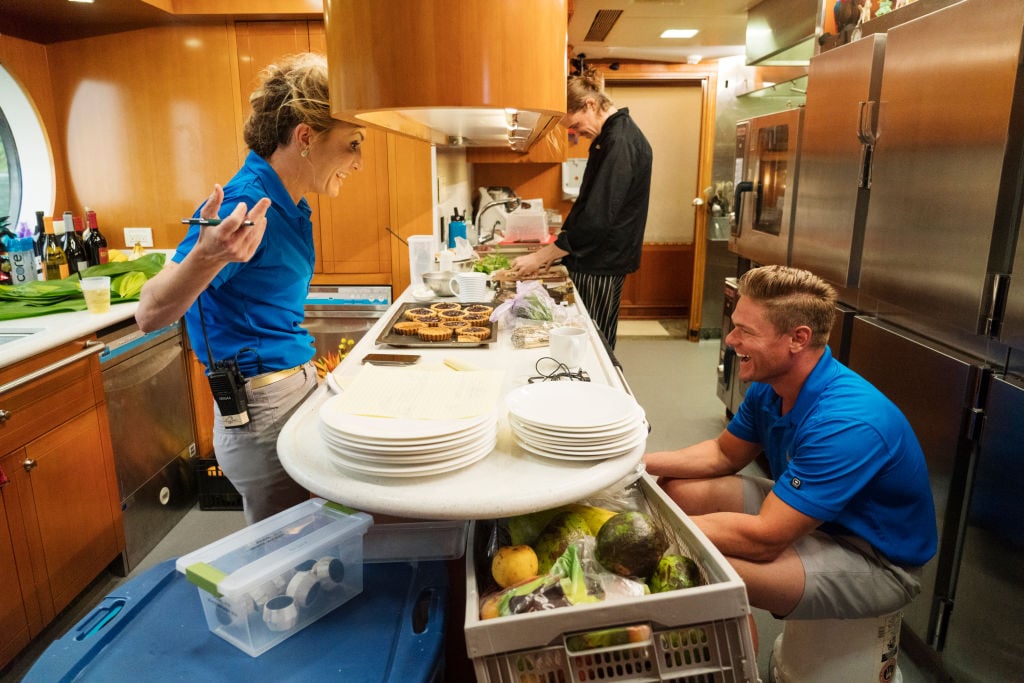 Like previous seasons, fans will meet an entirely new cast with the exception of the three returning crew members. So who is part of the new team and what is their past experience in yachting?
Simone Mashile
Job on Below Deck: Second stewardess
Mashile is from South Africa who is an experienced yachtie with a passion for education. She spent most of her childhood working hard in school, scoring an academic scholarship for both high school and college. She graduated from college with a degree in mathematics and started her career working in an office. But her free spirit and love of adventure nudged her away from her deck and into yachting.
She left South Africa and embarked upon a career in yachting. According to her bio, "She has since worked as a stewardess and sous chef in some of the most illustrious locations in the French Riviera, with clients ranging from fashion designers to football players. When she's not on charter, you can find this fun-loving stew on the dance floor and incorporating her motto, 'I am the master of my destiny, I am the captain of my soul,' into every aspect of her life."
Courtney Skippon
Job on Below Deck: Third stewardess
Skippon grew up in Canada and has always enjoyed being on the water. She attended business school in France and fell in love with the country. Although she loved living in France she knew after living there for a year she'd have to find work.
A friend happened to know Skippon was looking for a job and offered her the position of second stew on a yacht where she was employed. Although she wasn't finished with business school, she took the job and performed service for 12 guests on a charters for an entire season. She ultimately returned to business school after the season ended, but went back to yachting.
Chef Kevin Dobson
Job on Below Deck: Chef
Below Deck welcomes a new chef who has had a passion for cooking since he was 12 while living in New Zealand. He started his culinary career as a teen when he enrolled in culinary school at age 14. He was a fast learner which allowed him to quickly move into large markets in Australia and the U.S.
Dobson is also a father, which is one reason why he made yachting his career after discovering the kind of money yachties can earn. According to his bio, "A passionate chef in the kitchen, Kevin has worked on some of the largest boats out of the Mediterranean, Caribbean and Pacific Islands. Currently based in Melbourne, Kevin flies home every chance he can to spend time with his daughter." 
Brian de Saint Pern
Job on Below Deck: Lead deckhand
According to his bio, de Saint Pern had a love of the water at a very young age while growing up in Bluff, South Africa. The coastal town provided him with a number of aquatic adventures so he always hoped to find a career that allowed him to join his love of the sea with his passion for travel.
He joined the yachting industry four years ago and has worked on charters in the Mediterranean. He is currently working toward becoming certified to become a First Mate/Officer and says he loves working in the yachting industry. Like Dobson, de Saint Pern is also a father. He has a five-year-old daughter, Micah.
Tanner Sterback
Job on Below Deck: Deckhand
Sterback is from Sayville, Long Island which is also the hometown of Below Deck Med alum, Colin Macy-O'Toole. Although he's always had a love of the water he took the traditional route and graduated from SUNY Plattsburgh before moving to California. He worked as a lifeguard at the Coppola Winery but then realized he wanted to try yachting.
He took certification classes in Ft. Lauderdale, Florida and quickly landed a job as a deckhand on private yachts. His experience is mainly working along the East Coast and in the Caribbean. He also has something in common with another Below Deck Med alum. Like chef Adam Glick, Sterback traveled across the country in his van with his dog (Tito).
Abbi Murphy
Job on Below Deck: Deckhand
Once again Below Deck includes a woman on the deck team. Murphy is originally from Plymouth, Massachusetts and ambitiously pursued a career as an attorney. "After putting herself through college as an independent student, and simultaneously working for the Governor of Massachusetts; she graduated with a perfect GPA, full scholarship to law school, and a job at a Boston law firm," according to her bio.
So how did she end up in yachting? She took a celebratory Greek sailing vacation, which changed everything for her. When she returned to Boston, she quit her job and embarked upon a career in sailing. She returned to Greece, which is where she resides and works as a first mate on Atlantic 61'.