'Below Deck': Some Fans Are Unhappy With How Andy Cohen Is Handling the Reunion
The Below Deck reunion may not have satisfied some fans' appetite for redemption as several people took to Twitter to call out host Andy Cohen for not holding some crew members accountable.
The first part of the highly anticipated reunion aired on Monday, February 10. The gathering was going to be the cherry on top of the most toxic season to date. Viewers hoped Cohen would force some of the crew to admit wrongdoing and show more remorse.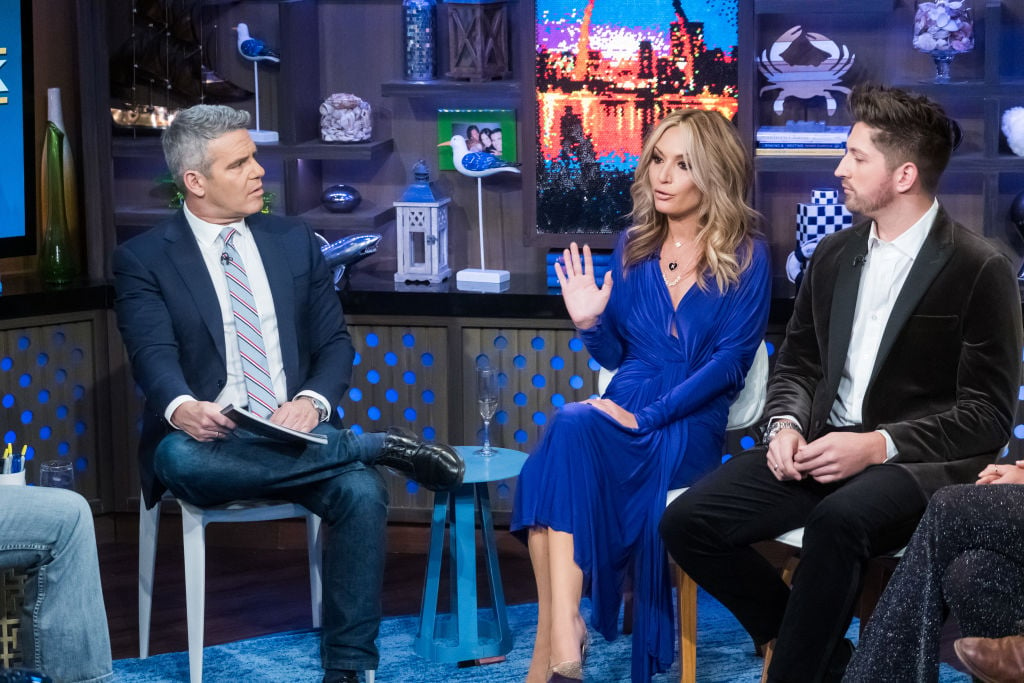 However, the first part ended up focusing mainly on the beef between chief stew Kate Chastain and stew Simone Mashile. But fans noticed that Cohen seemed to give bosun Ashton Pienaar a pass when it came to his behavior with several thinking that Cohen sided with the "bru-crew."
Playing sides?
Some fans tweeted their frustration that Cohen seemed to be going softer on the men who exhibited toxic masculinity during the season, but harder on Chastain. Even Below Deck superfan comedian Leslie Jones wasn't feeling Cohen's softer vibe toward the guys. "I know as a host you got to be the 'devils advocate' but I don't like the way you handling this Andy. Why not ask Kevin why he kicked sand in her face!AND WHY IS EVERYONE BEING SO FAKE!Bring the same energy you had in the show!!"
"Ashton you better check yourself bru #BelowDeckReunion #BelowDeck @Andy better check himself too," one person shared.
Another person observed that Cohen was supporting the men too. "Kelly Cutrone recently talked about Andy Cohen's and Bravo's poor treatment of Women On Reality TV. Andy's performance on Below Deck's reunion supporting misogynist Ashton's behavior sicken's me. I feel sorry for female cast."
Cohen seemed to lean into asking Chastain about her behavior more than targeting Pienaar. "So disappointing to see @Andy defending these punks. To approve or avoid calling out the aggressive behavior of @AshtonPienaar is a surprising low," one person tweeted.
Was something else going on?
When Pienaar demanded to know when Chastain and Captain Lee Rosbach last worked in the "real" yachting industry, Chastain questioned Pienaar about where he is currently working. She and deckhand Rhylee Gerber shared that his current job is through a girlfriend and Pienaar became defensive. He added, "If they are going to carry on with this type of defamation of character there's going to be an issue."
The conversation appeared to be ready to continue, but Cohen quickly jumped in. "The fact is that he's working on a yacht, so …," Cohen said to Chastain. Then the reunion cut to a commercial.
At that point, some viewers wondered if Cohen was going soft on Pienaar because he's threatening legal action against Bravo. "Ashton tipped his hand already with this threats of a defamation suit and @andy fell in line #BelowDeck. Too bad the rest of us actually watched the show and see him for what he is – Andy can't protect Ashton from that."
Some fans were happy with the reunion's direction
The majority of the remarks sided with the women on the boat. However, some viewers enjoyed seeing Chastain in the hot seat. At one point Cohen read a viewer question that asked if Chastain always picks one person out each season to bully.
Footage rolled from last season of Chastain and second stew Josiah Carter putting a speaker outside third stew Caroline Bedol's door and blasting music. Bedol is then seen in tears.
"It's hard to take this seriously when we watched them make excuses for Kate screaming that Caroline had herpes while she was waiting to give Lee her resignation. If that was a man in Kate's role that day, they wouldve been torn apart. But because it's Kate, it's okay?" one person tweeted in response to one of Rosbach's tweets.
Another person added, "Those two seem to think they are in untouchable and can't be questioned, the fame has gone to their heads! It's annoying to be honest. I normally have the unpopular view point, but I don't care. I am not the only one who sees it!"
Part two of the Below Deck reunion airs on Bravo on Monday, February 17 at 8 p.m.