'Below Deck': This 'Below Deck Med' Bosun Would Love to Work With Rhylee Gerber
'Below Deck Med' bosun Joao Franco expressed his support of deckhand Rhylee Gerber from 'Below Deck.'
Below Deck Mediterranean bosun João Franco expressed his support of deckhand Rhylee Gerber from Below Deck. Franco recently shared that he enjoyed reading Gerber's tweets, adding that he'd love to work with the deckhand.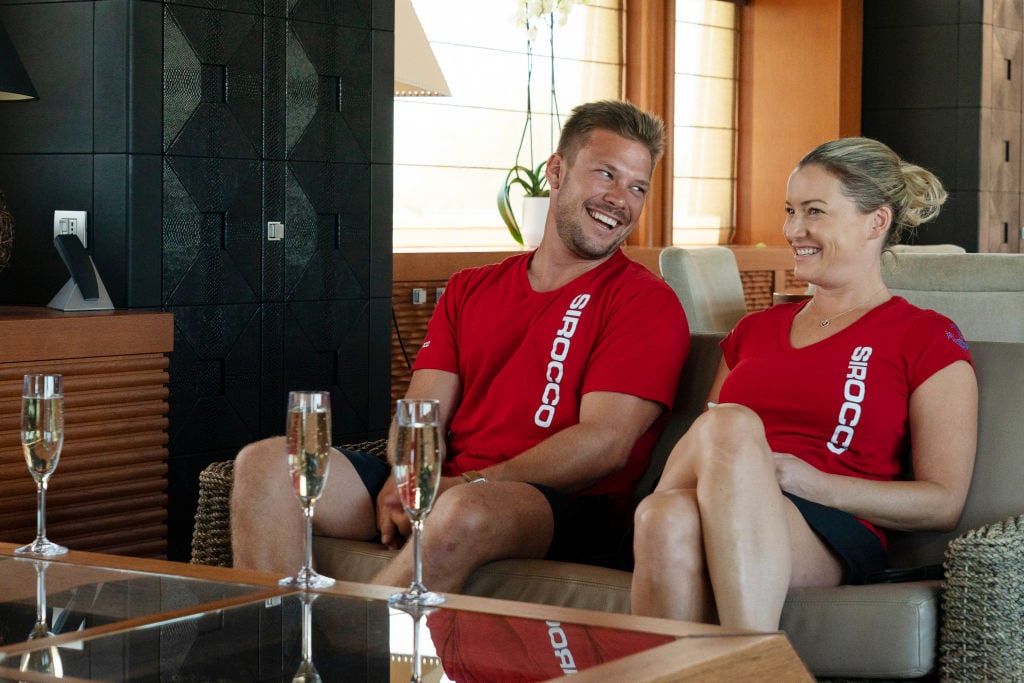 "I forget what I'm doing here the second I read one of @rhylee_gerber's tweets! I end up reading your tweets for an incredible chunk of my time," Franco shared on Twitter. "Thank you for keeping me entertained and I haven't watched this season but good on you for standing your ground #teamrhylee."
Franco added, "I am all about people who aren't afraid to speak the truth… and she certainly speaks the very unfiltered truth very refreshing! I'd work with her any day."
Franco knows what it is like to be hated
Gerber is a polarizing figure on Below Deck with fans either loving or hating the deckhand. Franco understands all too well what it is like to be hated. He didn't want to return to Below Deck Med season 4 after being dragged for his behavior on season 3.
Franco told Showbiz Cheat Sheet he was horrified with the footage he saw. "I watched up to episode eight and just stopped," he said about season 3.  "I keep telling everyone if you have doubts about yourself, do a reality T.V. show to figure out the bad parts of you." Like bosun Ashton Pienaar, Franco had a combative drunk "alter ego." When he got drunk during season 3, he lashed out at some of the crew, which put him on social media blast.
He wasn't going to return to the series, but close friend and deckhand, Colin Macy-O'Toole talked him into coming back for season 4.  "People only know what they see on a T.V. screen, unfortunately," Macy-O'Toole said. "João knows people say stuff about him, but I know João and the people who make these comments don't really know anything about him." Franco seemed to turn his behavior around during season 4. However, he still made comments that put him at odds with chief stew Hannah Ferrier and stew Aesha Scott.
Fans still want to see Gerber on 'Below Deck Med'
The notion of Gerber working for Captain Sandy Yawn has been floated on social media for the past year. In fact, Gerber said she's discussed the idea of working with Yawn. One person tweeted that there is no way Yawn would work with Gerber. But Gerber replied, "That's funny both she and i spoke abt me hopefully becoming bosun for her. I sure as s**t would have a great deal more respect for her out the gate."
A Twitter poll showed that more fans would love to see Gerber work for Yawn too. Gerber was also appreciative of Franco's support. "Thanks love! It takes someone who knows their worth to stand up for what's right," she replied to his tweet. She also re-tweeted his comments too.
Yawn recently shared that she would not tolerate destructive behavior from her leaders when she viewed the latest season of Below Deck. "Yep. I would sit the bosun down and I would chat about how a leader should respond and act. At this time he is not acting like a team leader. A leader must rise to a level to see the whole picture not a personal one," she replied to a tweet.