'Below Deck': This May Have Been the Final Straw for Captain Lee
Finding out that Kevin Dobson kicked sand in Kate Chastain's face may be the final straw for Captain Lee from 'Below Deck.'
Below Deck season 7 seemed to be one surprise after another for Captain Lee Rosbach. While he knew the crew was feuding, he admitted later he had no idea how bad the toxicity became.
Rosbach has often shared that he isn't privy to a lot that goes on after hours on the boat. Most of the fighting occurs when the crew is out on the town having cocktails and typically no one shares what really happens with Rosbach the next day. So season 7 footage has been extremely enlightening to the captain, who continues to be shocked along with viewers.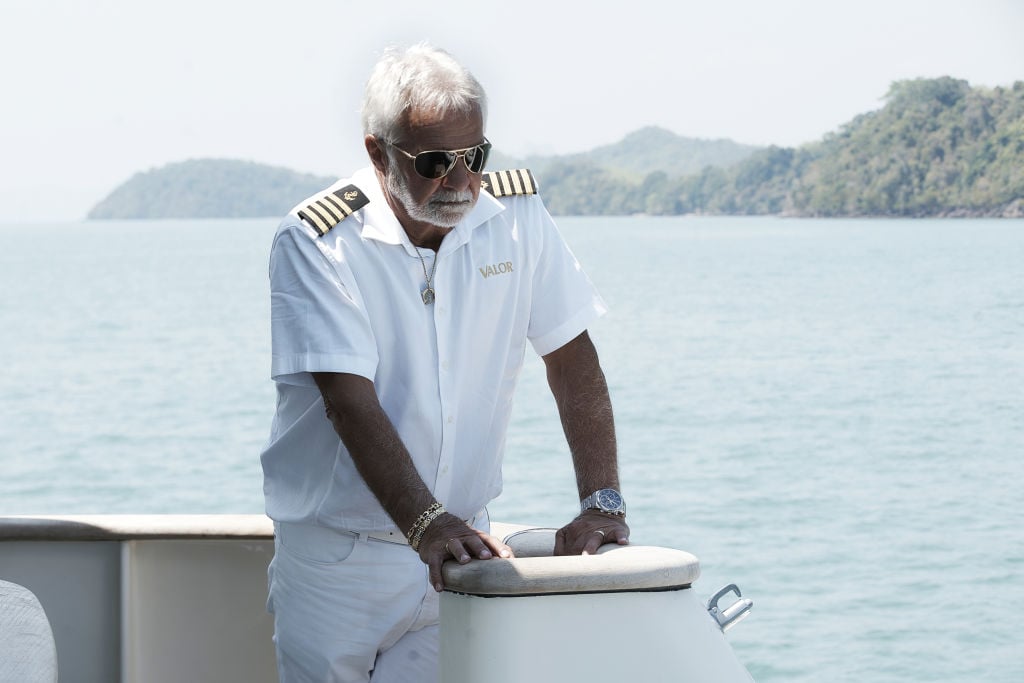 He's blogged about the incidents as they air, but the final aggressive act against chief stew Kate Chastain may have been the last straw for Rosbach. He learned that chef Kevin Dobson kicked sand in Chastain's face during their last outing on an island in Thailand. And he seems nothing short of being completely done.
The guys had fun (the women did not)
While deckhands Tanner Sterback and Brian de Saint Pern insist the island party was a blast, stew Courtney Skippon and Chastain said it was the last place they wanted to be. "Honestly?" deckhand Rhylee Gerber says. "I mean, I don't care about these people so the last place I want to be is stuck on a deserted island with them?"
The guys recall that chef Kevin Dobson was extremely intoxicated. Cameras capture Dobson trying to string together a sentence but can only produce gibberish. "Like he couldn't even walk," de Saint Pern recalls. Sterback suddenly recalls that Dobson said "something mean" to Chastain. Even de Saint Pern couldn't recall what he said.
Chastain had no trouble recalling the comment. "First he's like, 'Let's take shots together!' I'm like, 'OK, great.'" But then she says he suddenly tells her he doesn't like her, which completely changed the mood.
And here comes the sand
Rosbach looks disturbed hearing Chastain recount the evening. "He said that to you?" Rosbach asks looking angry. But Chastain says she returned with telling Dobson she didn't like him either. She ended up telling him Dobson wasn't a good yacht chef, but instead more of a baker.
"I was stuck on an island with a bunch of males that were not respectful of me the entire season," she says. She shared what happened with Rosbach, adding that after she gave it back to Dobson she sat down in a chair in the sand. "And Kevin kicked sand in my eyes," she says.
After Dobson kicked sand in Chastain's general direction, de Saint Pern quickly admonished him. But Dobson doesn't really remember the incident. He first asks producers if it was captured on camera. Producers roll the footage. "OK, yeah well then I did," he says grinning. Bosun Ashton Pienaar sits nearby and laughs hysterically.
But Chastain and Rosbach are not laughing. "I'm really astounded by that," Rosbach says looking concerned. Dobson tries to rationalize what happened but the move may be the final straw for Rosbach. Gerber says that although Dobson kicked sand toward Chastain, she wasn't entirely sure he had some evil intent behind the action.