'Below Deck': What Goes Into Creating a Beach Picnic?
The Below Deck and Below Deck Mediterranean crew are seen creating lavish picnics on remote beaches. The guests seem to love them, but they generate a significant amount of work for the crew.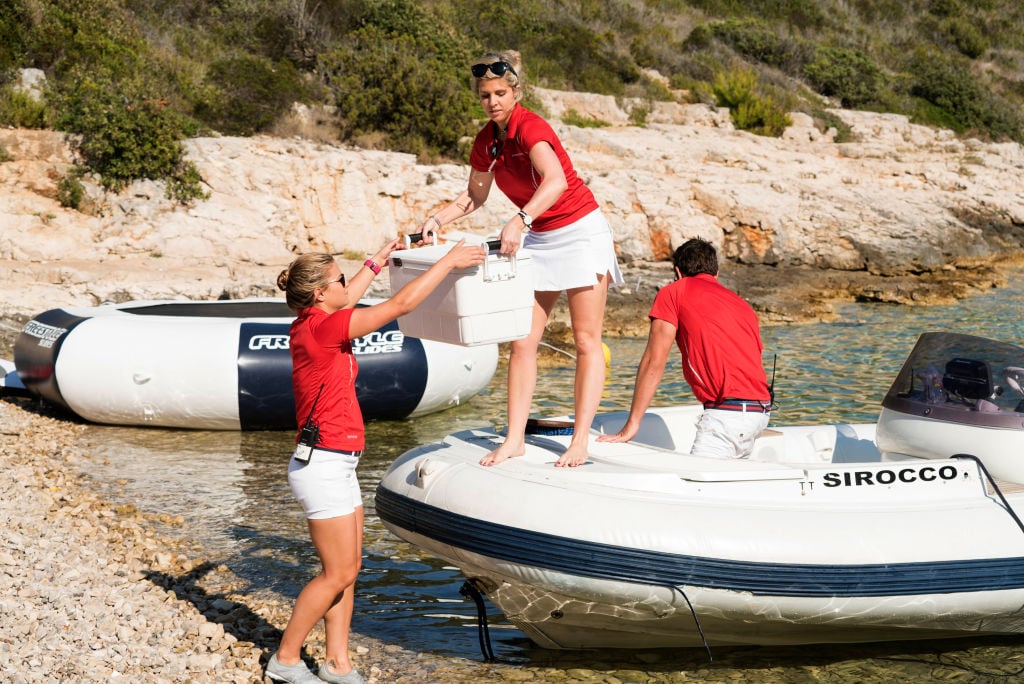 Viewers see the chef creating large platters and making sure their delivery is timed perfectly. Plus, deckhands often need to transport and set up furniture, tents, and everything required for dining in the sand.
Although viewers have a pretty good idea of what it takes to pull off the perfect beach picnic for charter guests, what exactly does it entail? Stew Kylie O'Brien shared in her blog, The Stewardess Bible how to create a romantic beach dining experience.
Find an ideal location
Below Deck viewers often see Captain Lee Rosbach pinpointing a secluded location for a beach picnic. O'Brien suggests that the crew should have the location in mind before planning begins.
If you are traveling in the Mediterranean, Boat has a few ideas of where you can set up your picnic. One recommendation is to check out Tavolara, which is a tiny island off Sardinia. Another idea is to consider is Balistra beach in Golf de Santa Manza, Corsica.
Or chef Antonio Mellino suggests checking out beach areas in the Baia di Ieranto. "To enjoy this part of Italy more peacefully you could go for a picnic on a secluded beach in the Baia di Ieranto, where the sirens in the Odyssey tried to seduce Ulysses," he shared with Boat. "You can walk from Nerano – it's tough but worth it. But the best markets to pick up fresh produce for your picnic are in Piano di Sorrento, on the northern coast of the peninsula, so it may be better to approach by boat."
Remember the little things
If you plan to host your beach picnic during the day, lighting won't be an issue. However, if a romantic beach dinner experience is what you are trying to achieve, O'Brien recommends bringing tiki lamps, hurricane lamps and candles to set the mood.
When it comes to furniture, make sure everything can be stabilized on uneven ground. Beaches aren't as level as the interior of a yacht so don't go for flimsy chairs that could topple over.
O'Brien also suggests that when it comes to the food, make sure service doesn't mean that the tender has to go back and forth for each course. If the food cannot be delivered on platters and served immediately, consider allowing the chef to cook at the beach if possible.
Another great idea is to create a picnic beach bag that can be ready at any minute. Chief stew Jenny-lee Cecconi Watkins created a beach bag that is ready for a beach picnic in seconds. "Watkins' line of water resistant bags include three styles: one for cocktail parties with compartments for glasses and bottles for up to 21 guests, one for a picnics with compartments for entree plates, dessert plates, bread and butter plates, glasses, cutlery and napkins (one size for 6-12 guests, one for 10-18 guests), and an insulated one for the chef's pans of food to keep them level and covered," according to The Triton.