'Below Deck': What Were the 3 Most Shocking Moments on the Show?
Viewers can likely recall a number of "shocking" moments on Below Deck.
From the first group of charter guests who were kicked off the boat after stew Kat Held found drugs in their cabin to the big romance between bosun Eddie Lucas and stew Rocky Dakota. Below Deck is ripe for shocking events. But producer Courtland Cox points to three events during the seven seasons of the show that really shocked the crew. The events spanned from early in the series to a recent moment that had the Internet in stitches.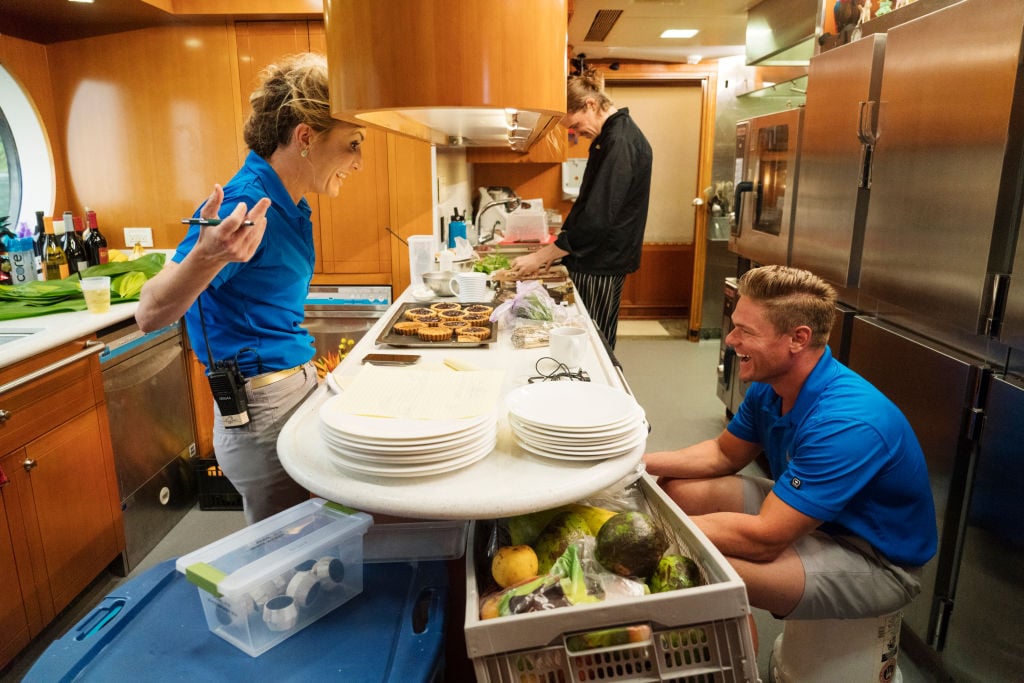 "That's the kind of thing that keeps me coming back to the show," Cox told Bravo's The Daily Dish. "Every season, there are five or six moments like that that so completely engage me and so suck me in that I'm like, this is why Below Deck is an amazing show that you can't do anywhere else."
The only near-death experience
Some yachties have experienced some close calls or significant injuries. A ferocious infection could have cost deckhand Brian de Saint Pern his leg this season. Plus, chef Ben Robinson has hacked at his fingers more than once. But Cox points to deckhand Ashton Pienaar's harrowing "man overboard" experience that had producers floored.
Cameras captured Pienaar being dragged off the swim platform during season 6. Deckhand Rhylee Gerber tried to grab Pienaar as a rope pulled him into the water. She called "man overboard" immediately but it was a quick-thinking cameraman who managed to free Pienaar's leg from the rope, thus saving his life.
"As a producer, I'm in the control room watching, and I can only see what the cameras are shooting, so I see that moment, I see the rope starting around Ashton's ankle and then I see him go in the water, and then three seconds later, I see a camera being set down on the deck of the boat. And, as a producer, I'm yelling at my camera operators. I'm saying, 'Why are we not shooting? What's happening?'" Cox told The Daily Dish. "And it's not until well after the fact that I realize that our camera operator had set his camera down to untie the line to let Ashton free from the rope that he's entangled in."
But these events also shocked producers
Thankfully Pienaar lived to see another day (and another season of the show). But a few other moments had producer's jaws on the floor. Stew Kat Held tried to sneak off the boat during season 1 after Rosbach told the crew they were in for the night. Rosbach had a sense of humor about it as he could see her trying to sneak away on the surveillance cameras.
 "That's one of those moments where it's like, it's so perfect the way that it happens as Lee's watching it and laughing at Kat walking off the boat. You couldn't script that any better than what actually happened in that real moment," Cox recalled. "As a producer, watching those things really happen on the boat, those are the things that, in the midst of a crazy production when you're tired, you see those moments and you're like, that is completely amazing and magical."
Cox also points to the big "penis cake" reveal from season 7 as being pretty shocking too. Chef Kevin Dobson was urged to make a realistic-looking phallus to top a bachelorette cake. He and chief stew Kate Chastain were warring. So she sent him out with the sparkler-topped cake when she knew the primary went to sleep. Rosbach and the rest of the guests were having a lovely conversation about charity work. And then in walks Dobson with graphic cake.  "Kevin is terrified by the reaction to that, he falls into a depression," Cox said. "You cannot write those moments."