'Below Deck': Where Are The Crew Members Today From Season 6?
Emmy nominated Below Deck season six exploded with soaring ratings, which positioned the maritime docudrama as one of Bravo's premiere shows.
The nonstop drama with both the crew and the guests motivated viewers to return each week to learn what would happen next. Led by Captain Lee Rosbach and returning chief stew Kate Chastain, season six was also filled with new faces.
This crew featured the first male stew, plus, once again, a woman was on the deck team. Season six was also enrobed in controversy. From a near-death crew experience to allegations of verbal harassment, the season included one firing and one person who quit. Rosbach, Chastain and Ashton Pienaar are set to return for season seven, but where are some of the crew members who did not return?
Josiah Carter
The butler turned stew became the perfect pairing with Chastain. The two worked harmoniously and formed a friendship bond. Since leaving the show Carter has been busy traveling throughout the Mediterranean. He also spent time at home while his mother recovered from breast cancer. Plus, Carter shaved his head in solidarity in order to help raise money for the center that provided his mother with supportive care.
He didn't return this season but told Showbiz Cheat Sheet he'd love to have a chance to work for Captain Sandy Yawn."I've met Colin and I've met Captain Sandy," Carter said. "And they're great and so much fun. I love them. I'd love to work for Captain Sandy."
Caroline Bedol
This third stew caused quite a stir when she experienced a number of health issues and ultimately quit after nine episodes. During her last episode she is seen behind closed doors, waiting to speak with Rosbach. Outside her door, Chastain and Carter decide to blast loud music to encourage her to emerge from her room. Later Bedol alleged the interaction was actually a verbal assault, with some of the unseen footage revealed during the reunion.
Since leaving the show Bedol had a run-in with the law and has remained relatively quiet on social media.
Laura Betancourt
Betancourt stepped in when Bedol left. The moment where she told Chastain to "check herself" was essentially the "June, June, Hannah" of the season. While she rubbed Chastain and Carter the wrong way at first, she ultimately assimilated into the team and had a strong working relationship with the crew.
Betancourt returned to her yoga roots and has been teaching classes, according to her Instagram. She's also been traveling and even met up with Pienaar. She and Pienaar had a romantic fling while they were both on the show.
Adrian Martin
Martin was the zen-loving chef with a gift for cuisine. Chastain and Rosbach weren't sure if Martin could fit the bill when the fresh-faced, young chef arrived. But after his first meal, they were fans. His food often left the guests speechless, even when he served chicken to one group. They remarked the chicken was excellence but added, "Chicken is for poor people."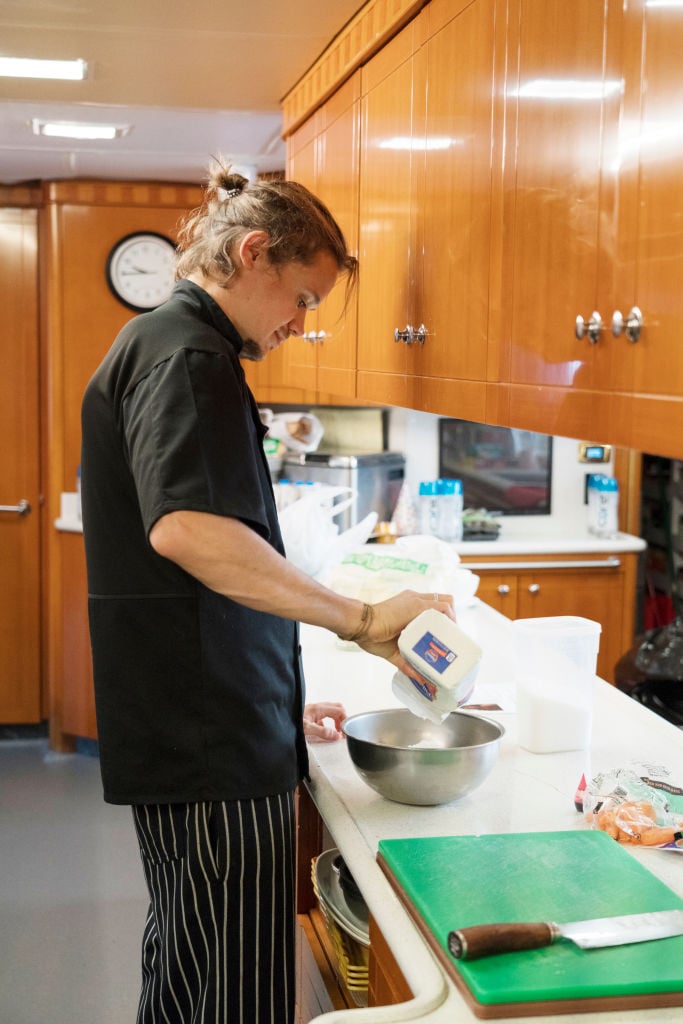 After season six wrapped, Martin set up a residency in New York City cooking for a high-end client. He's since traveled the world, using his culinary talents to fuel his next adventure.
Chandler Brooks
Brooks tried to lead the deck team but often missed the mark. He clashed with the deckhands, usually delivering confusing direction. After nine episodes, Brooks was done. Rosbach fired the bosun, telling him he could tell Brooks felt like he was in over his head.
Since leaving the show Brooks has not made his life public. However, his girlfriend, Jamie Jason, a Below Deck Mediterranean alum often posts sweet pictures of the couple. Jason recently posted a picture of Brooks with a surfboard.
Ross Inia
Inia stepped into the bosun position when Brooks left. He seemed to please Rosbach with his strong leadership qualities but still had some tough moments. He was visibly shaken when Pienaar nearly drowned. Last December, Inia was arrested in West Palm Beach for disorderly intoxication and battery on an officer and crimes against a person/harm public servant. He was later cleared after appearing in court.
He still appears to be working on yachts and is busy being a father to his son Kai. Inia recently shared an adorable birthday photo and message to his son on Instagram. Plus it appears he catches up with Below Deck crew when they are in Florida.
Rhylee Gerber
Gerber is the Alaskan boat captain turned deckhand. She had a contentious relationship with Brooks but also seemed to butt heads with the rest of the deck team too. She told Showbiz Cheat Sheet she was underutilized, never being allowed to drop anchor. "My immediate thoughts during filming wasn't that they are treating me differently because I'm a woman," she said. "But afterward I did notice that after Tyler came on, maybe there was something to this. I have muscles, I'm strong. I mean, I lift bigger fish than these jackasses and they're not really utilizing me."
Since the show wrapped, she returned to Alaska where she's put her outdoorswoman skills the good use. She often fishes and hunts and has even created art from some of her endeavors.
Tyler Rowland
Rowland was added to the deck team after Brooks was fired. His chill, surfer vibe was a good mix with the tension on deck. He got along well with the entire crew, especially Gerber. The two had a romantic relationship on the boat, but when Gerber suggested they consider a business together, Rowland put the brakes on the romance. The two had an amicable parting and are still friends today.
Rowland is back to fire fighting, going to some of the hardest-hit areas in need. He told Showbiz Cheat Sheet he enjoyed being on the show, especially the friendships he made. "I loved it! It was so fun," he said. "We all had a blast. I've been doing stuff in front of cameras for a while and I was super comfortable with it."  
Below Deck returns to Bravo on Monday, October 7 at 9/8 central.