'Below Deck': Why Did Kate Chastain Stop Wearing Her Epaulettes?
Kate Chastain from Below Deck shared that she became so exasperated with the crew, she simply stopped wearing her epaulettes during the last charter.
Chastain admits this season has been one of her roughest to date. She's been attacked by a number of crew members and shared during the latest episode that she just gave up wearing the symbol of rank. "Fun Fact: if you look closely you'll notice Im not wearing epaulettes this charter b/c I figured most of the crew wasnt really respecting my stripes anyways," Chastain tweeted along with a photo.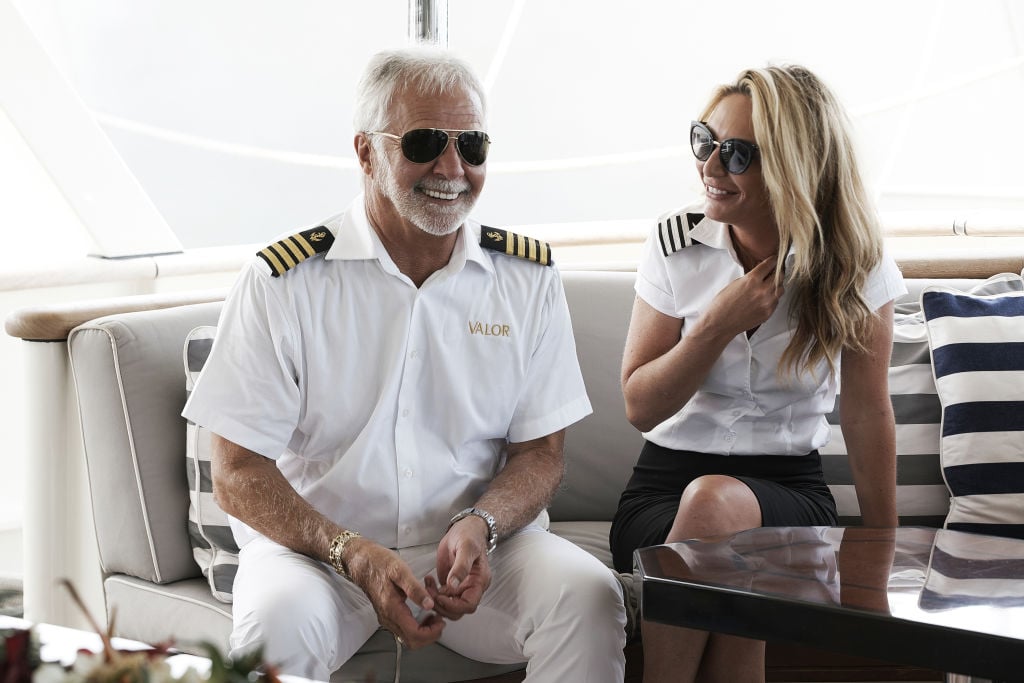 Chastain got into a smackdown with some of the crew members the night before the last charter began. The crew returned from another night of drinking and the men on the crew were laughing and talking about Chastain. She overheard their snark and went to confront them. Unfortunately, the confrontation resulted in waking Captain Lee Rosbach, who was not happy. He gave the entire crew a stern warning the next day that he'd fire anyone who could not get along during the last few days of the season. Chastain also shared during the recent episode that she's been called "bitch" this season more than her own name.
Chastain has had enough
Chastain's rank was challenged from the beginning when chef Kevin Dobson constantly suggested that she was not doing her job. He ended up going over her head and directing her stew team on a few occasions. Plus, during the first tip meeting, he told the entire crew that Chastain was having an issue with the interior.
She's also been the subject of ridicule from the deck team too. Bosun Ashton Pienaar has taken both personal and professional jabs at her during the season. Plus, deckhand Brian de Saint Pern called her a bitch when she referred to him as a "yachtie."
Most of the crew also expressed that they didn't like how she received preferential treatment from Captain Lee Rosbach. Some crew members shared that she received excessive leniency from Rosbach and didn't think that was fair. However, Rosbach shared that Chastain receives preferential treatment because she's earned it. "Kate deserves preferential treatment because she's earned it. It's simple," Rosbach said in the Below Deck After Show. "You don't get preferential treatment from me unless you earn it."
But rank matters
Hierarchy and rank play an enormous role in yachting. Chastain recently discussed the importance of rank when she appeared on Mouthing Off with Olivia Caridi podcast. "In real jobs, I would never be, like, so rank-obsessed," she shared. "But it took me a while when I started working on yachts in real life to understand why rank was important. I kinda thought that anybody who had a higher rank in life and used it was such a jerk."
"It's why the military has rank, it's similar for yachting," she continued. "Because we're out in the ocean, and it's for safety, it's for order. And once that clicked in my head, why organization, in general, is so important, it really helped me in my real life."
She also shared the pecking order. "Captain is the highest rank, and then there's a first mate. And we have those on the boat on the show, but they're not on camera. And then chief stew is kind of up there. The chef is actually pretty high up on the ranking but not really because they don't have anybody below them. They're in their own solar system."