'Below Deck': Why Has the Deck Team Avoided Installing the Critter-Free Pool?
Charter guest safety is the Below Deck crew's number one concern, which is why installing a critter-free pool is important during an upcoming charter. While Thailand has certainly delivered with breathtaking views, the ocean also seems to be loaded with jellyfish.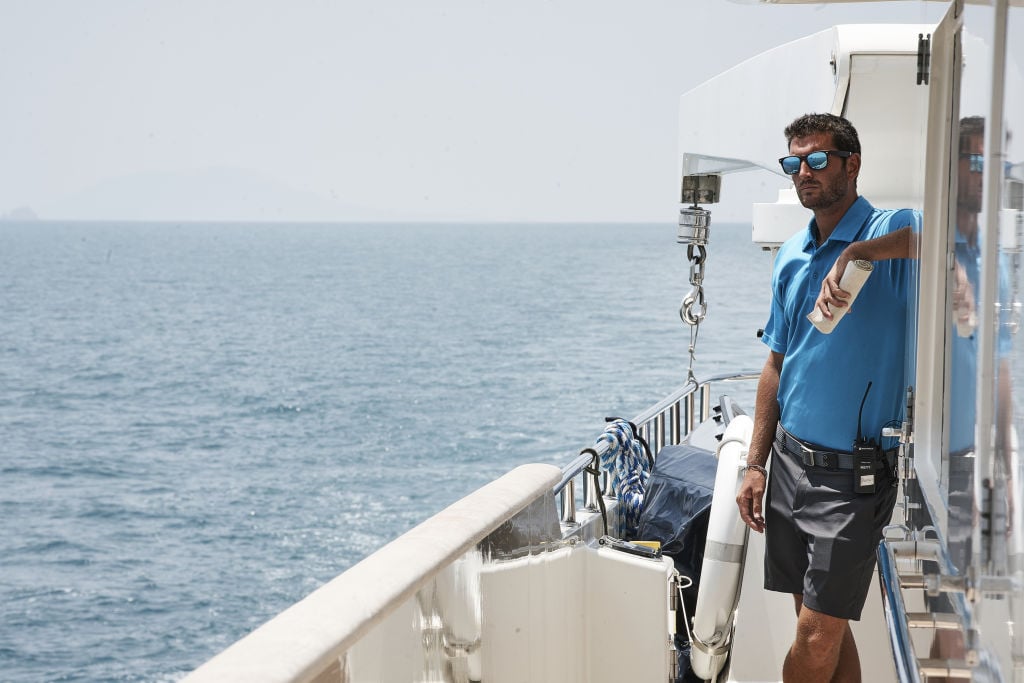 Since yacht guests typically love to swim in the ocean while on charter, the crew needs to ensure swimming can be done safely. Previous guests have noticed jellyfish surrounding Valor. In fact, one guest asked which crew member was going to pee on her if she gets stung. But this time, the Jasuwan family is back, along with their children.
When the family inquires about swimming, bosun Ashton Pienaar describes a "critter-free" pool he can install to protect them from the jellyfish. Although he tells the family the team is "on it" he curses as he radios for help.
He's avoided the pool the entire season
Pienaar describes how the pool will protect the family from the offending sea creatures. "Just a warning, before anyone jumps into the water, there are quite a few jellyfish in the water," he tells the family as they eat lunch. One of the guests seems familiar with the critter-free pool and asks about it.
"We do have one of those critter pools that we can put in for you guys as well," he says. The family likes the idea of the critter-free pool, so Pienaar leaves to install it. But as he walks back to the aft deck he is heard cursing. "Brian meet me on bridge deck aft and let's figure out this pool," he radios to deckhand Brian de Saint Pern.
He shares in a confessional that he's been avoiding the pool all season. "The critter-free pool has a protective net to prevent any jellyfish or any sea creatures from coming in and harming anyone that's in the pool," he says. "Up until this point, we have definitely been avoiding this critter pool. I've heard its a massive pain in the ass. But this is the charter that we're trying to redeem ourselves from last season, so f**k it, here we go." The same group of guests appeared on Below Deck season 6. But during their voyage, the Jasuwan's son cut his foot on broken glass. Plus, bosun Chandler Brooks set a guest on a slippery rock and she fell hard.
Yacht 'toys' can be massively time-consuming
Cameras catch de Saint Pern and Pienaar struggling to unroll the critter-free pool. Pienaar says that the pool is going to be tough to deploy. However, one critter-free pool company suggests that most of their critter-free pools take only 30 minutes or less to set up.
However, even if the pool takes less than an hour to set up, large yacht pool toys can typically be very time consuming, not to mention backbreaking to set up. Below Deck viewers likely know that deckhands groan when it comes time to deploy the huge inflatable water slide. Bosun Eddie Lucas from season 2 shared that it takes about five hours to get the slide ready for use. "The water slide is five hours of pain and suffering," he said during the season. "For one little hour of guest enjoyment."