Below Deck's Chef Ben Is Probably Not Going to Save the Day on 'Below Deck Mediterranean'
Does chef Mathew Shea quit for good during the next episode of Below Deck Mediterranean? Previews show him leaving so does that make room for a new chef – possibly chef Ben Robinson – to return to the show? Don't hold your breath, Robinson said during a recent Instagram Live.
Chef Ben says he is too old for 'Below Deck'
Robinson has often come in as the "relief" chef in the past on the series. He surprised fans on Below Deck Mediterranean Season 4 when he arrived toward the end of the season. Robinson also came in after chef Leon Walker was fired on Below Deck Season 3. But he believes his Below Deck days are behind him citing that the series is a young person's game.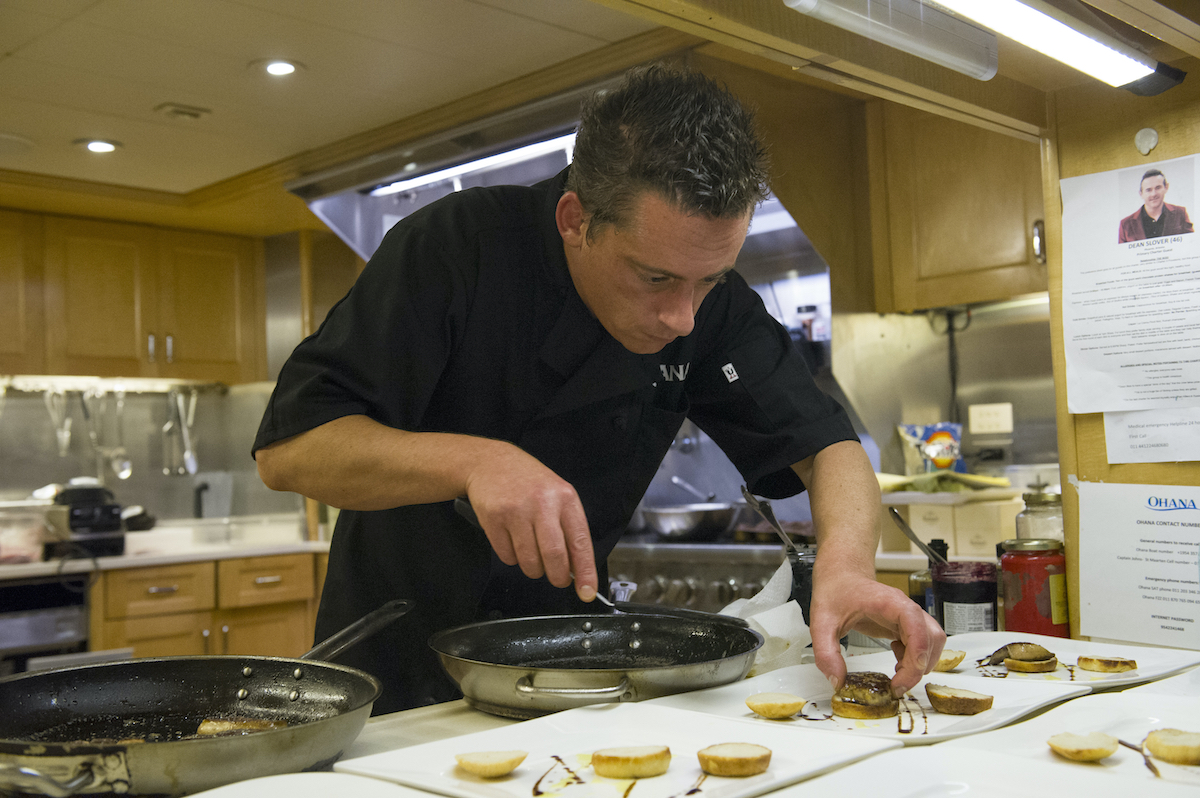 "I think I'm probably a little too old for Below Deck," he said in a June 2021 Instagram Live with Christine "Bugsy" Drake. The 40 year-old chef also told The Mirror he was truly finished with yachting in general, but revealed that viewers shouldn't count him out completely. "I still love cooking, and I love directing and putting shows together," he said.
If Chef Ben doesn't arrive, which 'Below Deck' chef could return?
Robinson is the only chef to return mid-season, but a few former chefs could fit the bill this season. Chef Matt Burns from Below Deck Season 5 joked about coming in on Below Deck Mediterranean Season 4 when Captain Sandy Yawn had to fire the chef. He also recently praised Shea for his job this season.
Also, despite sharing she is retired from yachting, chef Anastasia Surmava said she'd be game to return to the show. "Oh 100%," Surmava on the Side Piece with Melissa Pfeister podcast. "For sure. I understand things now. I'm just not scared." 
RELATED: 'Below Deck Mediterranean': Chef Mathew Reveals How He Found out About Lexi Wilson's 'Burn List'
Of course the Below Deck Sailing Yacht crew wondered if chef Natasha de Bourg could have stepped in, at least during that first charter. The Below Deck Sailing Yacht crew and the Below Deck Mediterranean crew were quarantined in the same bubble in Croatia. However, de Bourg did the crossing with the crew and likely wasn't available mid-season.
Chef Mathew may not quit 'Below Deck Mediterranean' either
Below Deck viewers have fallen for a few storylines where a crew member or chef has quit but returned and finished the season. While it appears that Shea may leave for good, chef Rachel Hargrove from Below Deck Season 8 also left under explosive circumstances. She hurled a few explitives during a crew meeting and left the boat. She returned the next day and finished what was left of the charter season.
Also, chief stew Kate Chastain quit in the middle of the night during Below Deck Season 7. Captain Lee Rosbach didn't know she had quit until the following day. She also eventually returned for her final season of the show.
RELATED: 'Below Deck Med' Preview Next Week Prompts David Pascoe to Ask Fans to Remember Their Humanity
While Shea didn't technically quit during the first charter, no crew member has left the boat twice and returned to finish the season. So does Shea actually quit at all? And will the Below Deck Mediterranean crew be without a chef once again?