Below Deck's Chef Matt Gives Props to Chef Mathew From 'Below Deck Mediterranean'
Chef Matthew Burns from Below Deck offered encouraging words to Chef Mathew Shea from Below Deck Mediterranean on Instagram. "You're doing great," Burns shared in a Below Deck Bravo Instagram thread, along with a thumbs up. If it's anyone, it's Burns who understands the extreme challenges of the job and can likely empathize with the anxiety Shea experienced this season.
Chef Matthew Burns supported other 'Below Deck' chefs
Burns, who was the chef on Below Deck Season 5, has been supportive of other chefs on the series. He tweeted, "You're amazing ! Keep killing it" to chef Adrian Martin from Below Deck Season 6.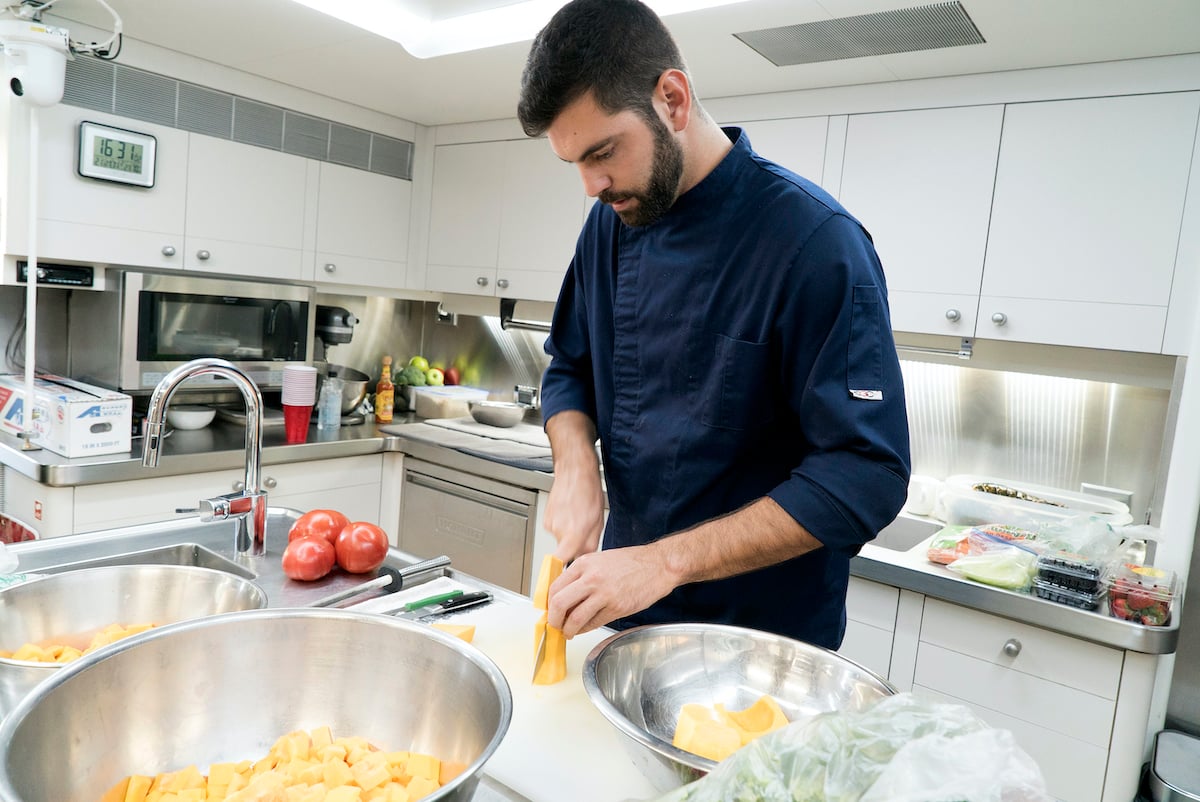 He also teased about the possibility of stepping in when Captain Sandy Yawn fired chef Mila Kolomeitseva on Below Deck Mediterranean Season 4. Yawn tweeted during the season when a fan wondered if Kolomeitseva was a plant. "Thank you! I don't think they would do that. I really believe the chef's CV was well…not accurate. It [is] hard to find another chef that fast. Believe me I'm looking!" Burns replied with a chef and person emoji with their hands raised.
Only 'Below Deck' chefs understand the extreme pressure on the show
Burns proved to be a talented chef, but he also liked to play it safe and sometimes anxiety crept into the galley kitchen too. He dealt with a breakup back home and admitted he could become distracted while on charter. Sometimes Burns knocked the food out of the park. In fact, he scored the highest tip in Below Deck history from Timothy Sykes. Sykes tipped $30,000 during season 5 following his last time on the boat when he actually removed a portion of the tip due to the food.
But Burns faced scrutiny during a charter where the (sober) guests picked apart his meal. Like chef Hindrigo "Kiko" Lorran from Below Deck Mediterranean Season 5, Burns was on the mild-mannered side and tried to take criticism in stride. But chief stew Kate Chastain saw this as a red flag.
"Anyone on this planet would be mortified if the one job they had, they failed at," Chastain said in a confessional. "And he's just kind of like shrugging it off. That's a problem."
'Below Deck' chefs are a solo department
The Below Deck chef job is highly stressful because it essentially has no support staff. "The huge thing is you don't have a team," chef Anastasia Surmava from Below Deck Mediterranean Season 4 told Showbiz Cheat Sheet in 2020. "You're completely by yourself and you don't have your bussers and dishwashers and your pastry chef. You don't have any support, really. On the bigger yachts, you may have a sous chef and a crew chef. But generally, you don't." Surmava was hired as a third stew but briefly replaced Kolomeitseva. Surmava eventually told Yawn the pressure from the job was too intense.
"So you're everything, you're it," she added about the Below Deck chef job. "It's really stressful and you have to be so organized and so good with time management. I think a lot of people watch the show and were like, 'How come you just couldn't get it out hot or on time?'"
RELATED: 'Below Deck Mediterranean': Chef Kiko Finally Tried 'Vegas' Nachos and He Thinks They Are 'Super Fancy'