Below Deck's Daisy Kelliher Is Shocked by Delaney Evans' Reaction to Katie Flood: 'I Wouldn't Talk to My Chief Stew Like That'
Chief stew Daisy Kelliher from Below Deck Sailing Yacht was surprised that Delaney Evans pushed back when Katie Flood fired her during the latest episode. Kelliher said she was shocked that Evans kept trying to stay on Below Deck Mediterranean, sharing that while she gives Evans credit for standing up for herself, she's never seen a stew speak that way to a chief stew.
Delaney Evans was 'ballsy' in her approach on 'Below Deck'
Kelliher described the conversation as nothing short of awkward. "I'll give it to Delaney," Kelliher said on the Pita Party Instagram. "Some girls never cease to amaze me. Like I would never speak to my chief stew the way some girls talk. I mean, Delaney wasn't particularly rude or anything. But she was ballsy. Honestly, in a million years, I wouldn't talk to my chief stew like that."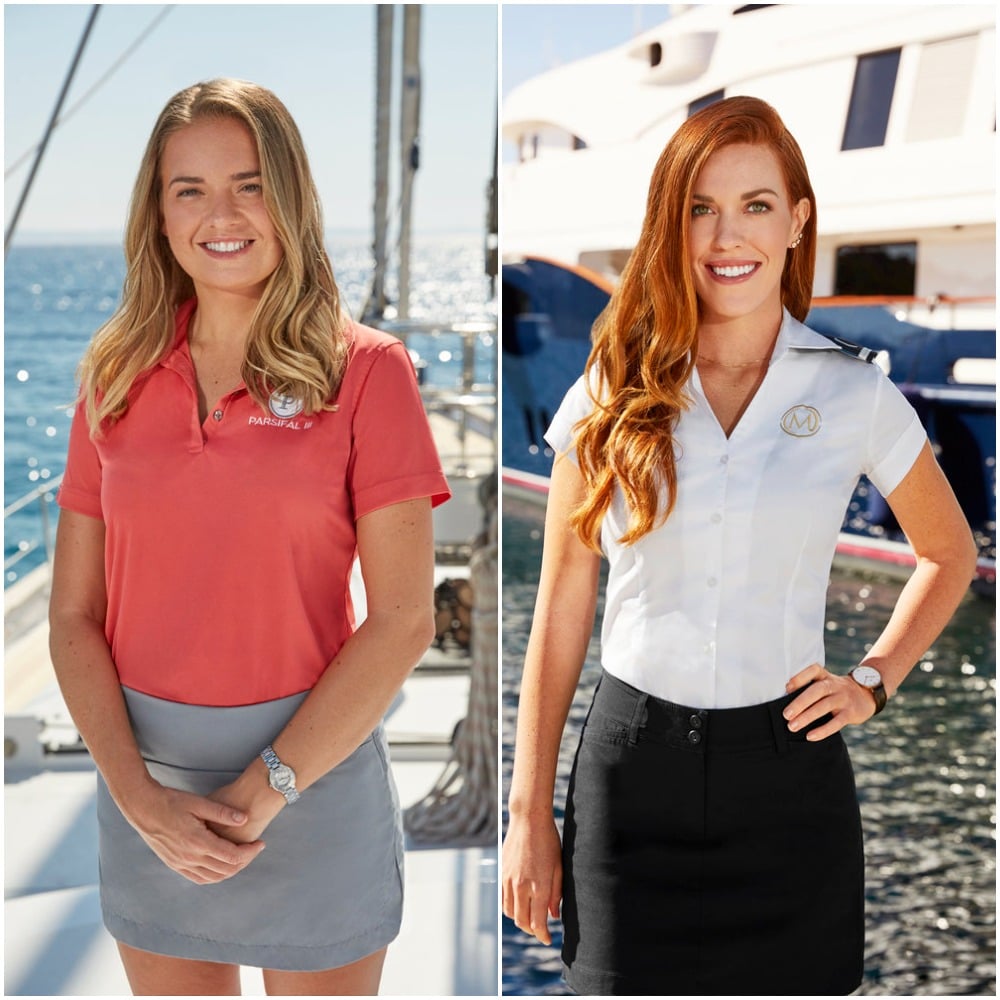 "Like you two never spoke to me like that," she said, referring to Dani Soares and Alli Dore during the Instagram chat. "I was like she is …"
Dore agreed the exchange was awkward to watch. Flood decided to cut Evans when it became apparent that she didn't have the experience for the stew role. Plus the entire crew would have to move cabins in order to accommodate the same-sex crew cabin rule. But instead of bowing out, Evans kept pushing and asking questions, trying to find a way to stay on the boat.
Was Delaney Evans' 'queen' comment a dig at Katie Flood?
Dore also wondered about the comment Evans made when she referred to Flood as "the queen." Dore asked, "Was that like a dig?" Kelliher thought it was "100%" a dig.
"I think kinda Katie almost handled it the right way because again, Katie does remind me of me in a way," Kelliher remarked about Evans calling Flood the queen. "That like it's hard to fight with somebody who doesn't fight back. So I think Delaney was trying to pick at her. And like Katie was like, 'Yeah I'm the queen yeah [laughed]."
RELATED: 'Below Deck Med': Why Did Delaney Evans Depart After Only 1 Charter?
"But I was like [gasp] I cannot believe this girl just said that to her!" Kelliher said. "It was a bit rude." The Below Deck Sailing Yacht crew also giggled when Captain Sandy Yawn said that Evans handled her departure with grace during the crew tip meeting.
Daisy Kelliher thinks the writing was on the wall with Delaney Evans
"I think she did [handle it with grace] to be fair," Soares pointed out. "She was quarantined as well, and then she comes out and does one charter. And then they were like, bye we really don't need you."
"I can understand why she'd be upset," Kelliher said. "But I do think the ways she spoke to Katie the first time and the way she spoke to her the second time, I think for me they're quite bad signs. That's a pretty intense way to speak to your chief stew within three days. So imagine if she'd been there for six months? Like you can just imagine."
RELATED: 'Below Deck Med': Captain Sandy Shares Why Season 6 Was a Challenge to Make Crew Changes
"Obviously Delaney did a really good job," Kelliher continued. "And obviously it's devastating. But would she have spoken to Captain Sandy like that?" Kelliher was also shocked when Evans asked Flood if Yawn knew she was going to be fired. "Like this is Katie's decision," Kelliher said. "It was really undermining her authority and being like 'I don't really give a f**k what you say.'"