Below Deck's Hannah Ferrier Didn't Eat 'Crew Food' and Had Her Own 'Special Menu' on Charter
Chef Mathew Shea's crew food looked pretty gourmet, but former chief stew Hannah Ferrier from Below Deck Mediterranean revealed she didn't eat the crew food and had her own special menu. Chef Adam Glick dished about Ferrier's "special menu," meal preparation during season 3 and even feeding production – when he had time.
Hannah Ferrier would find ways to have her own 'special menu' on charter
Ferrier likely wouldn't have been into the crew panini lunches when Shea didn't make crew food. "Needless to say, the chief stew doesn't eat the crew food," Ferrier told Decider in 2018. Ferrier and Glick chatted about how Ferrier would circumvent crew food.
"Yeah, Hannah kinda gets her own special menu," Glick said. "She comes in and bats her little eyes, and is like 'Eggs Benny?'"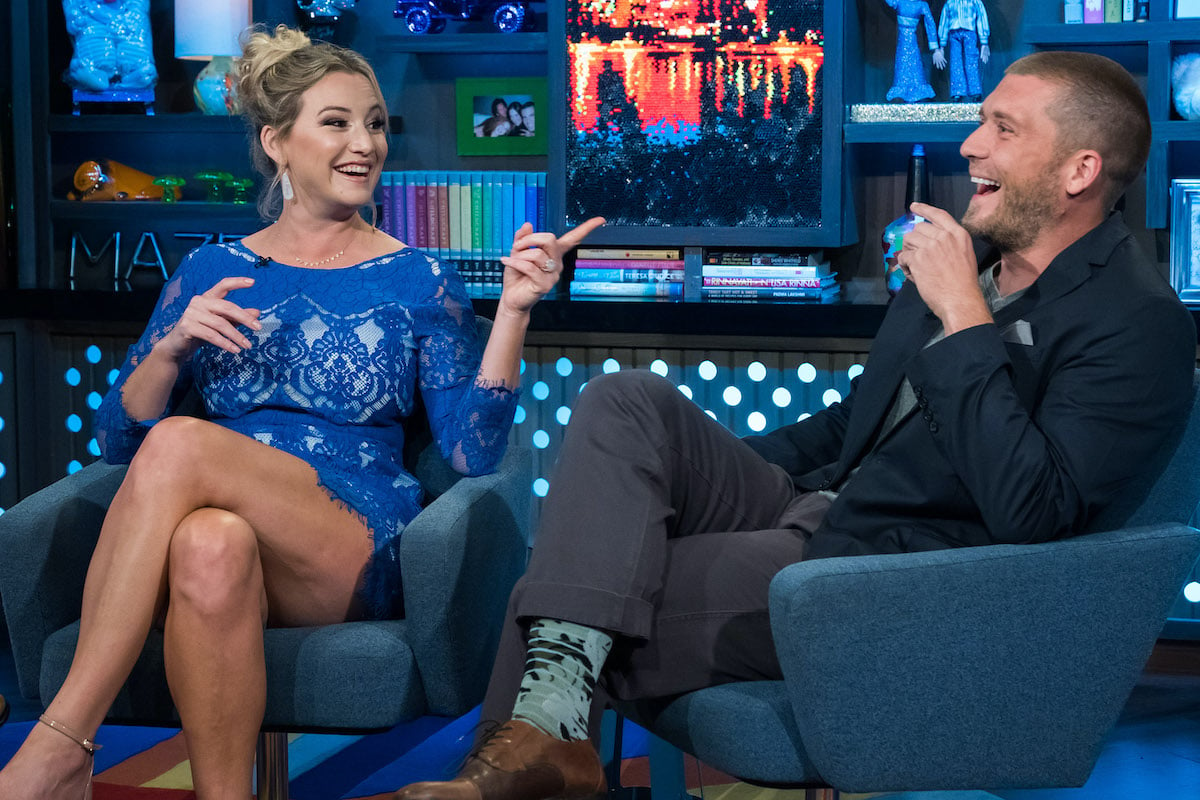 "I think honestly for me and Adam, I think we both really appreciate each other's jobs and know how stressful they are," Ferrier said. "So like when I can help him out, like sending one of my girls to help do dishes. Or I'll help him out, I'll get my day worker to go and clean his galley if he's off the boat provisioning. But then he looks after me. So I think it's kinda nice when you've already worked together for a season. And then we spend some time together off the boat and now we're in a really good place with each other."
What was 'crew food' like when Chef Adam cooked?
Ferrier said she could lean on Glick when she was stressed too. "For a quick quesadilla," he joked. And while Ferrier said the special menu was designated for the chief stew, even a third stew could get in on some specialty food action. Glick said he "spoiled" third stew Kasey Cohen. Because "she'd bring me coffee every morning."
Glick said he cooked for guests, crew and when he had time, the camera crew. But he said the crew was fed whatever he had available and ready. "They get whatever's going bad," Glick said.
Ferrier laughed, "It's lovely, we work 19 hour days and we get 'off' food."
But Glick clarified. "When you say whatever's going bad, it's just whatever is not gonna last another five days. So you gotta manage all your food as a chef. And in the words of 100% utilization, you're gonna use everything. And generally, the crew will get that food. The guests will get the top-notch food."
Chef Adam sometimes forgot to feed the crew on 'Below Deck Mediterranean' Season 3
Glick admitted he struggled to make crew food during Below Deck Mediterranean Season 3, citing his determination to deliver perfection for the guests. "This season on the show, I think my greatest challenge is balancing my desire to impress these guests, satisfying them, but also feeding my crew properly," he told Heavy about season 3.
"I got so hell-bent on feeding these guests and improving myself in that regard … I would definitely make up for it with big, lavish meals for the crew, but there were definitely some lunches that they had to make themselves, with bread and cold cuts. I'm there to feed them and I need to remember them sometimes."