Below Deck's Kate Chastain Had the 'Restaurant' Idea for Other 'Below Deck Mediterranean' Seasons
Below Deck Mediterranean Season 6 viewers screamed for the crew to order the guests' meal from a five-star restaurant instead of trying to cook themselves when chef Mathew Shea left the boat. Unfortunately, the restaurant idea came via Twitter and a year too late. But former Below Deck chief stew Kate Chastain had this idea in her back pocket for years and discussed how she would have pulled the "restaurant" card during a previous Below Deck Med season.
Kate Chastain from 'Below Deck' would have taken guests to a restaurant during 'Below Deck Med' Season 4
Chastain offered her thoughts on how she would have handled the food chef Mila Kolomeitseva was pumping out of the kitchen during Below Deck Med Season 4. Kolomeitseva's fare shocked the crew when she produced a plate of nachos fashioned from regular corn chips smothered with melted cheese. Chief stew Hannah Ferrier took the plate but then hid it, refusing to serve it to the guests. But it wasn't just the nachos that horrified the crew. Other meals, including dinners, weren't anywhere near superyacht standards.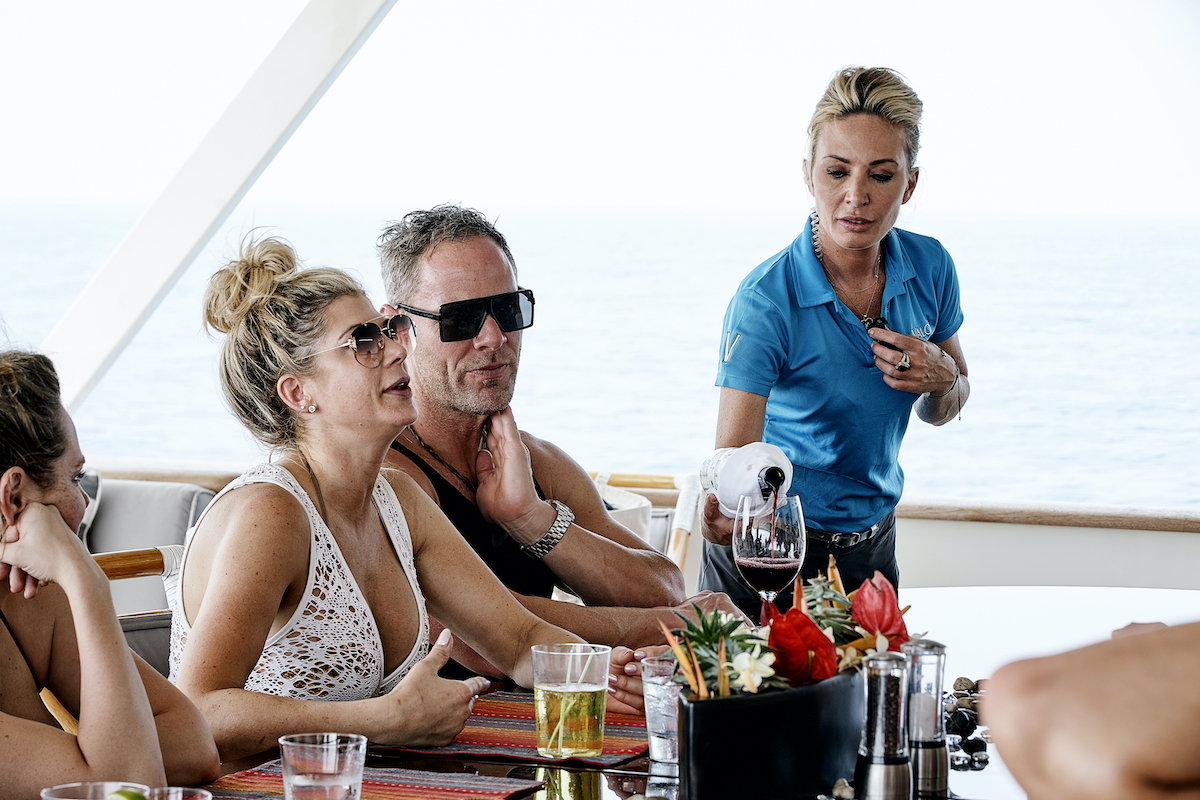 Instead of hiding food, Chastain had a better idea. "She would not have lasted as long as she did on Captain Lee's [Rosbach] boat," Chastain said on the Everything Iconic with Danny Pellegrino podcast in 2019. "I probably would have been like, 'Guess what charter guests, we got you very special reservations at a very exclusive restaurant and it's our treat!' And take them there or we would have gotten food to go."
Hannah Ferrier told Kate Chastain the food was bad on 'Below Deck Med'
Chastain would have put a stop to the bad food coming from the galley kitchen during season 4. "I would have never have let the guests eat Mila's food, ever," Chastain added. "It's like she was trying to make bad food on purpose. Even if I tried to make bad food on purpose, I don't think I could have made it as bad as her food was."
At the time, Chastain and chief stew Hannah Ferrier were still on speaking terms. Ferrier texted Chastain that they didn't get the best chef.  "But then when I saw it, I messaged [Ferrier]," Chastain remarked. "How do you even describe that?"
RELATED: 'Below Deck Mediterranean' Features Some of the Biggest Kitchen Disasters and Meltdowns in the History of the Show
Stew Anastasia Surmava took over as chef after Kolomeitseva was fired. She believes that Kolomeitseva had the Le Cordon Bleu training but couldn't hack being a superyacht chef. "[Just] because you go to culinary school, doesn't mean you are going to be a great chef," she said. "A great chef starts in your heart," she told Showbiz Cheat Sheet in 2020.
'Below Deck Med' during Covid means carry-out
Several viewers were on the same page as Chastain. "Why did Sandy have her crew make a meal for the charter guests? Why didn't she order food from a high-end restaurant to serve them instead?" one person tweeted.
Another wrote, "I know it was quarantine and all but was every single restaurant on shore closed or something? I don't even know what to say." Restaurants may have been closed, which could be why the restaurant option wasn't used.
RELATED: 'Below Deck Mediterranean' Chefs Tackle a High-Octane Job Designed for Multiple Crew Members
So does Shea return? Or will the crew eventually resort to using a restaurant to feed the guests for the rest of the charter? Below Deck Mediterranean is on Monday at 9/8 on Bravo.