Ben Affleck Can Speak Spanish with Ana de Armas: When and Where He Learned His Second Language
Ben Affleck and Ana De Armas are spending self-isolation together. They've been spotted out walking the dog, but keeping at least six feet away from others. De Armas is Cuban and got her start on Spanish language series in Spain. Now, she's famous for movies like Knives Out, Blade Runner 2049 and the upcoming No Time to Die. Affleck could speak with her in Spanish if they choose to.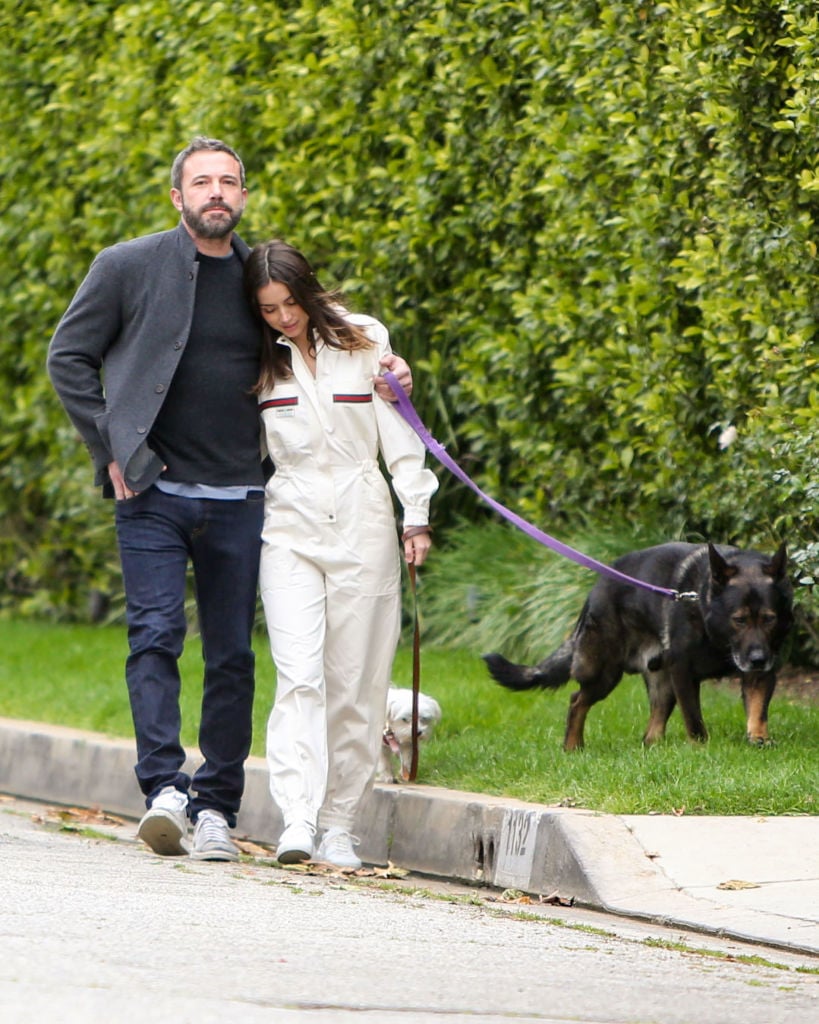 Before the stay-at-home orders drove talk shows out of their studios, Affleck appeared on The Kelly Clarkson Show promoting his movie The Way Back. He didn't speak about de Armas specifically, but when he told Clarkson how he learned Spanish, it got us imagining their sweet talk en espanol. The Kelly Clarkson Show released the clip of their interview on April 15, 2020. The Way Back is now available for purchase on digital VOD services.
Ben Affleck learned Spanish in Mexico as a child actor
Ben Affleck has been acting since he was a little kid. One of his early gigs took him to Mexico where he picked up Spanish.
"I did this little kids TV series when I was young," Affleck said. "When I was 13, the season that year was in Mexico, so I was in Mexico for a year. That's how I picked it up. When you're younger, the older brain doesn't hold onto information. I wouldn't know myself but people tell me when you're older that your memory goes."
Ben Affleck speaks Spanish with his daughter too
Affleck had children with his ex-wife Jennifer Garner. He said his teenage daughter learned Spanish in school so they also speak it within the family.
"My daughter is 14 and she's always been a very good student," Affleck said. "She's been interested in Spanish so I would often help her. Now all of a sudden she's gotten to the grade where she's in the harder spanish classes and she's getting better. She's right at the point where I think she might be passing me."
Ben Affleck plans to improve his Spanish, so Ana De Armas will benefit too
Affleck told Clarkson he only speaks Spanish "passably." His daughter is motivating him to get more fluent, and surely dating a Spanish speaker like de Armas will help.
"I don't mind that I can't do your math homework when you're 14 years old, but you're not going to be better at Spanish than me," Affleck said. "I've decided now I got to take classes. I've got to do something to keep up because I can't have my 14-year-old [telling me], 'That sounds ridiculous. You're not using the imperfect tense.' I know two tenses: now, before, the future. [sic] That's all you need."
Ana de Armas speaks a different Spanish than Affleck anyway
Another frustration Affleck found is that Spanish is not the same across Spanish speaking countries. He learned it in Mexico, so that is automatically different than de Armas's Cuban or Spanish Spanish.
"Also, the problem with Spanish is you learn all these words," Affleck said. "I learned a lot of words in Mexico, some good, some… you know. Then you go somewhere else like Spain or South America and they go, 'No, that's not Spanish.' What are you talking about that's not Spanish? 'I've never heard that word before in my life.' They say it in Mexico. 'In Mexico they don't speak real spanish.'"
Affleck said his Mexican Spanish has already gotten him in trouble.
"Then they're like, 'You have a Mexican accent.' I was like I don't think I have a Mexican accent. It's sort of like the Southern accent here. Or you know, it's a little more like in Australia, England and here."