Ben Affleck vs. Matt Damon: Who Is Worth More, Batman or Jason Bourne?
Multi-hyphenate stars Ben Affleck and Matt Damon are known for their respective roles as Batman and Jason Bourne. Both are high-profile figures who got their starts in the same place and are now A-listers. So who has the higher net worth? Find out here.
Ben Affleck and Matt Damon became famous for 'Good Will Hunting'
Growing up together in Boston, Affleck and Damon were close friends. Damon once told a story of how Affleck stood up for him during a fight that occurred in their childhood. Both had an interest in the entertainment industry, which led to a handful of small roles for each of them.
However, they didn't become household names until the release of the 1997 film Good Will Hunting. Not only did they write the screenplay together, but both star in the movie. They won Best Original Screenplay at the Academy Awards that year and were nominated for more. This set them on the path to international fame.
They've worked together many times
RELATED: How Many Movies Have Ben Affleck and Matt Damon Appeared in Together?
The two actors have worked together in various capacities. From being extras in Field of Dreams to executive producers, their professional relationship is strong. In their early days, they starred in a few films together like Dogma and Jay and Silent Bob Strike Back.
They later formed a production company, Pearl Street Films. Through it, they've released movies like Live by Night (which Affleck directed) and series such as Project Greenlight, which was meant to help aspiring filmmakers. The company's upcoming film, The Last Duel, stars both Affleck and Damon as historical figures King Charles VI and Sir Jean de Carrouges, respectively.
Affleck's career has brought him a lot of success
Affleck's recognition as a leading man came around the turn of the century. He made his way from smaller projects to big-budget films like Pearl Harbor and Daredevil very quickly. He was able to use this momentum to get behind the camera, directing his first feature, Gone Baby Gone, in 2007.
Though he's had many ups and downs over the years, Affleck is still thought of as a prolific movie star and filmmaker. His 2012 historical drama, Argo, won the Oscar for Best Picture. And he made his way from Marvel to DC with his turn as Bruce Wayne/Batman in Batman v Superman: Dawn of Justice and Justice League.
Damon became famous in front of and behind the camera as well
Damon's career trajectory has been similar to Affleck's in many ways, but certainly not identical. He, too, found his way into big-budget films, starring in Ocean's Eleven and the Bourne franchise. The latter elevated him to an elevated action-hero status, which has yet to fade.
Though he hasn't yet directed a film, Damon has continued to write, penning the screenplay for the 2012 drama Promised Land. His acting hasn't been as limited to the big screen as Affleck's, with an arc on the sitcom 30 Rock. And though he's not officially a superhero, he is prone to making surprise cameos in superhero films like Thor: Ragnarok and Deadpool 2.
Affleck and Damon's respective net worths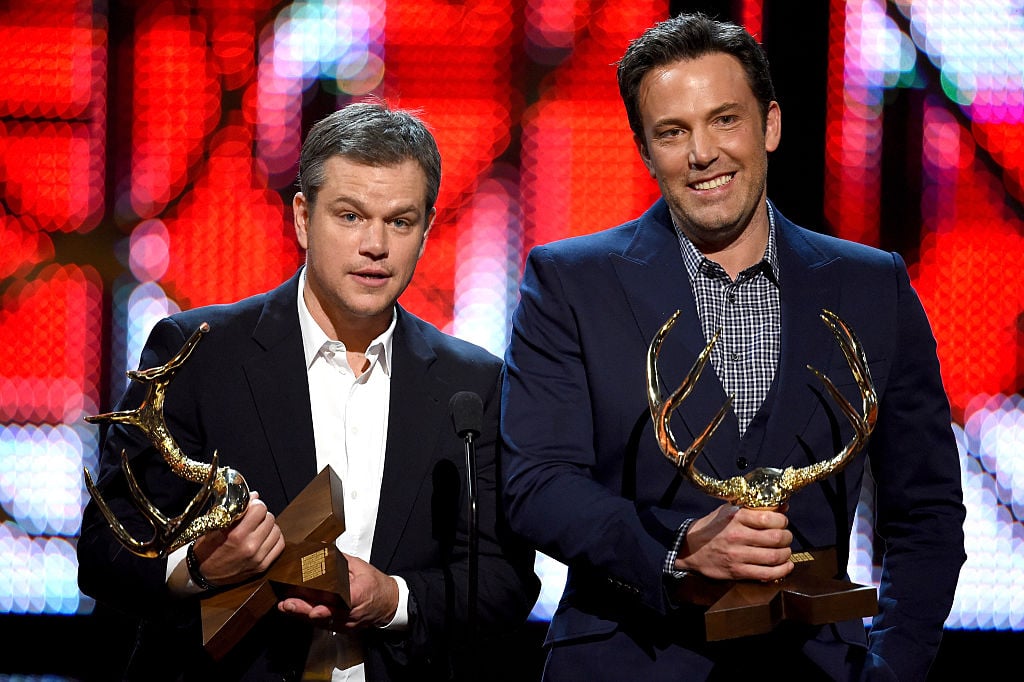 RELATED: Ben Affleck Net Worth and How He Makes His Money
Affleck's net worth is very close to that of his long-time friend. According to Celebrity Net Worth, he is worth an estimated $150 million in 2020. This is up from $130 million in 2019. Meanwhile, Damon's estimated net worth is $170 million.