Will Benedict Cumberbatch Pay Tribute to Robert Downey Jr's Iron Man in 'Doctor Strange In the Multiverse of Madness'?
'Doctor Strange in the Multiverse of Madness' could acknowledge Robert Downey Jr.'s Iron Man in one very unique way. Learn more here.
All of the exciting news surrounding Doctor Strange in the Multiverse of Madness has kept fans guessing. Star Benedict Cumberbatch will, of course, return, as will a few others. But could the film acknowledge another Marvel actor, Robert Downey Jr.? Here's what we know.
Benedict Cumberbatch and Robert Downey Jr. are MCU heroes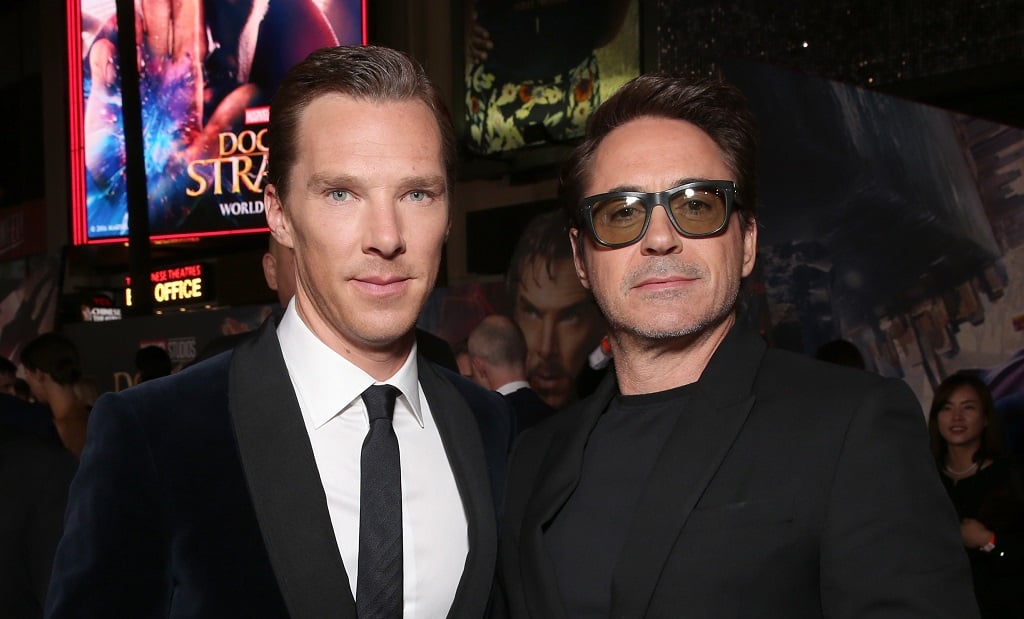 Both actor are known for their roles in the Marvel Cinematic Universe. Downey Jr. began portraying Tony Stark in the first film of the massive franchise, Iron Man, back in 2008. He then starred in its two sequels as well as all of the Avengers films, Captain America: Civil War, and Spider-Man: Homecoming.
As for Cumberbatch, he has made far fewer appearances in the MCU. His first occurrence came with 2016's Doctor Strange, in which he is introduced as the titular character, who learns about the mystic arts. Aside from a brief cameo in Thor: Ragnarok, he has only been in the last two Avengers movies.
Iron Man left the franchise in 'Avengers: Endgame'
Since he's been there from the beginning, Downey Jr.'s part in the MCU is very special to many people. The character's journey's ending begins with Avengers: Infinity War, when he first meets Doctor Strange. The two team up and are together for most of the movie, battling Thanos along with the Guardians of the Galaxy and Spider-Man. When they lose, Strange assures him it was the only way.
In Endgame, Tony is distraught after arriving back on Earth when he realizes there's nothing they can do. But years later, he gets back together with the rest of the Avengers and they take on Thanos once more. This time, Strange arrives (along with many, many others) in time to again advise Tony as he makes the ultimate sacrifice: his own life.
Who is Iron Strange?
Infinity War and Endgame were massive undertakings. Both resulted in a lot of exciting character team-ups and brought us the epic conclusion to the Infinity Saga that fans had been dreaming of for years. It's no wonder that the latter broke box-office records.
However, significant moments were naturally cut from the film for both time and plot. Among those was a scene in which Doctor Strange was able use an Iron Man suit to protect himself against the torture he endured from Thanos' cohort Ebony Maw in Infinity War. Check out the concept art from this cut scene.
Could 'Doctor Strange in the Multiverse of Madness' bring this character back?
Now that Iron Man himself is gone, what of his suits? Despite the fact that the moment has passed for that particular Iron Strange shot, there's always the possibility that it could be resurrected in another form. And now that Doctor Strange in the Multiverse of Madness is headed into production, we're wondering if that's the plan.
The idea of the multiverse opens up so many doors, both literally and figuratively. If they decided to pay tribute to Downey Jr.'s character in the upcoming MCU film, due out in May 2021, we wouldn't be all that surprised. After all, the two characters did form quite a bond.