Best of 'The Bachelor': Best Bachelor Seasons, Ranked
Over 18 years, 'The Bachelor' has seen some great seasons — here's the best of 'The Bachelor' seasons so far.
The Bachelor seasons have been around for two decades, and throughout the years, the show has helped more than 25 sexy singles find love. After weeks of watching the bachelors go on exotic dates and trips with the contestants and going through eliminations, fans finally watch The Bachelor finale and the fairy tale that is the proposal happen, which comes with a pricey Neil Lane diamond ring.
Some of The Bachelor seasons rated highly among audiences while others didn't. Who is the most popular bachelor? Here's our Best of 'The Bachelor' ranking to help you decide.
18. Season 17, Sean Lowe
Season 17 wasn't big on The Bachelor drama, but it was certainly big on the love. From early on, Lowe's love for Catherine Giudici was obvious to viewers, and, to nobody's surprise, she was his final pick at the end of the season. 
Though this season may not have been keeping people on the edge of their seats, the relationship that blossomed between Lowe and Giudici was certainly to be admired. They're even still together, which is more than many final contestants can say.
17. Season 1, Alex Michel
Which The Bachelor season has the highest ratings? While it wasn't season 1, Alex Michel's season set the stage for season 2 to be the highest-rated and launched The Bachelor franchise. He chose Amanda Marsh with Rehn as a runner-up, and while Michel and Marsh didn't last, he paved the way for Trista Rehn to become the first Bachelorette.
Trista is still a fan favorite and her and Ryan Sutter are one of Bachelor Nation's biggest successes – all thanks to Alex Michel.
16. Season 12, Matt Grant
A Bachelor from across the pond, Brit Matt Grant wasn't a beloved Bachelor, but his season was full of drama. Starting off with one contestant putting her underwear in his pocket night one, Grant's season had plenty of wild moments.
While he proposed to Shayne Lamas, the two split shortly after the show.
15. Season 5, Jesse Palmer
NFL player Jesse Palmer was definitely a Bachelor the contestants wanted to compete for. While not a favorite Bachelor, Palmer's season had plenty of notable moments — like when he sent one contestant home after giving her the rose because he mixed up her name with someone else.
He picked Jessica Bowlin at the end, but the two didn't last.
14. Season 16, Ben Flajnik
Ben Flajnik's season introduced viewers to Courtney Robertson. Robertson was easily a fan favorite because of her attitude. She made friends and made it her mission to let the other ladies know that she was in Flajnik's good graces.
Regardless of her antics, the model made it to the final rose and got a proposal, although she and Flajnik soon ended things.
13. Season 10, Andrew Baldwin
Navy officer Andrew Baldwin was a Bachelor many women would have jumped on a ship for. His season had plenty of crazy moments, but the most controversial — and heartbreaking — was when he coldly left Peyton Wright stranded on a runway, dumping her, and flying away with Tessa Horst.
The two got engaged, but shortly after the show, they called off their engagement and continued dating until ultimately breaking up in 2007.
12. Season 14, Jake Pavelka
Season 14 was perhaps the only season a Bachelor Nation villain emerged as the winner. Fans of the franchise hated Vienna Girardi, but against all odds, she managed to charm Pavelka enough for a proposal. However, the result of the proposal was a nasty split that forced ABC to organize a sit down with the couple.
The two got involved in a he-said-she-said fight, and they couldn't agree on who ended things first. Pavelka and Girardi's reunion was one of the franchise's most explosive ones and provided enough drama to last a whole season.
11. Season 7, Charlie O'Connell
In a great way to set the season off with a bang, this season of The Bachelor featured an actor. Already familiar to viewers, this season offered an exciting, personal connection that set up the anticipation of who his final pick would ultimately be.
At the end of the season, O'Connell offered a promise ring to Sarah Blake (unfortunately, they split soon after, and O'Connell is now married to Playboy Playmate Anna Sophia.)
10. Season 19, Chris Soules
Chris Soules seemed like he just wanted to return to Iowa for a lot of his season, but thankfully the women vying for his love stirred up more drama than he could imagine.
One of the most notable contestants from his season, Kelsey Poe, shocked and disturbed viewers when she talked about how being a widow was an "amazing story." In the end, Whitney Bischoff was his final pick, however, the two didn't last.
9. Season 18, Juan Pablo Galavis
Featuring one of the most unlikable bachelors on the show, season 18 delivered some of the most intense drama in the history of the series. Contestants broke down crying over his comments on television, and many of them ended up wanting nothing to do with him as the season went on.
After refusing to propose or say the word "love" to final contestant Nikki Ferrell, Galavis certainly turned his audience against him. Unlikable as he was, his bizarre actions made for some very interesting The Bachelor episodes that had audiences on the edge of their seats.
8. Season 25, Matt James
Matt James made Bachelor Nation history as the first Black front-runner. The season was filled with plenty of drama, "Queen" Victoria being one of the highlights.
The shocking season ended with Rachael Kirkconnell as the winner, but eventually, reports of past racist remarks Kirkconnell came to light and backlash ensued. The two, unsurprisingly, split.
7. Season 21, Nick Viall
Nick Viall headlined season 21 of The Bachelor franchise. His season wasn't the best, but a lot of fans loved to hate it. However, Viall's season produced some fan favorites, including Raven and Corrinne.
His final pick was Vanessa Grimaldi, much to many fans' disappointment. It was only a matter of time before the new couple announced that they had ended things.
6. Season 13, Jason Mesnick
This season had some of the sharpest ups and downs in the show's history. Season 13 is a particular stand-out because of The Bachelor finale special where Mesnick dumped Melissa Rycroft, his final pick on the show, for Molly Malaney, the contestant he had initially rejected.
On the bright side, Mesnick and Rycroft are still together with two children.
5. Season 11, Brad Womack
This season offered a particularly daunting surprise – Womack ended up sending both of his final picks home at the end of this shocking season without one of the Bachelor engagement rings.
In an unprecedented move for the show, viewers were certainly disappointed, but Womack's shocking decision definitely made this season stand out!
4. Season 22, Arie Luyendyk Jr.
Though certainly not the most likable bachelor, Luyendyk offered some serious drama and an exciting television experience for viewers during this explosive season. After proposing to Becca Kufrin, Luyendyk quickly withdrew his proposal a few months later, on camera, in a painfully awkward breakup.
Much like Jason Mesnick, he then proposed to his formerly rejected contestant, Lauren Burnham, in the After the Final Rose special. The two are still married and recently welcomed twins.
3. Season 23, Colton Underwood
Colton Underwood's season didn't disappoint as it delivered endless drama. For starters, Underwood had declared he was a virgin. Also, his season had many beauty queens fighting, and his top pick left early because she wasn't on the same page with him. Regardless, Underwood rejected his final contestants and went after Cassie but the relationship ended in a restraining order.
In early 2021, Colton Underwood came out as gay.
2. Season 20, Ben Higgins
Though certainly not our favorite bachelor, this season had a particular draw with its dramatic contestants! Contestants Olivia Caridi and Jubilee Sharp had viewers on the edge of their seats in anticipation.
Although Ben Higgins wasn't a fan favorite, his pick, Lauren Bushnell, was an explosive choice after telling both her and JoJo Fletcher that he loved them both in one of the best The Bachelor episodes.
1. Season 24, Peter Weber
What's the best season of The Bachelor? Well, our vote goes to season 24 with pilot Peter Weber as the titular Bachelor. From iconic moments like "Champagne-gate," to breaking off his engagement with fan-favorite Hannah Ann Sluss for Madison Prewett, who took herself off the show after realizing she and Peter had vastly different lifestyles.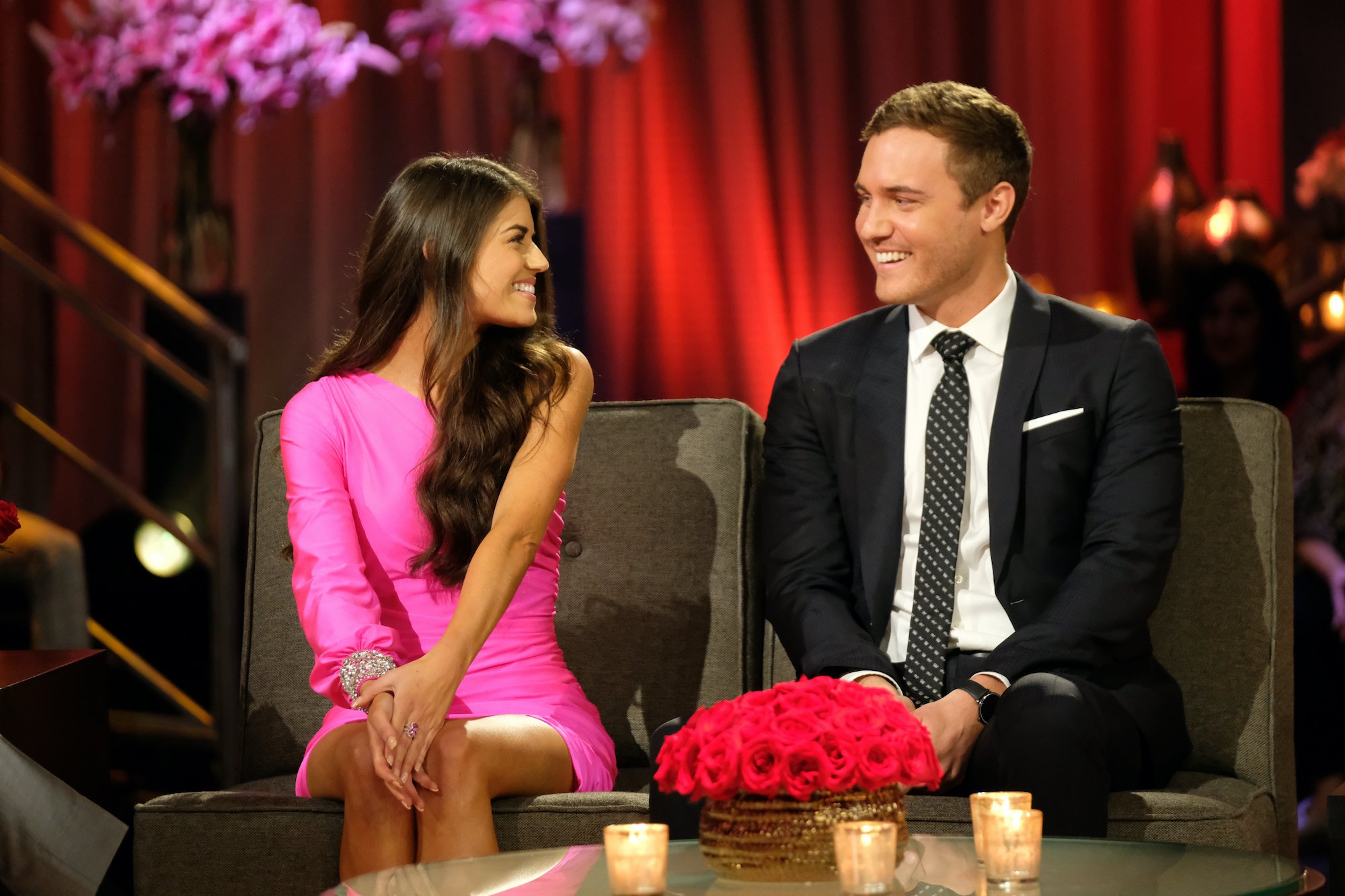 Not to mention, he nearly brought back bachelorette Hannah Brown into the house! The drama-filled season ended with an After the Final Rose like no other, where Peter Weber's mom didn't hold back her disdain for Madison Prewett.