Royal PDA Moments: From Prince Harry and Meghan to Prince William and Kate to Princess Eugenie and Jack
Once upon a time the public rarely saw royal couples engaging in PDA except for on their wedding day. Some may recall Prince Charles and Princess Diana kissing on the Buckingham Palace balcony before Prince Andrew and Sarah, Duchess of York followed suit a few years later.
Today though, a younger generation of royals just can't help showing affection for one another in front of the cameras often.
So on this day when love is in the air, we decided to take a look back at some of those loved-up moments courtesy of the Duke and Duchess of Cambridge, the Duke and Duchess of Sussex, as well as Princess Eugenie and Jack Brooksbank.
Prince William and Kate
Prince William doesn't engage in as much PDA as Harry does with Meghan, Duchess of Sussex but the future king and queen have shared a few sweet moments with one another for the world to see.
On occasion, William has delighted royal fans by gently putting his hand on his wife's back when they are out and about. Many remember when he did so at the annual Irish Guards St. Patrick's Day Parade at Cavalry Barracks in Hounslow, England a month before Prince Louis was born.
And in October 2018, Catherine, Duchess of Cambridge had everyone smiling when a photo surfaced of her at Princess Eugenie's wedding where she had her hand resting on William's leg during the ceremony.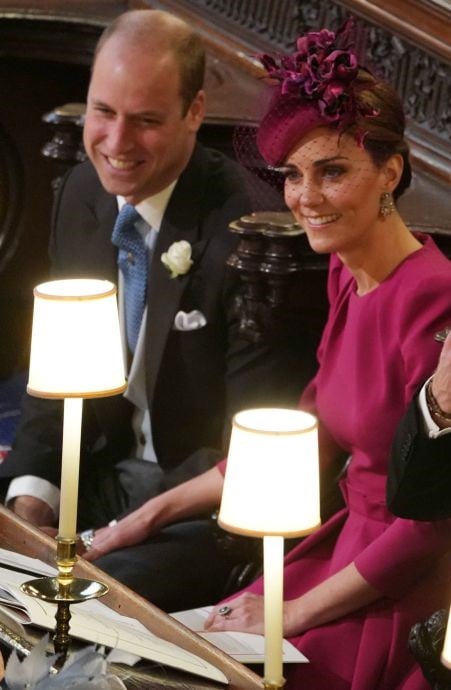 Princess Eugenie and Jack Brooksbank
Like her parents and other royals, Princess Eugenie and Jack Brooksbank shared a kiss following their wedding ceremony, but they've had quite a few other PDA-filled moments since then as well.
Recently, the princess was photographed beaming while holding her husband's hand on the royal family's annual walk to St. Mary Magdalene Church on Christmas morning.
Prince Harry and Meghan
Princess Eugenie and Brooksbank likely feel comfortable showing their affection in public thanks to the Sussexes because Prince Harry and Meghan have taken royal PDA to a whole new level.
The couple single-handily made it acceptable for royals to do so no matter when or where. It's actually rare not to see them holding hands or snuggling up and whispering softly in each other's ears at royal events.
It all started in September 2017 with their first public appearance together at the semi-final rounds of the Invictus Games in Toronto. Two months later, Meghan and Harry announced that they were engaged and from that day forward have given fans so many PDA-filled moments.
But many have wondered: Are they going against royal protocol by showing affection all the time?
According to royal etiquette expert, Myka Meier, the answer is no.
"There is no actual etiquette or royal protocol that says the couple must refrain from PDA," she said.
Read more: British Royal Family Fans Vote For Their Favorite Royal Wedding