'Better Call Saul': 'Bagman' Was Filmed in the Same Desert Where Walt and Jesse First Cook in 'Breaking Bad,' Vince Gilligan Reveals
As Better Call Saul races closer to the end of its run and closer to the beginning of the Breaking Bad timeline, certain elements are popping up that remind fans where this story is heading. There are character cameos and subtle references in each episode that eagle-eyed followers are quick to point out.
Episode 8, "Bagman," included another familiar face, only this time he was behind the camera. Showrunner Vince Gilligan returned to direct the episode and fans couldn't help but notice that the overall vibe was very reminiscent of Breaking Bad. And there's a reason it had such a familiar feeling — the setting was straight out of the original series.
[Spoiler Alert: Spoilers ahead for Better Call Saul, Season 5, Episode 8]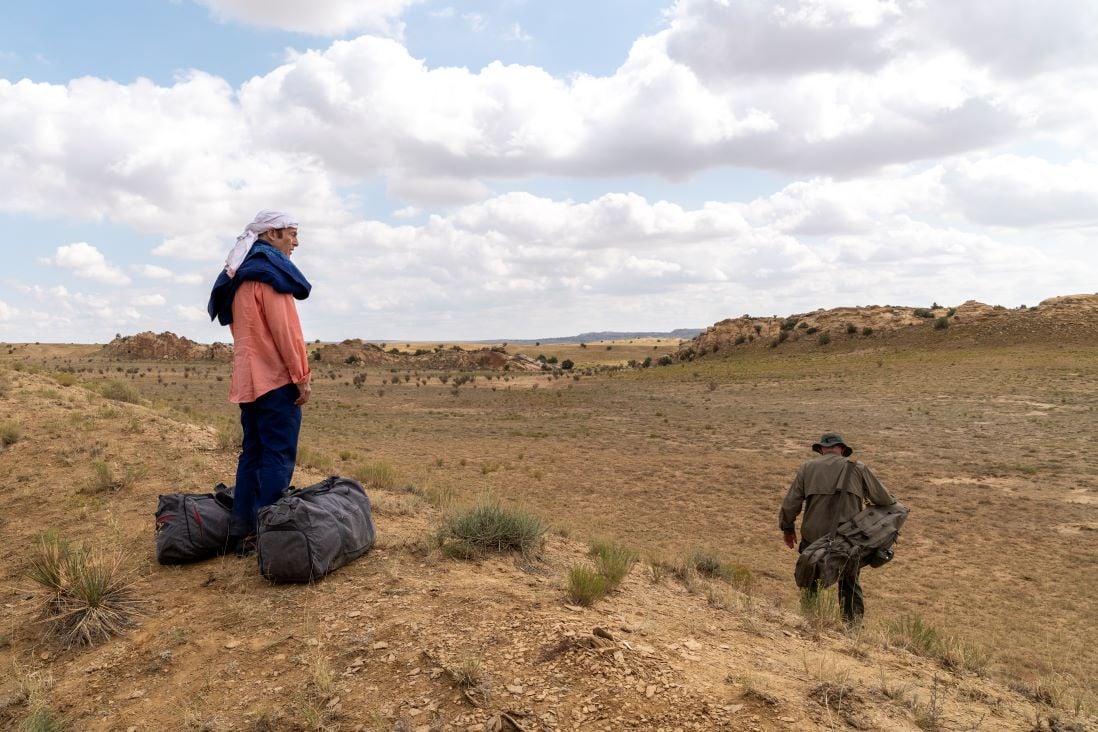 The Cousins meet with Jimmy in a very significant location
Gilligan sat down with AMC to discuss creating the episode that fans can't stop talking about. As he revealed during the interview, the desert setting looks so familiar to Breaking Bad devotees because it's the same place where Walter White and Jesse Pinkman take their RV for their first cook.
Gilligan discussed the scene when the past and future collide with Jimmy meeting the Cousins for the bail money exchange.
"It was so much fun seeing those two worlds collide," Gilligan said. "Most of the episode took place way out in the boonies, way out on the To'hajiilee Indian reservation, which is so very beautiful. And it should be noted that To'hajiilee, where we shot the bulk of the episode, is where Walter White and Jesse Pinkman first cook meth in the pilot episode of Breaking Bad so it was like old home week going out there."
Mike and Jimmy forge an important bond in the desert, too
"Bagman" isn't just foreshadowing for what's to come in Breaking Bad — it's also laying the groundwork for relationships in the series, like the one between Mike and Jimmy/Saul.
These two know each other from the days of Mike working as a parking attendant at the courthouse, but their bond becomes much deeper when Mike saves Jimmy's life from the mystery thieves. Then Mike and Jimmy have to trek across the desert together for better or worse.
Gilligan said, "When Mike shows up, I think it's of course a huge relief to Jimmy, although he is so utterly in shock and so traumatized at the point that Mike makes his presence known. I don't even know if Jimmy knows what planet he's on at that particular moment."
Jimmy figures out how much he needs Mike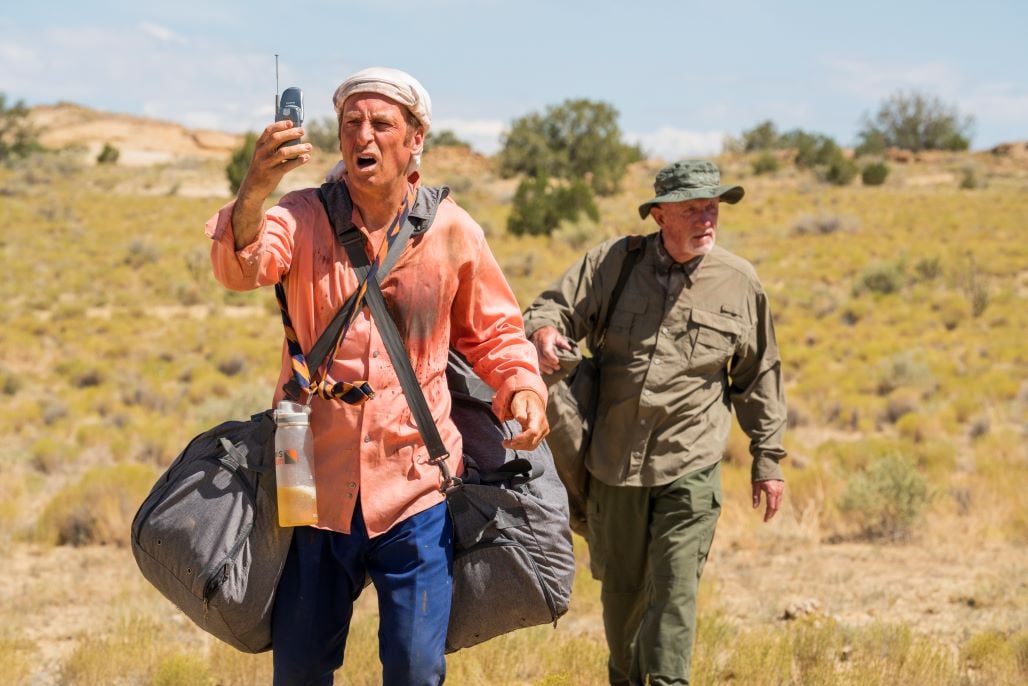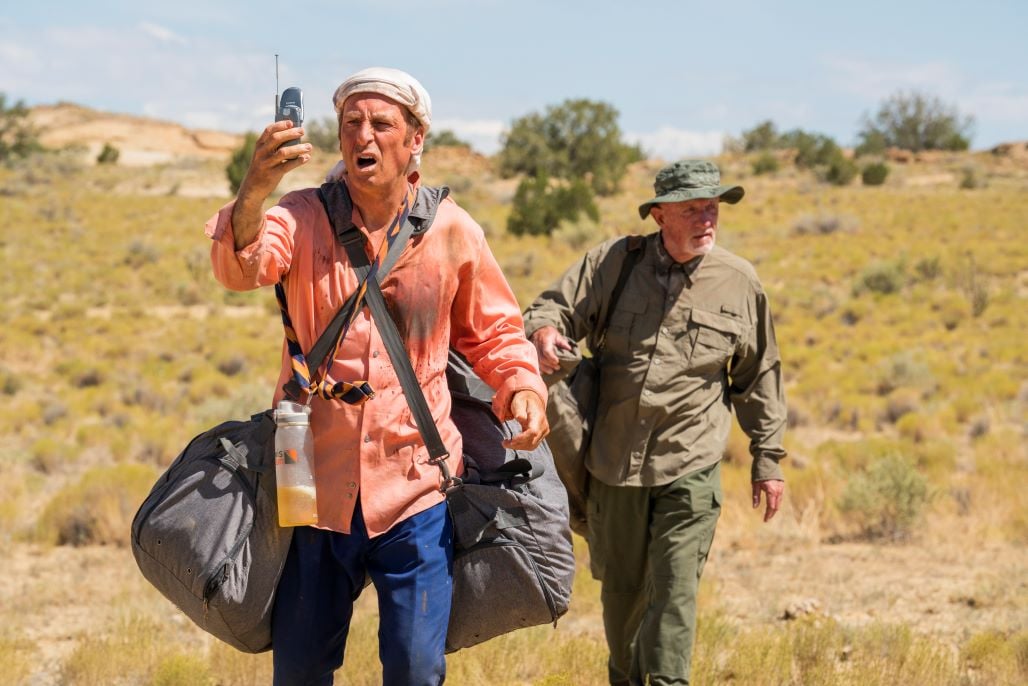 He continues, stressing the gravity of change between Jimmy before the shootout and after. "I think the release probably floods in later, but at that moment it's just trauma, shock and horror at what he's just witnessed and lived through. But, yeah, you don't want to be on Mike's bad side, and, if you happen to be on the same side as Mike, what bigger relief than when that guy shows up, because he's the only guy that could have pulled off that save."
Ultimately, Mike saves Jimmy's life twice — once right before he gets shot, and then later as they walk through the desert and he shares his supplies, including a tiny bit of precious water and making the suggestion that Jimmy shouldn't waste his urine. This episode proves that Jimmy needs Mike around — and likely he will even more in the future.
Catch new episodes of Better Call Saul on Mondays at 9 p.m. on AMC.