'Better Call Saul': Bob Odenkirk Admits Kim Wexler 'Could Go Off the Rails'
'Better Call Saul' fans are wondering what becomes of Kim Wexler in season 6, and Bob Odenkirk suggested her character 'could go off the rails' before the finale.
TL;DR:
Kim Wexler's fate is up in the air ahead of Better Call Saul Season 6.
Bob Odenkirk admitted the character "could go off the rails."
Kim's overconfidence could ultimately be her downfall.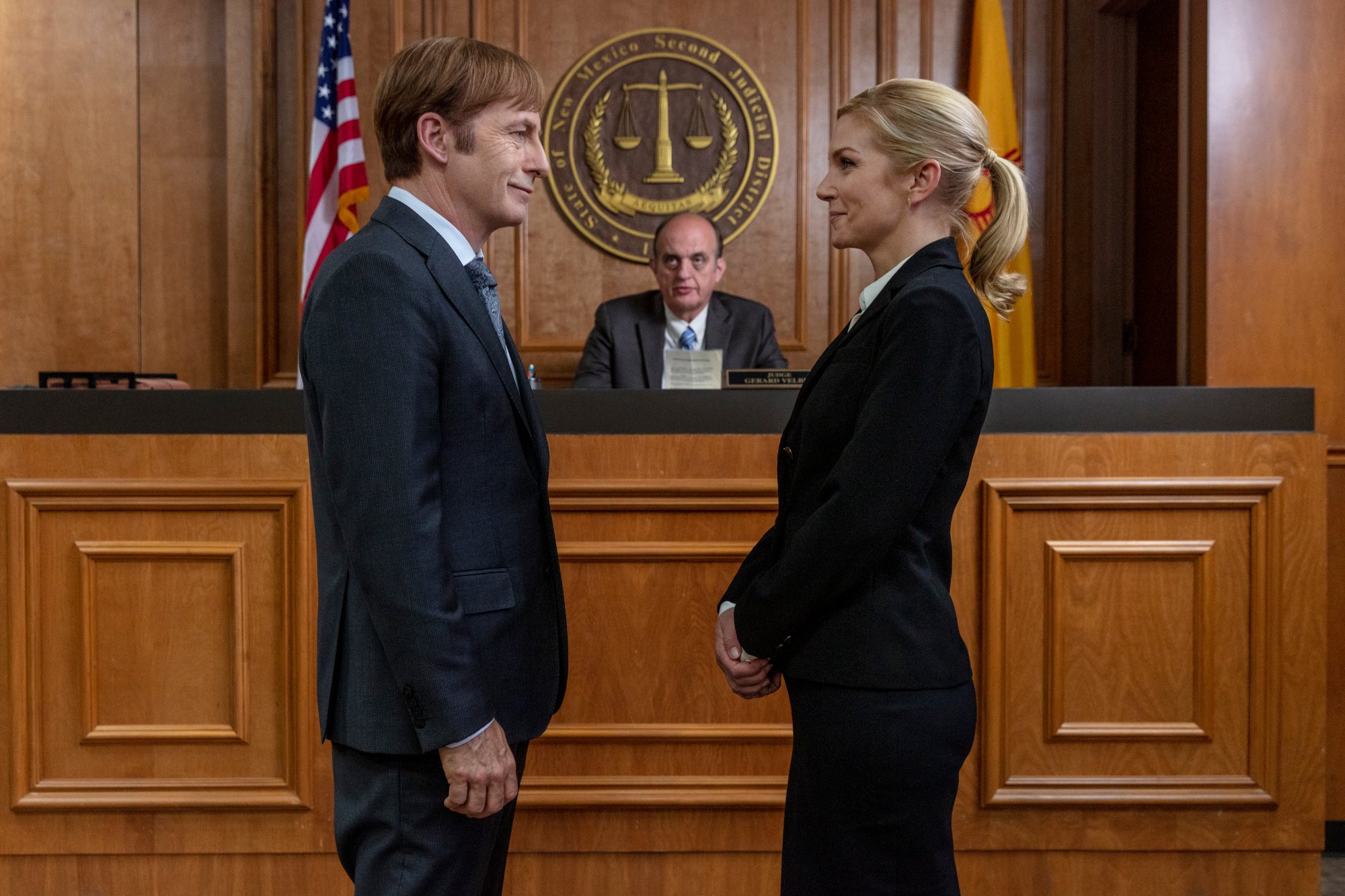 Better Call Saul Season 6 will bring the popular AMC series to a close, and fans are going into the final outing with one major question: what becomes of Kim Wexler (Rhea Seehorn)? Jimmy McGill's (Bob Odenkirk) wife is never mentioned in Breaking Bad, and fans are eager to know what happened to her between the two AMC series. From the sound of it, Kim could bring about her own downfall. Odenkirk himself admitted the character "could go off the rails."
'Better Call Saul' fans want answers about Kim Wexler
Kim Wexler is among a handful of Better Call Saul characters whose fates remain a mystery heading into season 6. And arguably, she's the person fans are most interested in. Although Nacho Varga (Michael Mando), Howard Hamlin (Patrick Fabian), and Lalo Salamanca (Tony Dalton) also don't appear in Breaking Bad, they may simply have moved out of Jimmy's orbit. It's much stranger that he never mentions Kim in the original series.
Naturally, her absence has led to all kinds of speculation — and many viewers are already assuming the worst for Kim. However, it might not be Jimmy or his connection to the cartel that leads her to disappear. As Bob Odenkirk recently pointed out, her character is completely unpredictable heading into season 6. She could do something reckless before the end.
Bob Odenkirk says Kim Wexler 'could go off the rails'
Although many Better Call Saul fans imagined Jimmy's actions would lead to a dire fate for Kim Wexler, it's seeming more and more likely the character will be her own downfall. The end of Better Call Saul Season 5 saw Kim suggesting she and Jimmy go after Howard. Although she told Jimmy she was joking, it's clear she's still considering it.
In a recent interview with Entertainment Weekly, Bob Odenkirk spoke about Kim's shift, revealing that even Jimmy is surprised by her actions. He also admitted she feels like she could do something rash in the coming episodes:
"Jimmy's eyes are open now — she's not exactly who he thought he knew. Those two have a pretty huge gap there now that they didn't have before, that they have to rediscover each other. At least Jimmy has to try to figure out who this Kim is. Kim feels to me like she could go off the rails — a little haywire, there's a loose screw inside her, and I don't know what she's going to do."
If Kim does do something reckless, it seems like she may actually face consequences for it. Going after Howard is certainly one way to attract unwanted attention, and that's not to mention Kim's recent confrontation with Lalo. Could her overconfidence be the reason she doesn't show up in Breaking Bad?
Will she be her own downfall in 'Better Call Saul' Season 6?
If the cast of Better Call Saul is worried about Kim Wexler, perhaps the audience should be too. We won't know if she faces a negative fate until the final season arrives, but Bob Odenkirk's words feel ominous. They certainly suggest Jimmy will reevaluate his perception of Kim. Could the two have a falling out that leads to her absence in his life?
It's also possible Kim will make a misstep going after Howard or someone else. Unlike Jimmy, Rhea Seehorn's character moves through her trickery with an air of confidence that leaves room for error. That could land her in serious trouble — or worse, get her killed.
Only time will tell what the future holds for Kim Wexler. Odenkirk's words paint a concerning picture, though.
Better Call Saul Season 6 premieres on AMC on April 18, 2022.