'Better Call Saul': Bryan Cranston and Aaron Paul Officially Returning for Season 6
It's official: Bryan Cranston and Aaron Paul will appear in sixth and final season of Better Call Saul. Granted, it always felt like a possibility. But the show has become such its own thing outside of Breaking Bad that it was honestly hard to tell. But now, cameos by Walter White (Cranston) and Jesse Pinkman (Paul) have been confirmed.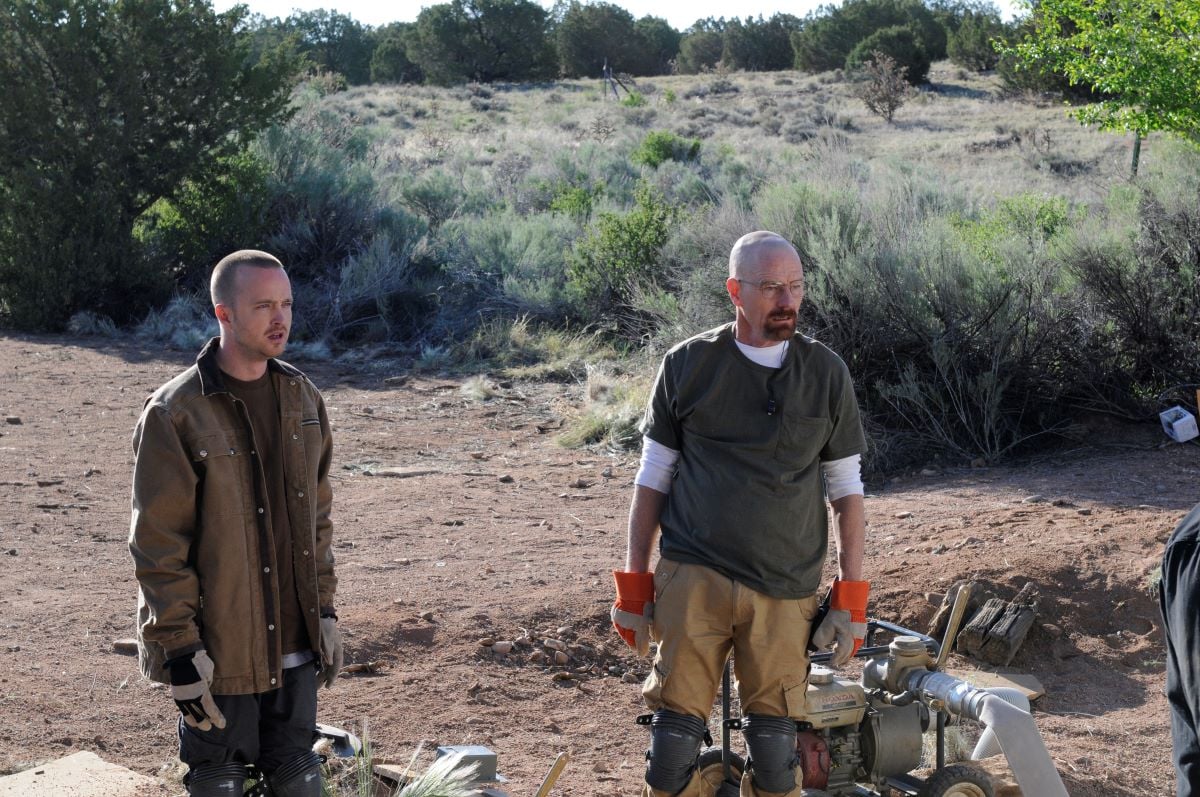 Walter White and Jesse Pinkman are in 'Better Call Saul' Season 6
According to Variety, the news was announced on April 9 by Peter Gould, the co-creator of Better Call Saul, while he was speaking on a panel at PaleyFest LA. However, he did not discuss any further details.
"I don't want to spoil things for the audience, but I will say the first question we had when we started the show was, 'Are we gonna see Walt and Jesse on the show?' Instead of evading, I'll just say yeah," said Gould. "How or the circumstances or anything, you'll just have to discover that for yourself, but I have to say that's one of many things that I think you'll discover this season."
Bob Odenkirk, who stars on the Breaking Bad spinoff as the shady lawyer Saul Goodman, started to tease that fans would see more of something. But then Gould stopped him.
Spanning five seasons, the original series starred Cranston as a science teacher who, after learning he has cancer, becomes a meth cook to make more money for his family. He brings in a former student (Paul) to help him, sending them both down a very dark path. In the end, Walter died in a shootout, while Jesse escaped and created a new identity.
'Better Call Saul' is an origin story
Better Call Saul is set before Saul met Walter and Jesse, when he was still going by his name Jimmy McGill. It tracks his transformation into Saul Goodman and also, what happens to him after the events of Breaking Bad. As viewers know, Saul fled New Mexico for Nebraska, but his future is uncertain.
The show also chronicles his relationship with lawyer Kim Wexler, who is on her own dark turn. Many viewers believe she'll die, especially because she's missing from Breaking Bad. But Odenkirk has said that doesn't necessarily mean she dies.
"In fact, there's some version of life where Kim and Jimmy stay married and live a Mary Matalin and James Carville-type situation," he told The Hollywood Reporter, laughing. "Kim would be a superpowered lawyer with the white-shoe law firm, and he would be the complete scumbag ambulance chaser across town. And at night, they go home, take off their disguises and be kind to each other."
"I don't think that's where we're going to go, but in real life, those weird and seemingly conflicting relationships can be very real," he added. "They can happen. It's probably easy to think that Kim dies, or that anyone who's not visible passes away. But there's still a lot of people who die on these shows; the stakes are high. But I'm with you in that anything could be the case."
The show will return in April
Fortunately, fans won't have to wait too much longer to find out how everything ends. Better Call Saul will return to AMC on April 18 with the first of seven episodes, followed by the remaining six starting in July. If you need to catch up on the show, all five seasons are streaming now on Netflix.