'Better Call Saul': Bryan Cranston Once Called out Bob Odenkirk for Not Watching 'Breaking Bad'
Bob Odenkirk admits Bryan Cranston caught him in a lie on the set of 'Breaking Bad.' The 'Better Call Saul' star was a bit behind on the flagship series.
Breaking Bad turned into a lucrative job for Bob Odenkirk. He got his own show, Better Call Saul thanks to co-starring with Bryan Cranston. Considering he never even watched Breaking Bad when he first played Saul Goodman, that's quite the journey. And Cranston never let Odenkirk forget it.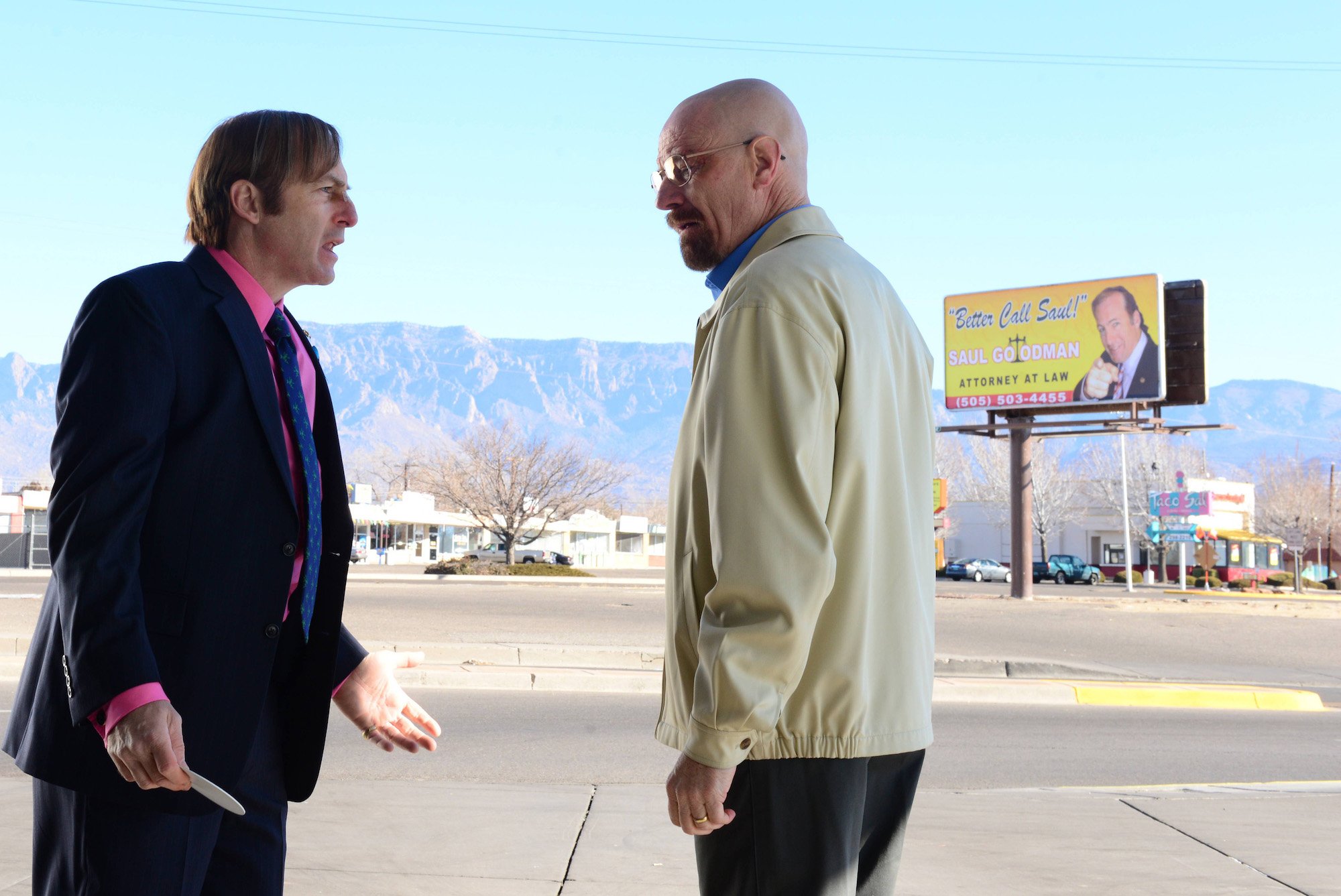 Odenkirk was a guest on the Sunday Sitdown with Willie Geist podcast on March 13 to discuss his new memoir, Comedy Comedy Comedy Comedy Drama. Odenkirk told the story of when Cranston caught him faking it on Breaking Bad. Better Call Saul Season 6 Part 1 premieres April 18.
'Breaking Bad' caught Bob Odenkirk at a desperate time 
Before Breaking Bad, Odenkirk only acted sporadically in things he didn't write. But, around 2009, when Breaking Bad was in its second season, Odenkirk was looking for work.
"Somehow I got in a hole," Odenkirk said on Sunday Sitdown. "My business manager said to me, 'Listen, don't worry, it's going to be okay. Just say yes to work, whatever it is.' I was kind of a person who didn't. I did what I wanted. And I didn't spend a lot of money. Somehow I got in this financial hole and he said, 'Do whatever comes your way.'"
Odenkirk hadn't watched Breaking Bad in its first season. His agent recommended the job.
"Here comes Breaking Bad," Odenkirk said. "I get a call. My agent's worried about it. He says, 'Hey, whatever you do, don't say no to this job. Please. It's a good job. It's good writing.' I'm like, 'I'm not going to say no. I haven't said no in two years' but somehow he didn't notice that. I'm so glad I said yes and did it. It came off so well."
Bryan Cranston watches 'Better Call Saul' but Bob Odenkirk didn't return the favor
Cranston has said he's watching Better Call Saul even though he's not in it. Even when the role of Saul Goodman came up, Odenkirk didn't catch up with Breaking Bad. He figured he could wing it as Walter White (Cranston)'s lawyer.
"I hadn't seen the show," Odenkirk said. "I watched about 10 minutes of it on the plane. And I'm kind of going, 'Okay, it's a drama, it's kind of funny. I get it.' I was joining the cast in the 3rd and 4th season. And I really did need to see the show, because at one point Bryan Cranston busted my balls in the makeup trailer. I said something about Gus, 'You and Gus work together, huh?' He goes, 'You've never seen the show have you?' And I go, 'Well, maybe I haven't.'"
'Breaking Bad' was too intense for the Odenkirk household
Just to put things in perspective, Odenkirk explained he was not just avoiding Breaking Bad. He was just a father to young kids and had few opportunities to watch an intense, graphic drama.
"I needed to see the show at a certain point to understand what was happening," Odenkirk said. "But I put the show on, and any parent knows this. It was probably the 3rd or 4th episode where they put the guy in the vat of acid. My daughter walks in right then. I'm like I can't watch this show at home. Eventually I watched it."