'Better Call Saul': Did Kim Wexler Work With Jesse Pinkman?
Better Call Saul has shown Breaking Bad fans what Saul Goodman's life was like as Jimmy McGill (Bob Odenkirk). Naturally, there have been several nods to the original series throughout Better Call Saul. Some of those easter eggs are obvious, while others are more subtle for the die-hard Breaking Bad fans to find. 
In a conversation from Season 5, Episode 8, "Bagman," one fan discovered a hint that implied Jimmy's wife, Kim Wexler (Rhea Seehorn), may have worked with Breaking Bad's Jesse Pinkman (Aaron Paul).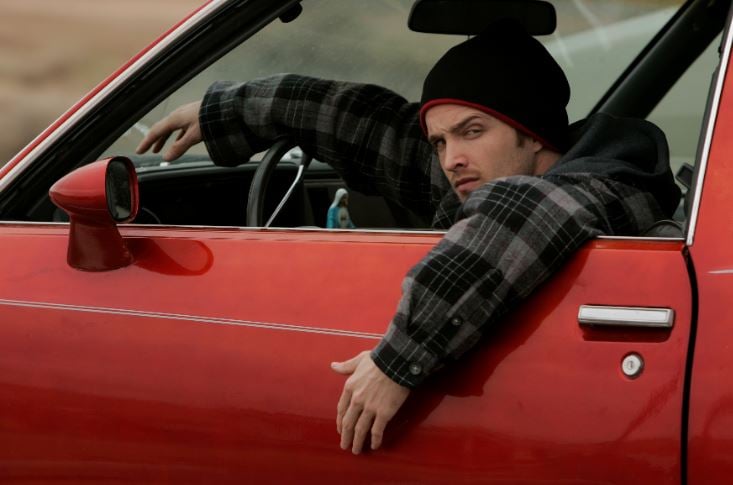 'Breaking Bad' easter eggs in 'Better Call Saul'
Showrunners Peter Gould and Vince Gilligan have done an excellent job of incorporating subtle nods to the original series, Breaking Bad. So far, we've seen several familiar characters in Better Call Saul including Gus Fring, Hector Salamanca, Krazy-8, and Hank Schrader.
Fans have also noticed many of the same locations being used throughout Better Call Saul. Many viewers think Kim's former client, Mesa Verde, becomes the Mesa Credit Union Walter visits early in Breaking Bad for money to buy the infamous R.V. 
Other Better Call Saul locations that originated in Breaking Bad include Juan Tabo Boulevard — the site of Jimmy's make-shift law office and the road where Gale Boetticher lived. Casa Tranquila, the home of Hector Salamanca and eventual place-of-death for Gus Fring, is another common location in both series — especially in this season of Better Call Saul. 
Was Jesse Pinkman one of Kim's clients?
In "Bagman," Jimmy revealed that he would stop at nothing to help his clients — that includes going to an inconspicuous location in the middle of the desert to pick of $7 million in bail money for Lalo Salamanca. To convince Kim that he's only doing what any good lawyer would do, Jimmy regaled Kim with a story from early on in her legal career: 
Remember that time you had a P.D. case with the kid whose parents kicked him out because he got caught with a joint?… And you had to drive all the way out to the uncle's house — I think it was in Moriarty — to pick up the bail?

Jimmy McGill, Better Call Saul Season 5, Episode 8 "Bagman"
Many fans were brought back to the very first season of Breaking Bad, wherein Jesse Pinkman's parents make it abundantly clear that he is not welcome at their home. Later, unbeknownst to the Pinkmans, Saul Goodman represents Jesse in the purchase of the newly remodeled house on Margo Street. 
Gilligan and Gould love subtle nods — the kind that aren't included for fan service, but the type that excites fans of the Breaking Bad universe and make them think. How poetic, then, that the Wexler-McGill legal team could have helped Jesse Pinkman at various points in his life. This minor easter egg may never be confirmed, what with Better Call Saul coming to an end in a sixth and final season. That doesn't mean it's any less possible that Kim and Jesse could have worked together previously.
For more nods to Breaking Bad, tune in to the season final of Better Call Saul on AMC April 20.
Related: 'Better Call Saul': Will Kim's Diss Against the Salamanca's Operation Result In Her Death?